CCAN Winter Newsletter 2022-2023


I've just returned from a long overdue family vacation to the wild and beautiful lands of southern Utah. We celebrated the desert beauty of Arches National Park and mourned the skeletal remains of 1800-year-old bristlecone pines that fell victim to climate change in Bryce Canyon National Park. Like everything in this era of global warming, it was bittersweet.
Back at work now, I've been looking through CCAN's archive of photos and campaign props as we wrap up our 20th year. We still have the suction cups we used for dropping a giant protest banner at the National Oceanic and Atmospheric Administration in 2006. We have photos from a decade of fighting the Keystone XL pipeline and placards from our successful campaign to stop the Atlantic Coast Pipeline in Virginia. We have green hard hats, yellow rain boots, and lots of pens used to sign clean-energy legislation across our region.
We've come a long way since 2004, when we helped pass a modest 7.5% clean electricity mandate in Maryland. It was our first major victory and a massive deal back then! All of these years later, 2022 has turned out to be our best year yet. We started it in February with many of you on the banks of the Potomac River, charging into icy waters for our annual Polar Bear Plunge. The energy was electric, and I just knew that 2022 was going to be our year.
And it was! Our two decades of activism, coalition building, and our never-back-down attitude came together to help secure major victories. We (and our advocacy arm CCAN Action Fund) stopped the dangerous Chickahominy Power Station in Virginia, passed the Climate Solutions Now Act in Maryland, and, of course, helped deliver transformative climate investments in the Inflation Reduction Act (IRA) on Capitol Hill.
Now it's time to look ahead at how we can build on this momentum in 2023! We'll work to ensure that new buildings in counties across Maryland are all-electric and we'll keep fighting dangerous pipelines in Virginia. We'll push for fast, effective federal action across our region and beyond – implementing IRA and lobbying for strong executive orders on climate from the White House.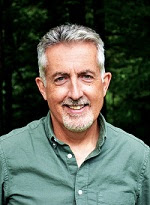 We've accomplished a lot. And yet, there is so much more we need to do. Please consider supporting our work in 2023 with a special end-of-year donation. With your support, we'll continue taking on the big fights. You can donate online today or by sending a check to P.O. Box 11138, Takoma Park, MD 20913.
Thank you for standing with us. Happy New Year!
Mike Tidwell
Executive Director, Chesapeake Climate Action Network
Explore Regional Updates In This Issue
Capitol Hill: The IRA Roadshow
Passing the landmark Inflation Reduction Act (IRA) in August of 2022 was not only the federal highlight of this past year, it's the biggest climate legislation victory in history. But here at CCAN, the celebration did not last long. Our Federal team quickly pivoted to IRA implementation issues and our sister organization, CCAN Action Fund, endorsed three vulnerable climate champions in the recent midterm election. Why? Because we need as much support as possible in Congress to press for further climate action in 2023 and stop Senator Joe Manchin (D-WV) from gutting bedrock environmental policies nationwide. In the year ahead, we'll continue to meet with Congressional offices to block his Dirty Deal and uplift equitable permitting-reform policies.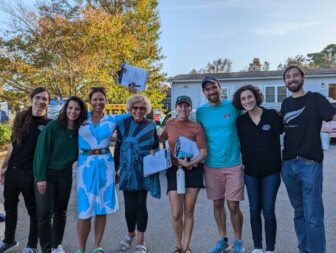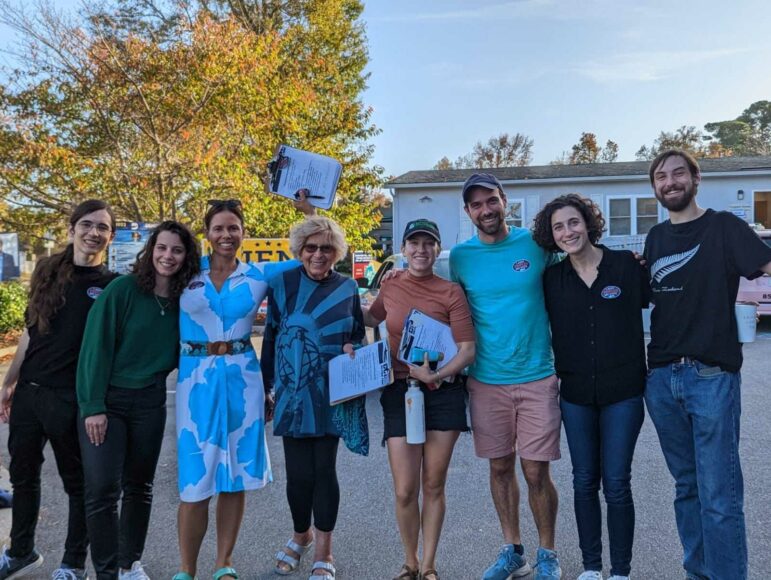 With anticipated gridlock in Congress, implementation of the IRA is more important than ever. The IRA has the potential to reduce emissions by 50-52% by 2035 but only if states and individuals maximize the grants and tax incentive provisions. The IRA creates a lot of incredible funds to transition us off fossil fuels equitably, but some of the funds will disappear if the money isn't spent by a certain date, some as early as 2024. We have to urgently inform the public to make sure these funds are used. To help ensure this happens, our team is creating a presentation to educate local and state officials, institutions, and individuals about what funds are available to them and connect them with the necessary resources to apply for funding.  
The IRA has given us the opportunity to meet our climate goals but that's contingent on us. Keep an eye out for the CCAN IRA Roadshow in the new year and help us connect with your community.  And donate today to support this effort.
Sign Up Now for the 2023 CCAN Polar Bear Plunge!
Grab your swimsuit, it's Polar Bear Plunge season! Join us on Saturday, February 11, 2023 at National Harbor near DC – or BRRR-tually from anywhere – for our annual Polar Bear Plunge to "Keep Winter Cold."
Our Polar Bear Plunge is our largest grassroots fundraising event of the year.
Support your CCAN team and sign up today!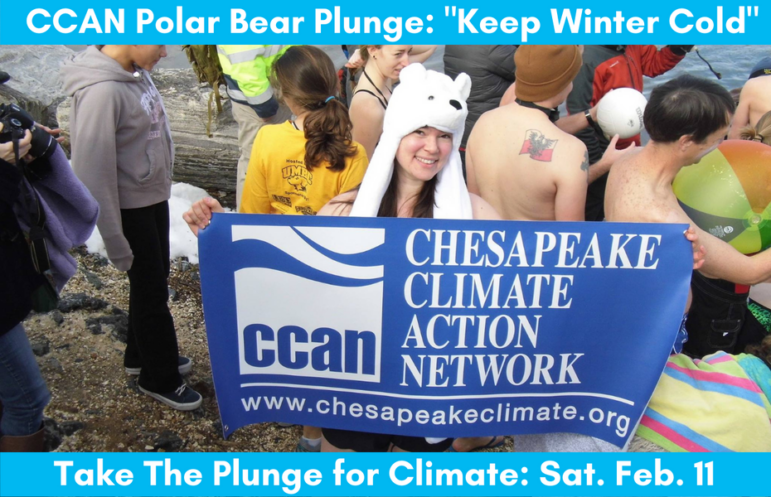 After passing the Climate Solutions Now Act (CSNA) in April of 2022, our team didn't miss a beat as we jumped to the next big climate fight. Between the ambitious emission reductions goal of CSNA and the historic investments in clean energy at the federal level, it's time for Maryland to ramp up our renewable energy deployment. 
During the same month CSNA was passed, the federal Bureau of Ocean Energy Management announced that they're in the process of developing additional commercial leasing areas for offshore wind in the Central Atlantic region. These potential lease areas provide Maryland the opportunity to develop an additional 5-10 GW of offshore wind. During the next year, we'll work to leverage federal dollars to make this a reality. The Biden Administration has set a goal of 30 additional GW of domestic offshore wind by 2030. Maryland and the entire Mid-Atlantic are crucial in meeting this goal.
In 2023, we will support legislation that helps Maryland take advantage of these offshore wind opportunities. We're aiming for an offshore wind goal of 6 GW by 2031, which will initiate a state process to coordinate transmission infrastructure and invest in the full build-out of the existing lease areas. Sign up today to help us bring offshore wind to Maryland tomorrow.
Montgomery County: Electrify Everything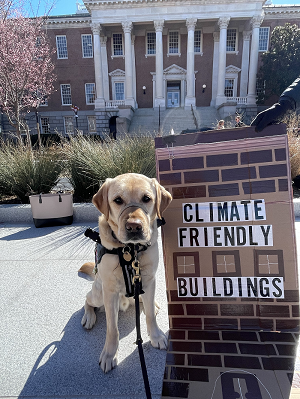 On November 29, the Montgomery County Council in Maryland voted to eliminate fossil fuel use in nearly all newly constructed buildings by 2026! 
The "Comprehensive Building Decarbonization" legislation ensures all-electric building standards become part of the County's building code by the end of 2026 (there are limited exceptions for hospitals and other facilities needing emergency backup systems, or high-energy industrial or commercial cooking facilities). 
The bill (13-22) was passed after a coalition of nearly two dozen local and state citizens groups encouraged its passage through rallies, petitions, letters, phone calls, meetings with legislators, and "Electrify MoCo" signs placed in yards throughout the county. The unanimous vote sets an example as a part of a growing trend to "Electrify Everything." Next up, we're bringing the same campaign to Howard County in Maryland. Full speed ahead!
Read CCAN Action Fund's press release about this historic bill here, then share it with everyone you know.
Ever since Governor Glenn Youngkin assumed power in Richmond last January, he's been attacking Virginia climate policies.
This fall, the Youngkin Administration formally initiated an illegitimate process of removing the state from the Regional Greenhouse Gas Initiative (RGGI). RGGI is a massively successful carbon market that reduces emissions and provides funding to make communities more resilient to flooding and lower energy bills. But CCAN is not backing down. In partnership with climate allies, we hosted dozens of regional rallies around the Commonwealth and submitted over 800 comments in support of the program to the Air Board. We'll continue to call the Governor out on this blatant, undemocratic abuse of power while we rally CCANers to defend our climate progress.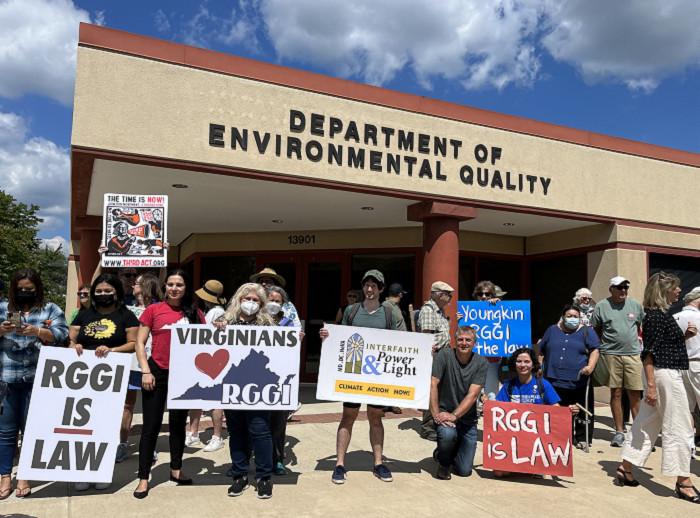 We're also contending with fossil fuel allied interests that have their eyes fixed on Virginia. Looking toward the legislative session this winter, CCAN Action Fund will be working to defeat at least seven separate bills to repeal Clean Car Standards, a program that will phase in electric vehicles to Virginia's new vehicle stock. 
But there are good tidings as well. We're working to expand the shared solar program so that every household in the Commonwealth can enjoy the benefits of clean, cheap solar energy. And we'll push for massively increased funding for transit and pedestrian infrastructure, so that we can get around our communities without needing a personal vehicle. 
We're digging our heels in for the coming climate fights. Stay with us as we weather the storm of the Youngkin administration.  And send a message to your Virginia legislators today calling for climate justice in the Commonwealth.
Virginia is NOT for Pipeline Lovers
The Mountain Valley Pipeline (303-mile fracked gas pipeline) is an over-budget, over-timeline boondoggle that analysts consider a bellwether for future endeavors. This pipeline's climate impact would be equivalent to 23 coal-fired power plants – and we need to stop it!.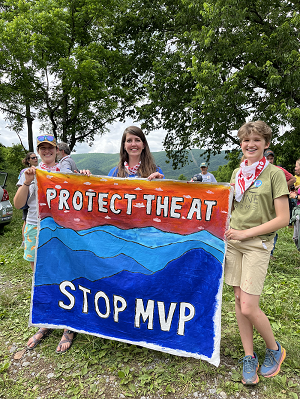 Our work to stop this pipeline from all angles is paying off. MVP's funders are relying on Congressional action to finish it. And, they are losing millions in the process! As CCAN looks to the upcoming federal fight to block Manchin's "Dirty Deal," we'll also continue to fight fracked-gas pipelines on the ground. One fight is related to the US Forest Service filing its intent to create another Supplemental Environmental Impact Statement (which is what led to a lawsuit and subsequently stripping their permit to cross the forest to begin with). This would add another year in which MVP would be delayed, allowing us to continue making our voices heard – another cut in a death by a thousand.
MVP is not the only pipeline we're currently facing in Virginia. The Virginia Reliability Project ("Virginia Ripoff Project") recently closed its scoping comment period for an upcoming Environmental Impact Statement. To build opposition, we've been knocking on doors, handing out petitions, hosting community meetings, and placing coverage of the pipeline in local and international media
One thing is becoming clear to these pipeline companies – Virginia is NOT for pipeline lovers. Donate now to support our pipeline-fighting work.
Action is the oxygen of organizing work. Over the past year, CCAN organizers have been working to build volunteer Action Teams. Why? Because we can't do it alone. It takes a people-powered movement. Our new Action Teams provide a foundation that holds CCAN accountable and expands our reach.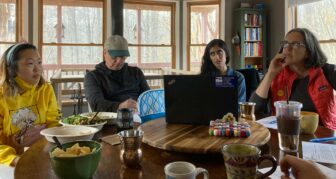 Our Northern Virginia organizer, Zander Pellegrino, engaged with volunteers throughout 2022 – asking them to speak with strangers in flood-prone areas, do silly chants, and paint beautiful banners for rallies that highlighted the injustices of the Mountain Valley Pipeline. But, these volunteers saw that they needed more structure to continue growing. They came together to create an official CCAN Action Team, the NOVA CCAN Doers!
Together, they canvass communities on the frontlines of flooding, build support for equitably funding parks across Fairfax County, and hold elected officials accountable in defending the progress Virginia has made on climate. Most importantly, they're stepping into leadership roles as we grow the movement. Ayesha Mehrotra serves as the Internal Organizing Co-Leader with Ting Waymouth.
"CCAN offered me an opportunity to build intergenerational friendships and consider the climate crisis' effects on people across the age spectrum…Because CCAN works on federal actions as well as local issues, I've also been exposed to the wide spectrum of environmental issues that people care deeply about – from decarbonizing their homes to pulling invasive vines to advocating for equitable, sustainable transit systems. I've been able to see the tangible ways the climate crisis affects every bit of life and the things we love. Yet, because I saw those striking manifestations of the crisis while with my strong, active CCAN community, it didn't leave me feeling hopeless." ~Ayesha Mehrotra
We're looking to build action teams across the region. If you're interested in joining or helping to form an Action Team, please email our Field Director, Mustafa Abdullah, at mustafa@chesapeakeclimate.org. (See Become a CCAN Action Member.)
Join Us for a Climate Ride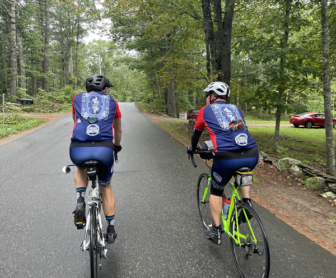 Are you a bicyclist? We have the perfect opportunity for you to do what you love while also supporting your favorite climate group through peer-to-peer fundraising. A group called Climate Ride is hosting an event April 28 – 30, 2023 in the Blue Ridge and Shenandoah Valley. CCAN is putting together a team!
Learn more about the event at climateride.org and email jessica@chesapeakeclimate.org if you're interested in participating.
In this new climate era, we need to build a people-powered climate movement. Your tax-deductible donation to the Chesapeake Climate Action Network (CCAN) promotes policies that keep fossil fuels in the ground and that advance clean energy in Maryland, Virginia, DC, and nationwide. Give today!