CCAN Summer Newsletter 2023

A year ago in the newsletter we were celebrating the Chesapeake Climate Action Network's (CCAN's) 20th anniversary with great pride. Now another year has come and gone with both wins and losses for our movement. 
Our incredible staff continues to grow, thanks in part to your support. Since 2018, we have grown from a staff of 15 to 24 – giving us the capacity to fight even harder against climate change. And in early June, we all came together for our annual staff retreat. It was a time to connect, plan future campaigns and goals, and brainstorm new creative ideas.
Unfortunately, we had an ominous cloud of smoke above us, literally and figuratively. Our retreat took place while the Mid-Atlantic was choking on smoke from the Canadian wildfires. The air quality in the DC region reached its most hazardous levels in decades. We were seeing and experiencing the consequences of climate change firsthand. While the physical smoke cloud hung over us, we also had a figurative cloud of smoke looming, the federal debt ceiling bill which greenlit the Mountain Valley Pipeline, a pipeline we've been fighting for over eight years. This backdoor way of approving the pipeline was a punch to our gut. But our team isn't giving up!
That's enough of the bad. As I look out the window from our office in Takoma Park, I see dozens of electric car charging stations, and solar panels and heat pumps on almost every roof. In CCAN's world, our federal team is busy traveling with an "Electrify Everything Roadshow" that explains how communities can use last year's Inflation Reduction Act (IRA) to go all-electric and save money. In Maryland, we're on track to produce enough electricity to power every home in the state using offshore wind, thanks to the passage of the POWER Act. In Virginia, our team is still fighting to defend the Commonwealth's climate legacy against Governor Glenn Youngkin, and is doubling down on our efforts to elect climate champions in 2024. And in DC, we've hired a full-time DC Campaign Coordinator to fully electrify our nation's capital. 
As we look towards the rest of this year, we'll continue to build our people-powered climate movement and move forward on innovative climate solutions and creative actions. We'll continue pushing the envelope on climate policy. Thank you for being a part of this movement and for your support in all that we do.
Onward!
Mike Tidwell
Director, CCAN and CCAN Action Fund
Capitol Hill: A Rollercoaster
So far 2023 can be defined by inspiring victories and motivating setbacks.  
This spring, we led a diverse coalition of 14 environ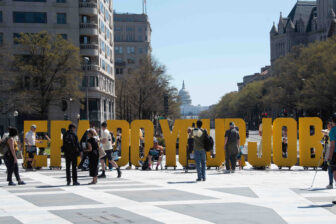 mental and justice organizations to pressure the Environmental Protection Agency (EPA) to release six long-awaited rules to regulate pollution from power plants. On April 4, for the first time under the Biden Administration, over 150 environmental and justice advocates protested loudly outside the main EPA office in DC to demand fast action on approving California's clean truck rule, strengthening the mercury and air toxics standards, releasing the carbon pollution standards for power plants, announcing action on coal ash, strengthening soot standards for power plants, and implementing cumulative impact analysis in permitting. Guess what, the EPA listened! By May 17, they had released proposals for five of our demands and are on schedule to finalize them in early 2024.
More recently, we have started working with partners to support Temporary Protected Status (TPS) for climate change migrants in the U.S., enabling them to rebuild their lives and contribute to their new communities. Without TPS protections, more than 330,000 legitimate migrants from El Salvador, Honduras, Nepal, and Nicaragua are at risk of deportation and their children at risk of family separation. After a series of lobbying visits, petitions, rallies, and other tactics, the Biden administration on June 13th extended TPS designations for all four countries until 2025. The announcement was a relief for families but the designation did not go far enough to protect more recent arrivals.
The other big news involves Senator Joe Manchin (D-WV) and his fossil fuel allies who took advantage of the debt limit negotiations to force the approval of the Mountain Valley Pipeline and to limit environmental impact statements and public commenting periods under the National Environmental Policy Act (NEPA). Our sister organization, CCAN Action Fund, is not taking these setbacks lying down. We are meeting weekly with congressional offices to present a positive vision for responsible siting of new construction projects that preserves bedrock environmental policies, prioritizes environmental justice, and proposes real solutions to accelerate the deployment of renewable energy. Sign up now for our webinar on September 12 with national experts on what comes next for the clean energy revolution!
CCAN is excited to be campaigning in the District again, putting down roots for transformative and equitable climate action. In the spring, we hired a DC Campaign Coordinator, Naomi Cohen-Shields, and she's hitting the ground running.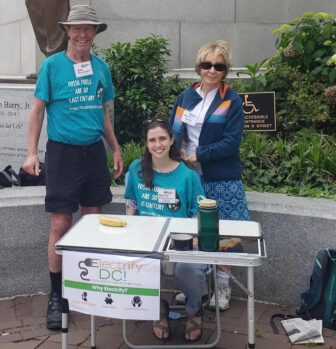 Our goal is to get our nation's capital off fossil fuels entirely. This goal is in line with the District's commitment to be carbon-neutral by 2045. But to reach this goal, we need to get gas OUT of buildings.
How are we going to do this? We're going all in to defeat PROJECTpipes, Washington Gas's (WGL) plan to charge DC gas customers $4.5 billion dollars for unnecessary, climate-damaging, health-endangering pipes for methane gas. We refuse to let the Public Service Commission (PSC) hide behind its relative anonymity any longer. Hundreds of DC residents have already submitted comments calling on the PSC to delay and reject WGL's proposal. And in early June, our sister organization CCAN Action Fund took to the streets (and the steps of the DC Council) with allied groups to demand action. We will continue to make our voices heard across the city on this issue.
We're also advocating for the Healthy Homes Act, which will fully fund home electrification for at least 30,000 low-income households by 2040. We're also educating DC residents about how they can benefit from available incentives for home electrification. Sign up to help us kick gas out of DC. And double your impact with a donation to this campaign that will be met with a MATCHING gift from a generous supporter.
For the first time ever, CCAN formed our very own "Climate Ride" team to help raise vital funds for our organization. Climate Ride organizes bike rides and hikes across the globe and year-round to raise funds through peer-to-peer fundraising efforts for nonprofits helping to fight climate change. Our CCAN team participated in three days of biking or hiking in the Shenandoah Valley. Together, the team raised almost $16,000! It was a truly incredible experience for everyone. If you're interested in learning more about the Climate Ride experience, you can read this great recap of the event. Thank you to all of the CCAN supporters who participated! You can sign up for a climate ride at climateride.org.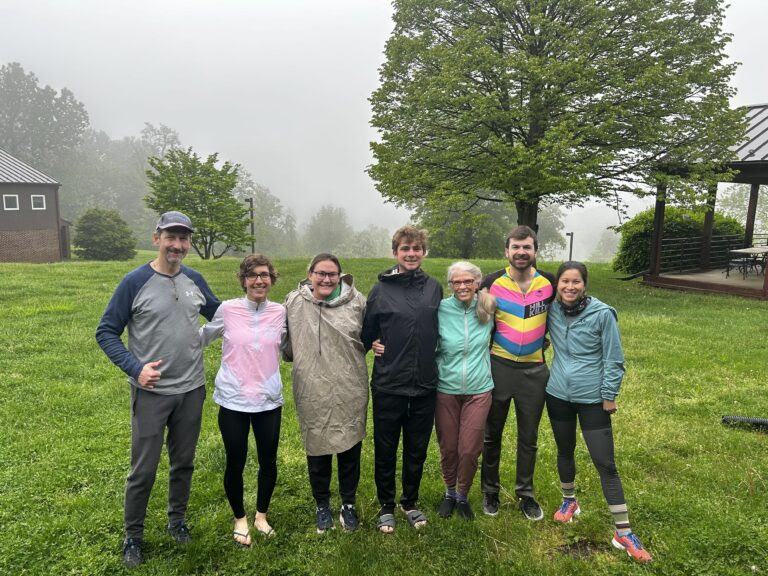 The Future of Offshore Wind
Already this year, CCAN Action Fund has helped transform the future of offshore wind in the state. At the start of 2023, Maryland was committed to building only two gigawatts of offshore wind, and had no plans to build the transmission necessary to expand offshore wind infrastructure beyond that level. Now, with the passage of the Promoting Offshore Wind Energy Resources (POWER) Act, Maryland has a goal of building 8.5 gigawatts and the necessary transmission to bring that much power online. This would produce enough electricity to power every home in Maryland!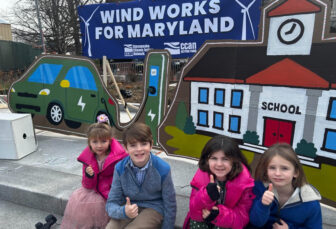 At the same time, we have continued our work to "electrify everything" in Maryland to ensure that every aspect of our society is powered by the clean electricity that future wind turbines will generate. CCAN Action Fund helped pass legislation in Howard County and Montgomery County that will lead to all new buildings being all electric. Now we're working on similar legislation in Frederick County and Baltimore County.
Looking ahead, we're turning our attention to a question that becomes more urgent every day: who will pay for the damages that climate change is causing? One example is Baltimore City College. It has existed for over 180 years without air conditioning, but now it and other public schools are being forced to close for "heat days." Air conditioning will need to be installed, and right now that cost would be borne by the taxpayers. We believe that the fossil fuel industry should pay for the damages from the crisis. We're working to raise awareness in Maryland on this topic, and building political will for a "climate superfund" that polluters would pay into. Click here to send a message to your Maryland legislators urging them to make polluters pay!
Our work in Virginia echoes back to one of our mottos: never, ever, ever give up. During the last legislative session, Governor Glenn Youngkin attempted to repeal or weaken all of our signature climate bills. Our advocacy arm, CCAN Action Fund, lobbied hard against Youngkin's every effort, and our newly formed Session Defenders grassroots cohort organized thousands of emails and calls to lawmakers in opposition of the Governor's efforts. Together we defeated nearly every effort by Youngkin to move backward on climate, and we even snuck through a win – the funding of transit infrastructure as part of our Mobility For All campaign.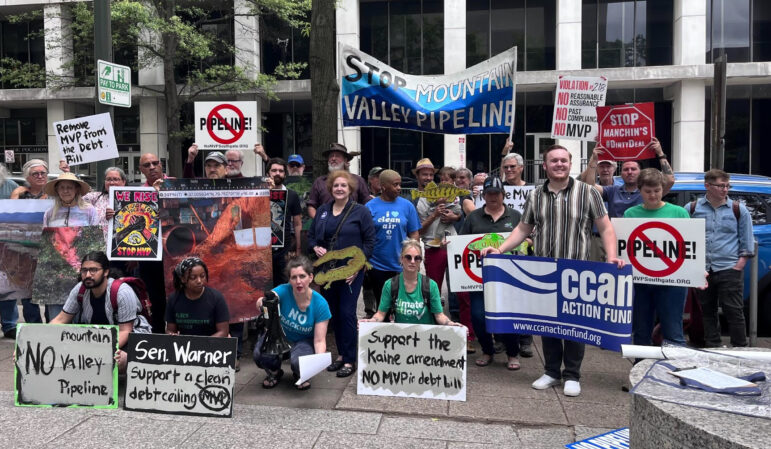 But we know we can't stay on defense for long. That's why our team at CCAN Action Fund will be knocking on thousands and thousands of doors in the coming months across the Hampton Roads region of Virginia in an effort to restore the House of Delegates to a climate majority in the November election.
Early this summer, we also faced unfavorable developments on the Mountain Valley Pipeline (MVP) battle. We are furious. After eight years of working to stop and delay construction, and despite hundreds of water quality violations and numerous thrown-out permits, the federal debt ceiling bill greenlit every MVP permit and exempted them from judicial review. This is a travesty for democracy and environmental justice. We're now working directly with frontline communities – and our lawyers – to assess our next steps.
What's that saying again? Oh right – never, ever, ever give up. Donate now to support our pipeline-fighting work.
A Gathering of Climate Protectors
In May, CCAN Director Mike Tidwell opened his doors for CCAN's annual "Climate Protector Open House." This was our first year since 2019 hosting this event (due to Covid) and we had an amazing turnout. The evening was filled with delicious food, fantastic conversation, and perfect weather. One of the highlights of the evening was when longtime CCAN supporter, Nancy, spoke about why she gives to CCAN – so she can help make the world a better place for her children.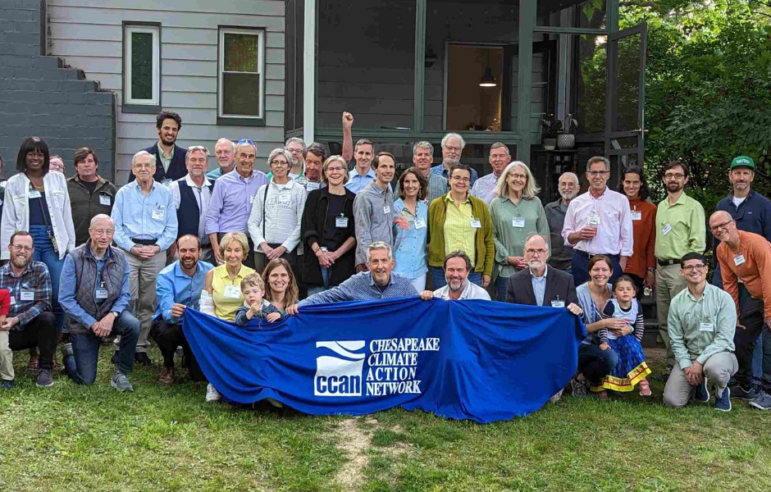 CCAN Climate Protectors are individuals who are able to provide critical financial support that allows us to build a powerful movement. Their support makes it possible for us to take bold, creative action to make the biggest impact. Climate Protector giving starts at an annual planned giving of $350. If you are interested in becoming a Climate Protector, please email Jess Rampulla at jessica@chesapeakeclimate.org or sign up here.
Action is the oxygen of organizing work. We're building Action Teams across our region to mobilize and push for strong local and state progress on climate.
"The heart of CCAN is its people. They are a diverse community of forward-thinking people filled with a commitment and passion for building truly united coalitions for the climate crisis. CCAN is one of the few groups where its leaders will ask you, "What do YOU want to do?" They are one of the gems that put their volunteers first and treat them as leaders in their fields." ~Andreana Lin, Member of the NoVa New Leafs Action Team
Click HERE to join as an Action Member, and if you're already a member, email mustafa@chesapeakeclimate.org to join a team!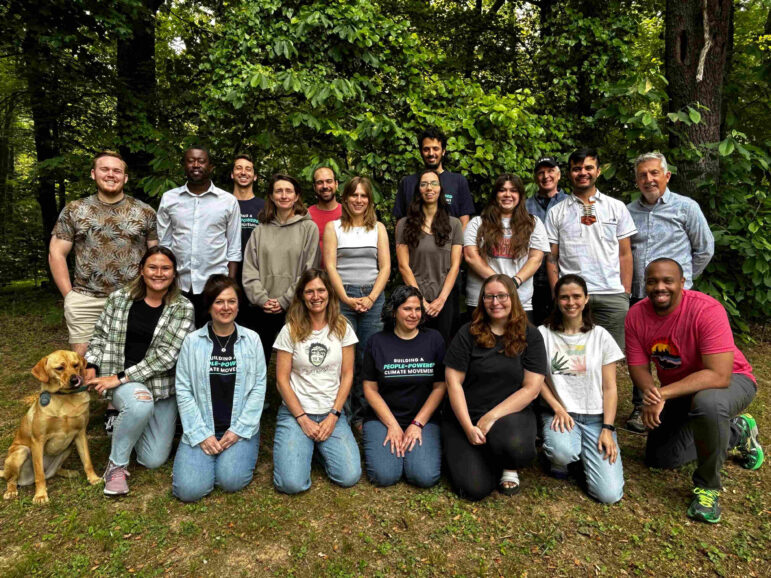 In this new climate era, we need to build a people-powered climate movement. Your tax-deductible donation to the Chesapeake Climate Action Network (CCAN) promotes policies that keep fossil fuels in the ground and that advance clean energy in Maryland, Virginia, DC, and nationwide. Give today!