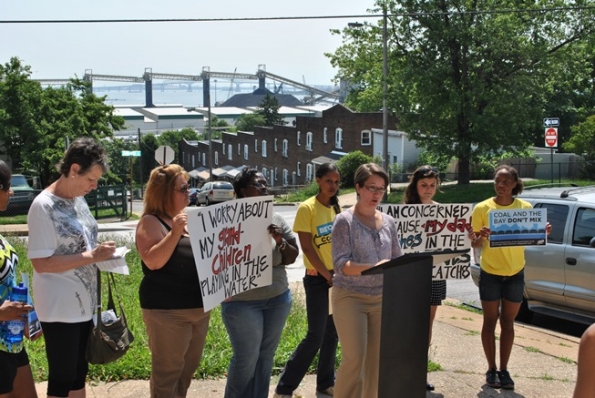 On Wednesday we were out in Curtis Bay, Maryland, home to the CSX Coal Facility. CSX is a coal export facility whose huge coal piles are visible when you're standing on a hill in the neighborhood.
This isn't the first time we've been out there. Four other CCAN fellows and I have been out in Curtis Bay multiple times the past few weeks: knocking on doors and talking to local residents about the effects coal pollution has on their day-to-day lives. We've heard stories from coal dust coating peoples' homes and pools, to worries about fishing in local waters, to concerns about kids playing outside.
These issues became critically important leading up to today, because CSX is up for a new water pollution permit – one that needs to be a lot stronger. For example, the current permit doesn't limit levels of heavy metals that can be dumped right into the harbor.

This not only causes problems for the fish and the birds who inhabit the waters, but also the residents, who are directly affected by pollution from the coal facility.
That's why we collected 245 comments from local Curtis Bay residents that share personal stories and urge the Maryland Department of the Environment to strengthen the permit. On Wednesday, at the Polish Home Hall, we held a press conference where local residents shared their stories and were heard by the media. CCAN's own Diana Dascalu-Joffe highlighted some of our urgent concerns with the permit.
All in all we had a very successful day with residents coming together to help fight pollution in their community. We urge the Maryland Department of Environment, who today received over 500 comments from the Curtis Bay and Baltimore areas, plus hundreds more collected by the Sierra Club, to strengthen the CSX water pollution permit.
Personally, I was struck by how many caring, concerned citizens I met in an area that has been mostly overlooked and subjected to considerable amounts of pollution. Taking this step to strengthen the permit will not solve the pollution problem in Curtis Bay, but it's certainly a good start. The next step will be addressing the CSX air pollution permit, which should be open for public comment in the fall.