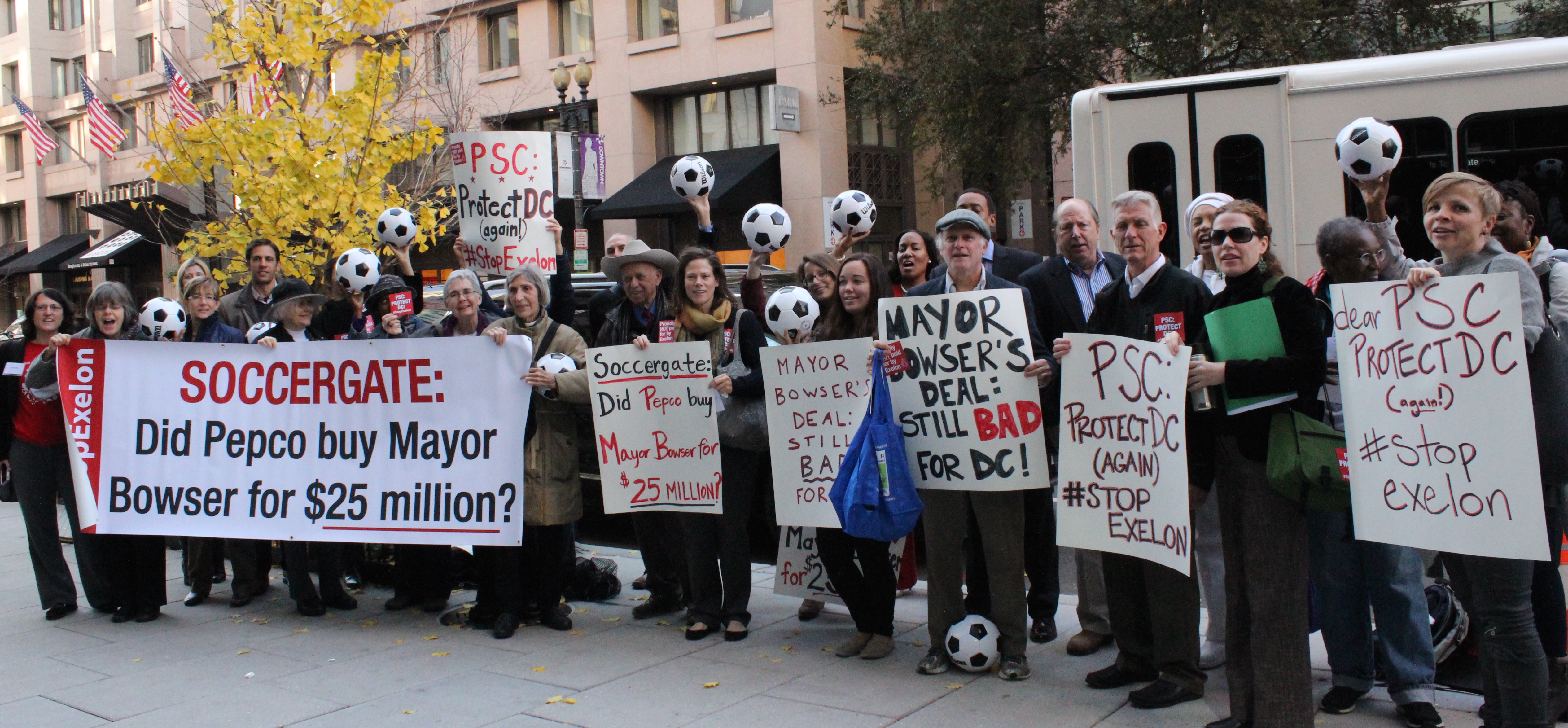 In April 2014, Chicago-based utility giant Exelon announced plans to buy out Pepco Holdings, Inc. (PHI), which currently serves nearly two million customers throughout the District of Columbia, Maryland, Delaware and New Jersey. If this merger is approved, Exelon would become the largest electric utility company not just in the Mid-Atlantic region, but in the United States. Yet before the deal goes through, the Public Service Commissions in the District of Columbia, Maryland, Delaware and New Jersey must find that the merger serves the "public interest."
As an organization fighting to promote energy policies that will stabilize our climate, we are unequivocally opposed to this merger as proposed. Exelon is a leading opponent of policies to promote affordable clean energy across the country. The company wants to shore up falling profits from its aging nuclear reactors on the backs of local ratepayers. This merger would grant Exelon a near-monopoly in our region, restricting Maryland and DC's ability to transition to a renewable, affordable and efficient electricity grid.
On March 23rd 2016, the D.C. Public Service Commission handed down a stunning 2-1 decision to greenlight Chicago-based utility Exelon's takeover of Pepco. This decision defied the indisputable facts that Exelon's business model relies on raising our rates and suppressing the growth of affordable clean energy. This decision defied popular will. In fact, thanks in part to your action, Exelon's deal had lost the support of every other major party from the Mayor to the People's Counsel.
Practically everyone thought this merger was a slam dunk from the outset. But our grassroots movement made it anything but. Squaring off against a volunteer-powered coalition on a shoestring budget, Exelon and Pepco were forced to spend millions to secure a final result, including conditions they would have never offered otherwise. Together, the Power DC coalition — including two dozen citizens' organizations, hundreds of ordinary citizens like you, and dozens of ANC allies spanning every ward of the District — put the largest utility merger ever proposed on the ropes for two years.
THANK YOU!
 WE CAN STOP EXELON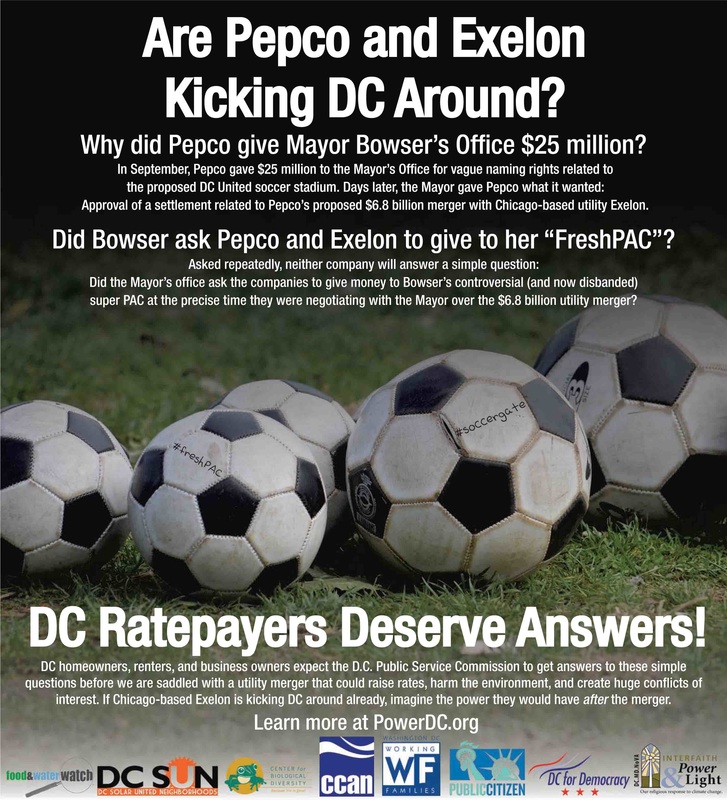 Thousands of DC residents have spoken out against the Exelon-Pepco merger and, on August 25, 2015, we won a huge victory when the DC Public Service Commission unanimously rejected Exelon's bid. This decision effectively stopped the merger from moving forward across our region. Yet, after Exelon and Pepco poured huge sums of money into ads and lobbying, Mayor Muriel Bowser unbelievably struck a backroom deal to revive the merger.
The DC Public Service Commission is now considering the Mayor's deeply flawed settlement. Mayor Bowser's deal does virtually nothing to address the core problems that led the PSC to reject the merger. Mayor Bowser's deal also reeks of pay-to-play politics, prompting CCAN and Public Citizen to demand an ethics investigation.
Pepco agreed to pay the city $25 million for vague naming rights related to a street or plaza near the planned DC United Soccer stadium at Buzzard Point just days before Mayor Bowser reversed course and struck the merger deal. Exelon also hired the chair of Mayor Bowser's own political action committee — the infamous FreshPAC — to lobby the Mayor to knuckle under to a bad deal.
The deal is bad for ratepayers, bad for clean energy, and bad for DC. We've packed public hearings, held rallies, and talked to hundreds of residents at ANC meetings citywide with our allies in the Power DC coalition. We'll continue fighting back at every step.
WHY AN EXELON TAKEOVER IS BAD FOR OUR CLIMATE:
Falling Short on Energy Efficiency
Energy efficiency and conservation are the lowest-cost resources for meeting electricity demand. Expanding energy efficiency to more residents is also a cost-effective way to improve air quality, reduce greenhouse gas emissions, lower monthly electricity bills, and deliver measurable improvements in health, safety, and comfort. However, Exelon has a record of falling short on energy efficiency. Furthermore, Exelon's subsidiary, Baltimore Gas & Electric (BGE), has a worse energy efficiency track record than PHI in Maryland. The Maryland Public Service Commission projected BGE to achieve only 67% of its 2015 energy savings goals and 76% of its 2015 peak demand production goals, while PHI's subsidiaries were projected to achieve 99% and 199%, respectively. Exelon has made no specific commitments to improve their performance and their record indicates a lack of commitment to energy efficiency.
Exelon Leads Opposition to Renewables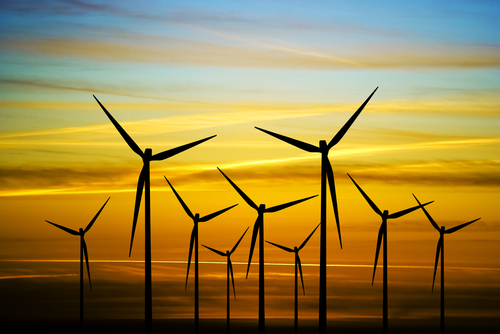 DC is also striving to meet more of its electricity demand through renewable energy generation. Mayor Bowser's new settlement deal will do nothing to address what the DC Public Service Commission described as "Exelon's conflict of interest" with DC's clean energy future.If the Exelon-Pepco merger is approved, DC would be welcoming a company that calls itself a "leading voice against the extension of the Production Tax Credit (PTC)," to provide the vast majority of electricity in Maryland and Washington D.C. The PTC is the primary federal incentive for promoting land-based wind energy and is a reasonable way of keeping wind costs down. By opposing the PTC, Exelon is helping to shift those costs to states like Maryland that have renewable electricity goals in place.
Blocking Locally Generated Community Energy
Distributed generation sources, such as rooftop solar, small-scale wind turbines, and combined heat and power, are a growing market in DC. These sources allow customers to lower their energy bills, increase their independence, and create local opportunities for economic growth. The primary driver of distributed generation growth is a policy called "net-metering," whereby rooftop solar and other DG customers can receive retail credit for surplus energy they deliver back to the grid. The approval of the Exelon-Pepco merger, however, would put net-metering policies in jeopardy. Exelon supports groups that oppose net-metering, such as the American Legislative Exchange Council, who call for the weakening of solar net-metering policies by taxing solar customers. This merger would give Exelon an even louder platform to oppose distributed generation in DC.
Press
"Pepco and Exelon make last-ditch effort to save $6.8 billion merger." The Washington Post. 3/7/16.
"D.C. mayor rejects Pepco-Exelon plan; $6.8-billion merger appears dead." The Washington Post. 3/1/16.
"Public Service Commission Gives Conditional Approval To Pepco-Exelon Merger." DCist. 2/26/16.
"Was Pepco's $25M Deal For DC United Naming Rights A Case Of 'Pay-To-Play?'" WAMU. January 8, 2016.
"Pulling the Plug, But Not So Fast!" NBC4 Washington. November 18, 2015.
"Opponents of Pepco-Exelon merger call for ethics investigation of Bowser." Washington Post. November 11, 2015.
"Exelon's new deal for Pepco still isn't good enough." Washington Post. October 23, 2015.
"How Pepco will fund D.C. capital projects, D.C. United-related eminent domain costs." Washington Business Journal. October 19, 2015.
"After 4 States Approved A Big Utility Merger, DC Shocked Everyone By Denying It Over Clean Energy." Climate Progress. 8/26/2015.
"District should reject Exelon-Pepco merger, energy think tank says in report." Washington Post. January 21, 2015.
"Concerns and opposition in proposed Exelon-Pepco merger." Baltimore Sun. December 9, 2014.
"Coalition calls for rejection of Exelon-Pepco merger." The Baltimore Sun. October 2, 2014.
"Coalition: No acceptable path for Exelon merger." The Daily Record. October 2, 2014.
"Exelon-Pepco deal would hurt consumers and the environment, opponents say." Baltimore Business Journal. October 2, 2014.
Resources
To get involved with this campaign, contact Rachel Mandelbaum, Online Organizer at Rachel@chesapeakeclimate.org.