End the use of dirty and dangerous fossil fuels for water heating, space heating, and cooking in our homes and buildings, which account for over 50% of carbon emissions
The movement to create cleaner, healthier, all-electric new homes and buildings is lighting up the country. More than 100 state and local governments have policies to phase out gas and switch to all-electric new buildings instead.  We've been working to pass legislation regionally and educate nationally. 
CCAN has a bold vision to electrify every building in the country! Building electrification would benefit community members by giving them access to cleaner air, healthier homes, good jobs, affordable clean energy, and energy efficiency to reduce monthly energy bills, all while lowering our country's greenhouse gas emissions. In order to achieve a clean, sustainable future, we must #ElectrifyEverything!  
Education
Recent federal climate legislation included a LOT of new resources and benefits for homeowners to go electric. We're holding events around the country to educate residents on how to make the most of these new rebates, tax incentives, and more. Learn more here.
VICTORIES IN THE CHESAPEAKE REGION!

Several localities pass legislation to move new buildings in the region to electric.


Up next:

Northern Virginia, Baltimore County, Frederick County, and building on DC's success
The facts gas companies don't want you to know
About half of residents in our region use gas for their furnace, water heater, or stove. In the United States, 16% of natural gas is used by homes, and 11% is used by commercial buildings, meaning that nationwide, buildings create about a quarter of the national demand for natural gas.
Since 2010, there have been more than 2,700 significant gas leaks across the country and 362 resulted in explosions, injuring 700 people and killing more than 140. [1]
According to the Baltimore Gas and Electric Co. reports to federal authorities, leaks in Baltimore are so frequent that nearly two dozen of them are discovered each day on average.
Building construction and operations accounted for 40% of all CO2 emissions in the world.
In Maryland, burning fossil fuels for buildings produce the emissions equivalent of almost 4.5 million cars, or five coal plants every year.
Gas infrastructure is linked to the contamination of water, pollution, and damage to the ecosystem.
From 2010 – 2019 the US suffered 1,411 significant gas incidents – roughly one every three days leading to fatalities, serious injuries, and more than $3.5 billion in property damage. [3] [5]
Gas causes health impacts such as respiratory and skin irritation, neurological problems, dizziness, nosebleeds, nausea, and headaches [4][5]
Five out of 10 Americans live in areas with unhealthy air, according to the American Lung Association's new State of the Air report. 
Gas stoves are a primary source of combustion (burning) pollution inside the home. Gas stoves produce dangerous levels of air pollutants – such as nitrogen dioxide, formaldehyde, and carbon monoxide – inside the home that would violate outdoor standards. [5]
Everyday kitchen activities like baking a cake or boiling water can create pollution that would be considered illegal outdoors.
The Solution: Green Buildings Through Electrification
Electrification is a strong investment offering tremendous benefits. These benefits will lead to healthier homes, an improved climate, and a vibrant economy.
Improving health and safety:
Electrifying buildings helps improve indoor environmental quality. Improved air quality can reduce asthma symptoms and other health impacts.  And there's no risk of carbon monoxide poisoning and reduced risk of fires.
Promoting justice:
Of the households in Maryland that would save by electrifying, 39% are low- and moderate-income. Each year, they would save an average of $413 if they switched to electric appliances. 
Improving the condition and value of buildings:
Electrification and electric upgrades act as investments in the future of the communities that they are in and create a foundation for other continued improvements. Furthermore, simpler construction for new buildings saves money–gas piping creates an added $2,580 cost per home.
Supporting job creation and economic recovery and development:
Decarbonizing buildings through renewable energy, efficiency, and electrification helps create local jobs. Investing in energy efficiency, for example, creates nearly three times more jobs per dollar than investing in the fossil fuel sector. According to Rewiring America, electrification would create 4,200 installation jobs in Maryland. 
Saving on bills: 
The average household in Baltimore, Maryland would save $510 per year by switching to electric according to RMI, and similar cost-savings are expected nationwide. The number of households that would save and the average savings will continue to increase given the trajectory of heat pump technology improvements. Meanwhile, gas prices are expected to increase as much as 130% by 2030.
What does an electrified home look like?
Cook dinner with an induction or electric stove, which won't put dirty pollutants inside your home
Draw heat through a heat pump
Utilize upgraded, efficient electrical panels, or a "smart panel" allowing you to manage the load without a bigger utility line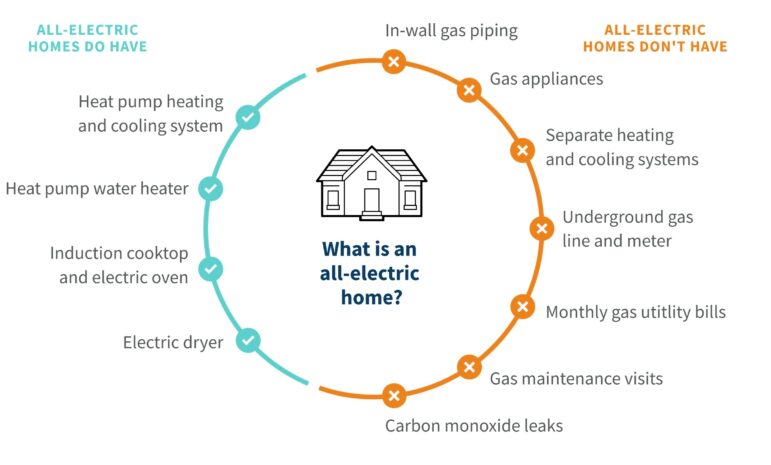 It's all about the heat pump!
Heat pumps move heat rather than creating it so they can be 2-4 times more efficient than conventional heating systems. New heat pumps work even in freezing tempratures! 
In winter a heat pump gathers warmth from the air or ground (even in sub-zero temperatures) and moves it indoors. That flow is reversed to cool buildings in summer by moving heat outdoors. Heat pumps can replace both a furnace and an air conditioner. Plus, they can be used in water heaters, clothes dryers, and other appliances. 
Some heat pumps heat and cool each room individually, some heat and cool the whole house – get the system that's right for you. 
See what people are saying about green buildings!
Electrify Everything: For All, Not Some
Although everyone deserves to breathe clean air, pollution—indoors and outdoors—does not affect everyone equally. We must create healthier, greener, and more resilient buildings. For all.
Electrification of home appliances would benefit low-income households and environmental justice communities by improving both indoor and outdoor air quality. These communities face disproportionate air-pollution burdens and limited access to clean energy resources.
Residents in environmental justice or "disadvantaged" communities face some of the worst air quality in the state. Gas appliance emissions add to the persistent outdoor air pollution and can compound existing environmental burdens, placing low-income residents and people of color at even greater risk of adverse health effects from air pollution.
Low-income and minority residents disproportionately use kitchen appliances for the purpose of heating their residences (instead of using designated heating devices).[

2

]

Residences occupied by low-income populations are often older and use older, less efficient, and unmaintained appliances. These older appliances may not be regularly maintained due to the cost required and a lack of available funds to repair them, or lack of landlord attention.[

2

]

Low-income residences are likely to be smaller in size and have inadequate ventilation, resulting in higher indoor pollutant concentrations. [

2

]

LMI households face higher energy burdens and higher rates of energy insecurity than higher-income households, and they also may be disproportionately affected by buildings-related health issues, such as indoor air pollution from gas stoves
All-Electric New Green Buildings are Good for the Economy
New construction requirements are a sensible first step in the building electrification transition. All-electric construction can save money by avoiding the cost of gas infrastructure in buildings, and in some instances avoiding the costs of distribution lines in new developments. 
The good news is that all-electric new green buildings typically have the lowest construction and operating costs. 
According to Rewiring America, 99% of households in Maryland—2.2 million—could save money on energy bills if they used modern, electrified furnaces and water heaters instead of their current machines.
The Maryland Department of the Environment worked with Energy + Environmental Economics (E3)  to assess ways to achieve net-zero emissions by 2045 for Maryland's buildings sector. E3's Maryland Buildings Decarbonization Study modeled the construction and operating costs of all-electric new buildings and found the following: 
For single-family homes, all-electric homes

cost less to construct

than new mixed-fuel homes.

For multifamily buildings, all-electric

costs about the same to construct

as mixed-fuel buildings.

As Maryland moves toward a net-zero-emissions goal, all-electric new buildings of any type— residential and commercial—will have the

lowest total annual costs

(including equipment, maintenance, and energy costs).
Learn more about the mounting evidence which shows all-electric new construction is cost-effective here.
Learn More About our State-Specific Work
Educational Resources for Everyone:
Questions? Contact: info@chesapeakeclimate.org