CCAN Action Fund: Climate Rally and Lobby Week Kickoff
February 22 @ 6:00 pm

-

February 25 @ 5:00 pm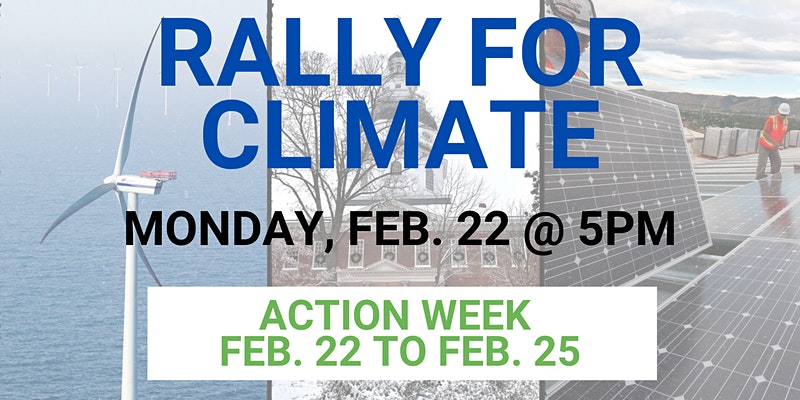 This event is sponsored by CCAN's Sister Organization, CCAN Action Fund:
Join the Climate Solutions Now coalition and organizations across Maryland for a Climate Action Week. We'll get started with a #ClimateSolutionsNOW Rally and Kick-off event on February 22nd from 5pm to 6pm, and then have meetings with key legislators from February 22-25th.
Here's how to be a part of the effort to win big on climate action this session:
RSVP here for our #ClimateSolutionsNOW Rally and Kick Off Event on February 22nd from 5-6pm. You don't want to miss this!
Get ready to join lobby meetings with your legislators and neighbors from February 22-25th to discuss top climate priorities. Meetings are being scheduled now. Your District Captain will follow up with you by email to communicate the dates and times of your legislators' meetings . (Meetings are estimated to last about 15 minutes and will mostly be scheduled in the evenings.)
We will be hosting a special Climate Action Lobby Training event on 2/17 at 6pm for folks who want additional guidance on making their lobby meetings a success! Details to follow soon.
Registration is free! The rally event will have closed captioning. Please register to receive a link to the kick off event and to be included in future updates about the lobby week (check your spam filter if you don't see it)!
Rally speakers to be announced.
Sponsored by the Climate Solutions Now Coalition, Maryland League of Conservation Voters, CCAN Action Fund, Sierra Club- Maryland Chapter, Indivisible Howard County, Blue Water Baltimore, and others.