Climate Emergency: Tri-State Pipeline Strike! (Roanoke, VA)
September 23, 2019 @ 10:00 am

-

2:00 pm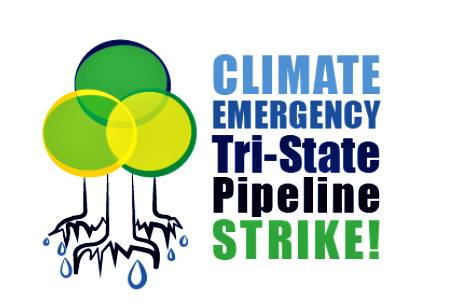 "Climate Emergency: Tri-State Pipeline Strike" will kick off at 10:00 AM in downtown Roanoke, VA, Monday, September 23, 2019!
Join with us as part of the Global Climate Strike week of action to stand with impacted communities across WV, VA, and NC, protect energy customers and demand the pipelines be stopped!
This is a public, permitted, and very family-friendly event! ALL ARE WELCOME!
We will be occupying the Wells Fargo Plaza (outside the Wells Fargo bank).
Here are the details:
WHAT: Climate Emergency: Tri-State Pipeline Strike!
WHERE: 26 Salem Ave. SE, Roanoke, VA 24011
WHEN: September 23rd, 10am-2pm
View this event on Facebook here.
View a map of the event location here!
This public event is the second of two NO MVP / NO ACP actions coordinated by a tri-state coalition of WV, NC, and VA pipeline resisters. The "Circle of Protection" event will take place the day before on Sunday, Sept. 22, and will seek to serve and elevate the voices of the host community, in this case, Bent Mountain, and others now facing the destructive robbery of the Mountain Valley fracked gas pipeline. Communities resisting the Atlantic Coast Pipeline threat will come to tell their own story and stand in solidarity to protect the region's rights to clean water and to protect their own homes and future.
View our list of resources, including information on nearby lodging!
More info on the "Circle of Protection" event.
Everyone is required to register for the "Circle of Protection" event here:
Co-sponsored by: Clean Water for North Carolina, FrackFree NC, Chatham Research Group, 350 Triangle, Blue Ridge Environmental Defense League, Protect Our Water – POW, Concern for the New Generation, Concerned Citizens of Northampton County, Triangle Women's International League for Peace and Freedom, NC Alliance To Protect Our People And The Places We Live, NC Poor People's Campaign, Water is Life. Protect it., Friends of Buckingham, Appalachian Voices, Mothers Out Front – Roanoke and New River Valley, Mothers Out Front – Richmond, Mothers Out Front – Fairfax County, Mothers Out Front, The Chesapeake Pipeline Resistance, RVA Interfaith Climate Justice League, Virginia Peoples Climate Movement, Virginians Against Pipelines, Food & Water Watch – Virginia, Virginia Poor People's Campaign, Sustainable Roanoke, Friends of the Earth, Unitarian Universalist Church of Loudoun – Earth Justice Team, Faith Alliance for Climate Solutions, Protect Our Commonwealth, Virginia Sierra Club – New River Valley Chapter, Preserve Salem, Indivisible Virginia, Preserve Floyd, 1000 Flags 1000 Waters,