Jammin' For Jobs West Virginia – Virtual Livestream
April 10 @ 1:00 pm

-

2:00 pm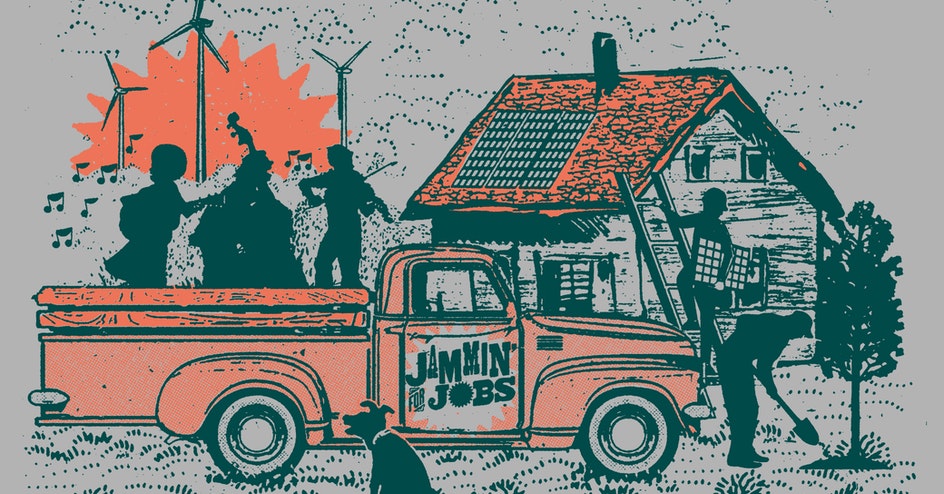 View Livestream at http://live.newjobswv.org and on New Jobs WV's Facebook page at http://www.facebook.com/newjobswv.
President Joe Biden's newly-announced American Jobs Plan would be excellent news for West Virginians — if passed.
According to our partners at West Virginia New Jobs Coalition, 50,000 jobs will come to West Virginia under the plan. This is in part due to the groundbreaking provision for 100% clean electricity by 2035. That is why CCAN Action Fund is teaming up with the West Virginia New Jobs Coalition for a day of music, art, culture, storytelling, and, most importantly, info about this incredibly important plan.
Join us for "Jammin for Jobs" on April 10 at 1:00pm and learn about how the American Jobs Plan would transform the West Virginia economy and climate.
Join us for Transformational Healing by Renewing and Investing in a Vibrant Economy! Let West Virginia THRIVE! This event promises to bring Joy To The People through music, art, culture, and story-telling in Charleston, Morgantown, and Martinsburg, WV. Visit www.newjobswv.org for more details.
Many Issues, One Struggle. We aren't just facing one crisis. Global pandemic, mass unemployment, systemic racism, climate crisis — they are all connected.
The THRIVE Agenda presents a bold new vision to revive our economy while addressing these interlocking crises of climate change, racial injustice, public health, and economic inequity with a plan to create dignified jobs for millions of unemployed workers and support a better life for the millions more who remain vulnerable in this pivotal moment.
What do we want? We want a country where everyone can THRIVE. This isn't a dream, it is possible — if we work for it. The THRIVE Agenda lays out eight pillars that Congress must focus on to create an economy that will work for everyone, not just the folks at the top. For more details, visit: https://www.thriveagenda.com/agenda.