Lobby night with CCAN Action Fund for the Clean Energy Jobs Act
February 19, 2018 @ 4:30 pm

-

8:00 pm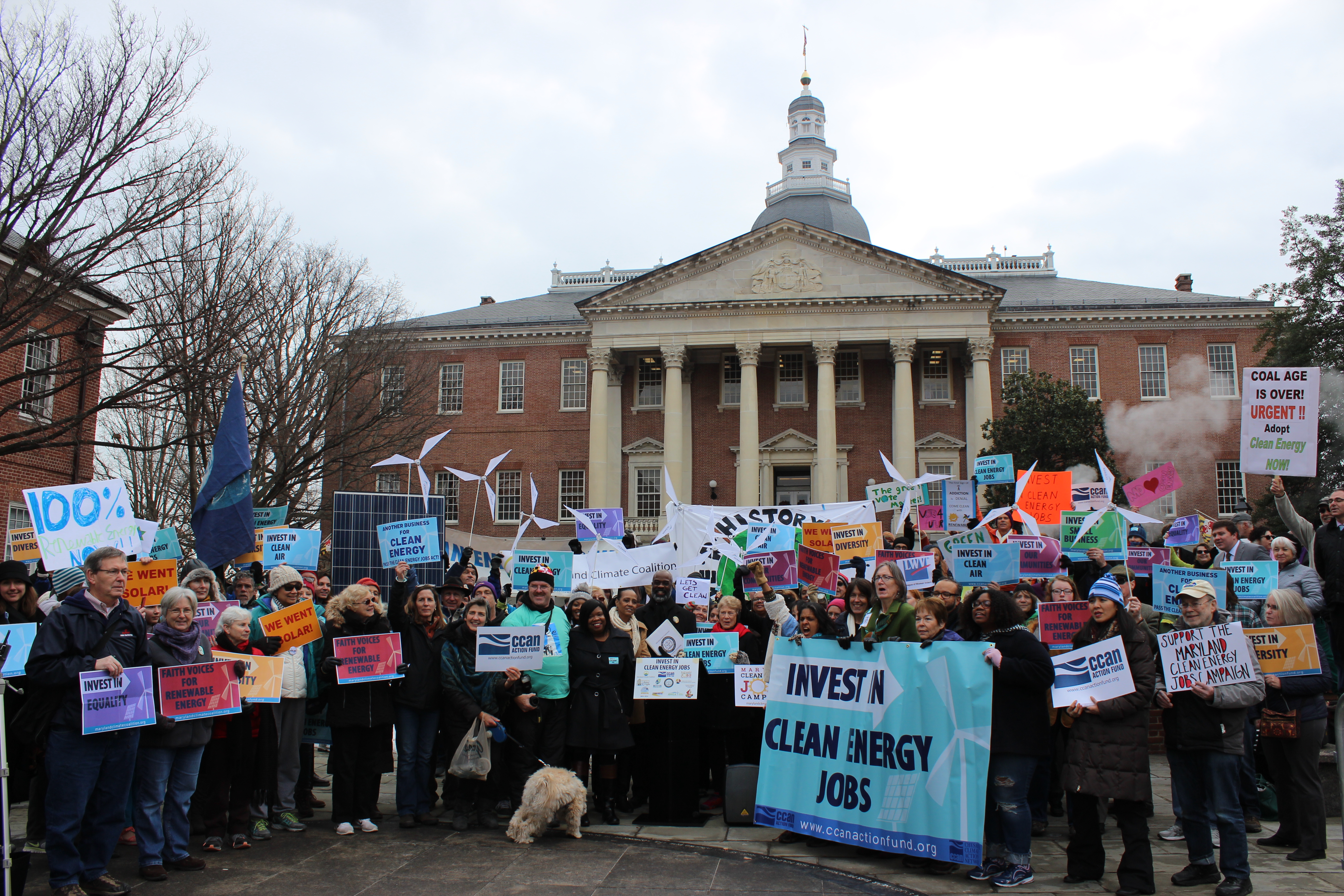 If there's one night this entire winter where your time can be put to good use for climate change and energy, it's Monday, February 19. That's when hundreds of people like you across the state will be working to expand Maryland's solar industry and not allow a climate-denying president to hand over those jobs to the coal industry. Join our sister organization CCAN Action Fund and RSVP now for lobby night on February 19 to urge our legislators to support — and pass — the Clean Energy Jobs Act.
CCAN Action fund and the Maryland Climate Coalition gave our legislators a big showing when they arrived in Annapolis for the first day of the 2018 General Assembly session. On January 10, we chanted and cheered as dozens of electric vehicles circled the State Capitol, decked out in banners that said "Clean Energy Jobs Now!" We made it clear that Marylanders want to double renewable energy in Maryland, while phasing out dirty sources of energy and investing in workforce development and creating new jobs by passing the Clean Energy Jobs Act.
Now, we need to sit face-to-face with our legislators to demand what we want for all of our communities in Maryland.
During lobby night, you'll first hear key updates about our bill and get some lobbying tips. Then, you'll join other activists from your community to meet with your legislators and let them know that Marylanders want an equitable, progressive renewable energy future in Maryland!
Won't you take part of a citizens' lobby night in Annapolis?
Join CCAN Action Fund on February 19th to tell your legislators: Invest in Maryland and invest in doubling renewable energy in our state. Let's fight for a policy that lifts ALL of Maryland to the clean energy economy.
Here are the details:
What: Lobby night with CCAN Action Fund for the Clean Energy Jobs Act
When: Monday, February 19th, 4:30 pm – 8:00 pm
Where: Asbury United Methodist Church, 87 West St, Annapolis, MD 21401
Who: You and other clean energy activists statewide!
RSVP: Click here to RSVP. And if you're on Facebook, RSVP there, too — and invite all your friends!