The 8th SUN SiNG in Place Concert
August 20, 2020 @ 7:00 pm

-

8:00 pm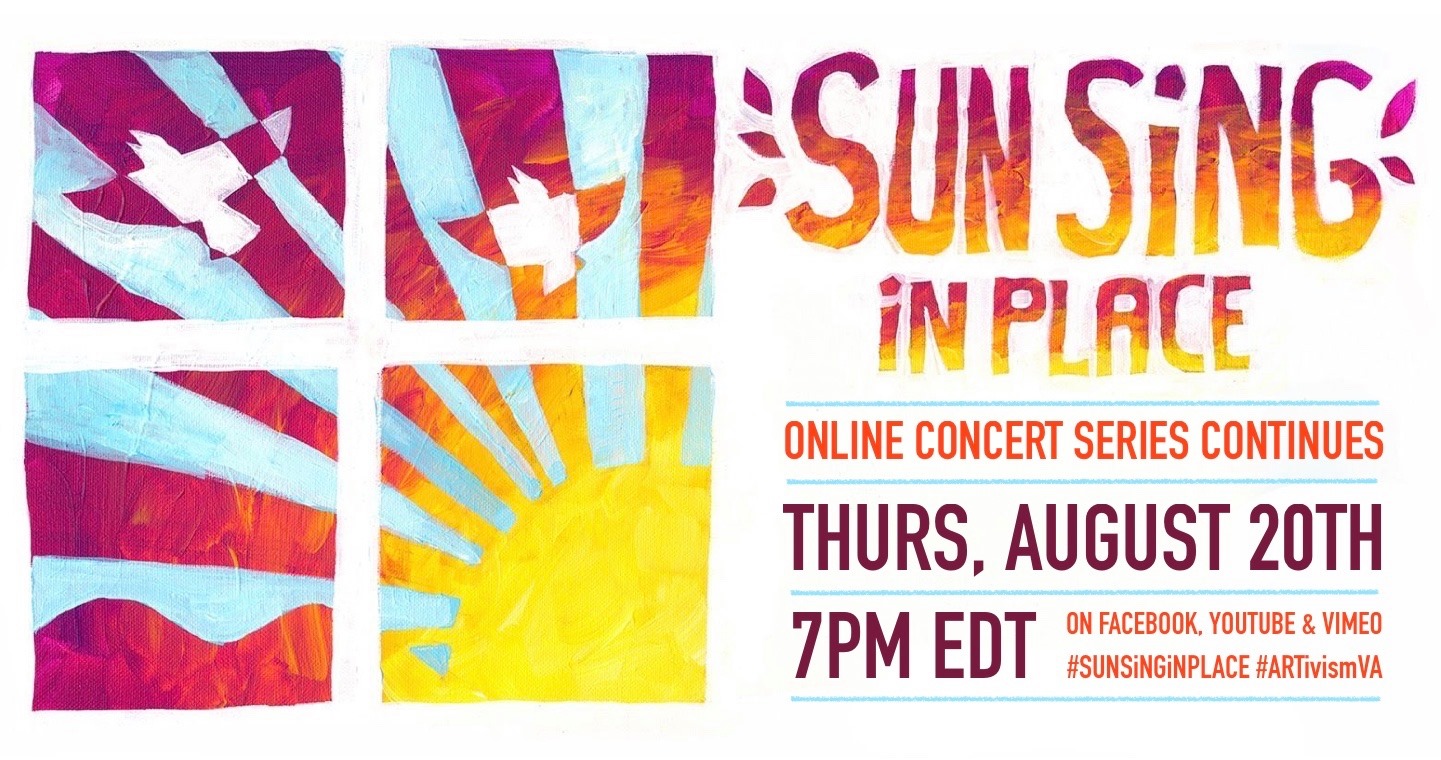 WHAT: The 8th SUN SiNG in Place Concert
WHEN: Thursday, August 20th, 7:00pm-8:00pm
WHERE: Livestreamed! On Facebook, YouTube, and Vimeo. RSVP here!
Our 8th SUN SiNG in Place Concert will focus on Divestment: Seeding the Future and our Concert Collaborator will be Invest Virginia! This event features Jason "Crazy Bear" Campos Keck, Alien Being, Catherine Backus, Swamp Trees, and more.
As we stay at home to keep our families and communities healthy, it's more important than ever to stay connected, be in solidarity, and show up for one another in our intersectional causes for justice. At ARTivism Virginia, we connect through art.
This concert continues ARTivism Virginia's connection of artists and activists in the fight against dangerous and destructive fossil fuel infrastructure in Virginia and our region, bringing together musicians, poets, visual artists, and leaders in the work for environmental justice. These concerts will be held every third Thursday of the month, so we hope you'll continue to tune in with us at 7PM Eastern on August 20th, September 17th, and October 15th. RSVP here!
The SUN SiNG Collective was formed in 2019 as a project of ARTivism Virginia, featuring visual artists & musicians using their art to support the fight against the Mountain Valley and Atlantic Coast Pipeline.
Producer: Joshua Vana
Technical Director: Graham Smith-White
Co-producers: SUN SiNG Collective members Bernadette "BJ" Lark, Camry Harris, Emily Blankenship-Tucker, Gabe Gavin, Graham Smith-White, Laney Sullivan, Lilly Bechtel, and Joshua Vana, ARTivism Virginia Co-Director Kay Ferguson