Virginia LTE and Story of Self Training
November 18, 2021 @ 7:00 pm

-

8:30 pm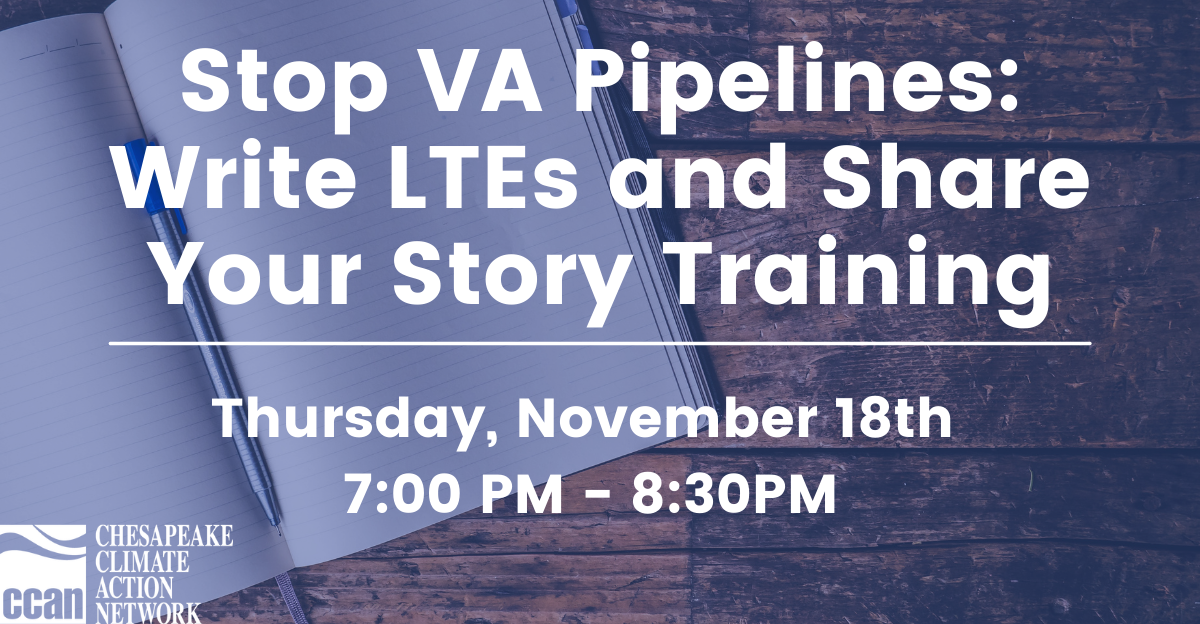 Having a well articulated story of self enables others to easily connect with you and identify shared values, motivations, and experiences and move them towards action. An effective method for getting your story out and raising awareness about your campaign is via writing Letters to the Editor (often abbreviated as "LTE").
At this upcoming training, you will learn how to tell your story, move people towards action, and to write a compelling letter to the editor (often abbreviated to "LTE") to elevate the issues you are passionate about. We will be particularly focused on using these tools to raise awareness and opposition to the disastrous Mountain Valley Pipeline ("MVP") and to the Chickahominy Pipeline  (which is trying to acquire private property to build a gas pipeline). We are hopeful that the State Water Control Board will deny the 401 permit to the MVP this December and the State Corporation Commission will oppose the building of the Chickahominy gas pipeline.
Join us and gain a great skill you can use right away!
Who the Training is led by: Experienced CCAN staff
Who the training is for: CCAN volunteers and partners
What: A training on story of self, and how to write effective LTE opinion pieces!
When: Thursday, November 18th, 7:00PM – 8:30PM
Where: Zoom; RSVP and the Zoom details will be emailed to you.
Why: Learn key tools for building awareness stop the building of pipelines in VA this December!