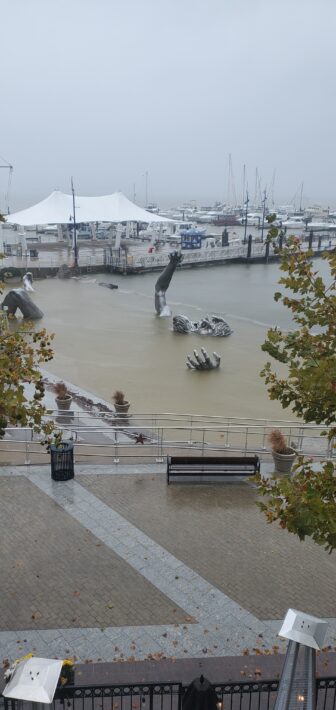 Halloween weekend always produces some startling sights, but in 2021, the most frightening image of all wasn't a ghoul or ghost, but a very real picture of an iconic statue slipping below climate change-driven flooding.
"The Awakening" is an aluminum statue located in National Harbor, MD, just a few feet away from the tidal Potomac River. The statue was originally created in 1980 by the late Seward Johnson and located on Hains Point in Washington, D.C. before being moved to its current location in 2008.
In normal conditions, the statue depicts a giant grasping at the air, struggling to emerge from the earth. However, after the Mid-Atlantic experienced some of the region's worst tidal flooding in years this weekend, the sandy space where the statue sits was inundated with unusually high floodwaters. Instead of emerging from the dry ground as the artist intended, the giant appeared to be drowning as water filled its open mouth and rose several feet to nearly eclipse one of its massive hands.
Unfortunately, this image is one that we will see with increasing frequency as climate change causes more precipitation and severe storms along the East Coast, including in D.C., Maryland and Virginia. According to a 2018 NOAA report, the average incidence of high-tide flooding in the Mid-Atlantic doubled between 2000 and 2015, from three to six days a year.  National Harbor wasn't the only local area affected by the flooding over the weekend—the mayor of Annapolis paddled through his city's streets to assess flood damage, waves lapped at storefronts in Alexandria's Old Town, and the Tidal Basin overflowed in downtown D.C. In Annapolis, early data shows this weekend's flood was the fourth-highest in the city's recorded history.
What is especially concerning about this weekend's flooding is, as anyone who was in the area can attest, there wasn't a deluge of rainfall that caused the Potomac River to flood D.C. and surrounding areas. Instead, as Dean Najouks of the Potomac Riverkeeper Network pointed out, distant storms drove water up the river from the Atlantic, meaning the flooding was the "direct result" of sea-level rise and climate change. Although hurricanes and large rainstorms will also pose increasingly dire threats, it's clear that it doesn't take a direct hit from a storm anymore to cause significant flood damage in the region.
Although the viral photos of "The Awakening" this weekend provide a dramatic snapshot of the effects of climate change, the more haunting fact is that these impacts are constantly occurring whether we get a striking picture of them or not. To preserve our region's health, safety, economic-well being and overall quality of life, it is imperative that we take steps now to immediately reduce our climate-disrupting emissions.