How clean energy policy is bringing steel back to Baltimore
Baltimore was built on steel, and Baltimore was devastated by steel. But now, thanks to Maryland's strong clean energy policies, Baltimore has the opportunity to become a steel hub once more — and a lynchpin for a healthy, sustainable economy. 
At one point, Sparrows Point on the Port of Baltimore was home to the world's largest steel mill. The mill brought tens of thousands of jobs to the area and helped shape the city. Steelworkers still call it "hallowed ground" for steel. But history was not enough to protect Baltimore from the steel industry's decline — far from it, Baltimore faced particular economic devastation partly due to the steel industry's demise. 
That's why this month's announcement of a new steel mill in Baltimore County feels particularly huge. US Wind announced a new offshore wind project called Momentum Wind, major labor agreements with the Baltimore-D.C. Building & Construction trades union and the International Brotherhood of Electrical Workers to provide union labor to support US Wind's first major offshore wind project for Maryland, a $77 million investment in a new 90-acre port facility to service offshore wind development in Maryland, and a proposal for a new steel fabrication facility in Baltimore County at the Tradepoint Atlantic site, now called Sparrows Point Steel.
These projects will create hundreds of union jobs building offshore wind turbines right here in Maryland, to bring offshore wind to the electric grid in Maryland, helping ease us off the dirty energy sources that have polluted areas like Baltimore for so long. 
I feel a particular attachment to this news because I know firsthand how it's the result of grassroots advocacy and legislative achievements.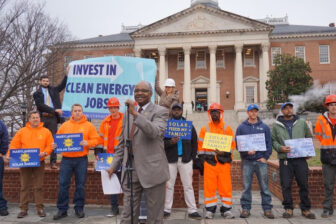 While I was studying Political Science and Economics at Washington College, I watched the movement of the Maryland Offshore Wind Energy Act closely — and its passage inspired me to work in state energy politics. Shortly after graduating, I took my first full-time position with Del. Ben Brooks, a key player in public utilities, where I worked with him to pass the historic Clean Energy Jobs Act. Now, five years later, as the new Maryland Director of Chesapeake Climate Action Network, I've had an eye on new renewable energy deployment all summer, waiting for the US Wind announcement. 
Reading over the details of this momentous step forward for offshore wind in Maryland – 82 additional turbines, 3500 new construction jobs, more than 500 local, permanent jobs, a new steel fabrication facility in Baltimore County – I couldn't help but think back to the hundreds of meetings I'd sat in on with Delegate Brooks and various stakeholders in the fight for increased clean energy projects between 2016 and 2019. 
During the time I worked for Delegate Ben Brooks, who represents parts of Baltimore County, between 2016 and 2019, he not only sat on the Economic Matters Committee but also served as the Public Utilities Subcommittee Chair. Some of my first meetings on his staff were with folks from US Wind and Ørsted, hearing promises that expanding Maryland's Renewable Energy Portfolio Standard (RPS) and adding 1,200 MW of offshore wind would bring jobs and economic growth to Maryland by making it a leader in the offshore wind industry. It was the focus on manufacturing jobs, union involvement, and bringing the supply chain for OSW to Maryland that stuck with me as I continued to work on this legislation with Delegate Brooks. Where so many could see challenges in the energy transition, we couldn't help but see great opportunity, and maybe even redemption.
While much of the Clean Energy Jobs Act focused on the energy transition as a way to mitigate climate change, Delegate Brooks and I were excited to work with the renewable energy industry to address another change we saw in his district, in Baltimore, and throughout Maryland: the loss of manufacturing and unionized jobs. 
Now, true to its name, the Clean Energy Jobs Act is creating good-paying and unionized clean energy jobs by bringing steel back to Baltimore with Momentum Wind and Sparrows Point Steel. Only two weeks into my new role as the Maryland Director at Chesapeake Climate Action Network and my work has come full circle to where I started as a staffer for Del. Ben Brooks in Annapolis. Seeing clean energy policy bring projects like this to fruition is the poetic capstone of one stage of my career and the exciting commencement of this next phase.
With the legislative session around the corner, federal funding on its way, and the midterm elections next year, it's time to ride the momentum of this great example of just transition and job creation to continue our work to decarbonize Maryland's energy sector and reduce emissions across the economy. I'm excited to be back in Annapolis this January, this time representing CCAN and our coalition of climate-focused Marylanders. With the consequences of climate change more pronounced than ever, we will need bold policy and a mobilized base – I hope you will join me! 
Want to get involved? Sign up here to volunteer with us, or stay updated on our email list for more opportunities this fall!
Image at the top from Flickr user David Robert Crews via Creative Commons