I will remember today for the rest of my life. Today The House of Representatives passed The Inflation Reduction Act of 2022 and sent it to President Biden for his signature. Today kicks off a clean energy revolution that will save thousands of lives, prevent countless climate disasters, and shape the carbon record for millennia.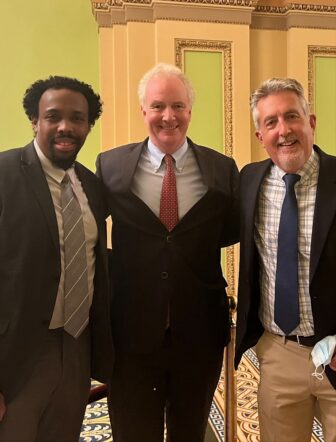 While it is not perfect, this groundbreaking legislation will reduce US emissions 40% below 2005 levels by 2030, create 1.4 million new jobs, expand the U.S. economy by nearly one full percentage point, and prevent up to 3,900 premature deaths annually, mostly in communities of color. It will also expand health insurance and lower the cost of prescription drugs.
The Inflation Reduction Act is the first sweeping climate legislation to be passed by Congress, and it would not have been possible without the advocacy we have been doing for years. Thank you. It has been an honor to build this movement together with you. Now our job is to build more power and pass even bolder legislation. We must make this the first, and the smallest, climate legislation Congress passes.
CCAN Action Fund is enthusiastically applauding House passage of the Inflation Reduction Act. A side agreement of the bill, however, could accelerate approval of oil and gas pipelines, drawing fierce opposition from groups like CCAN Action Fund with pledges to defeat this separate measure in September.
The climate features of the bill are described in more detail here. CCAN Action Fund advocated for the removal of the provisions that would open up new leases for fossil fuel extraction, and we are disappointed to see that these provisions were included in the final bill. We will continue our decades-long practice of fighting all fossil fuel infrastructure.
While the Inflation Reduction Act does not affect the Mountain Valley Pipeline in any way, its passage is linked to a separate bill to greenlight the Mountain Valley Pipeline through a deal between Senators Manchin and Schumer. Even as we celebrate our representatives for finally passing sweeping climate legislation, we need to let them know that they must vote against ANY legislation that facilitates construction of the Mountain Valley Pipeline.
Please, take a moment to contact your representative about their vote on the Inflation Reduction Act, and demand they block the Mountain Valley Pipeline.
Statement from Mike Tidwell, Executive Director of the Chesapeake Climate Action Network and CCAN Action Fund:
"Today's passage of the Inflation Reduction Act by the US House of Representatives is a game-changing step in the fight to rescue our planet from extreme climate change. The bill will be remembered as a turning point in the nation's move to 'electrify everything' with clean energy while protecting our most vulnerable communities from climate impacts and energy cost burdens.
"In the Chesapeake region of Maryland, Virginia, DC, and West Virginia, this bill will greatly incentivize manufacturing for wind and solar energy systems while growing our offshore wind industry with smart and strategic tax credits. It will mean many more affordable electric cars throughout our region with a rapidly growing network of charging stations in addition to funding for more walkable communities.
"Also, thanks to the tireless efforts of Maryland Senator Chris Van Hollen, this bill will create America's first national Green Bank with $9 billion. The bank will transform American homes with loans and grants for heat pumps, electric water heating systems, and other low- and zero-carbon energy systems."
"Many thanks also to Stacey Abrams of Georgia. Her tireless efforts over the years to register Georgia voters and fight for justice led directly to the US Senate election victories of Rafael Warnock (D-GA) and Jon Ossoff (D-GA) in 2021. Without Abrams' visionary efforts, the Senate would not have had the votes to win today on climate and prescription drugs. Period."
"But the climate fight will be far from over. We must do more to right the wrongs of climate injustice and continue our effort to make communities of color, that have been disproportionately impacted, whole again. CCAN Action Fund is committed with hundreds of other groups to stopping any 'permit reform' legislation – proposed for a September vote – that could ease approval of unimaginably destructive fossil fuel pipelines like the Mountain Valley Pipeline proposed for West Virginia and Virginia. We will fight as hard to stop that bill as we've fought to pass this climate bill."