The movement to create cleaner, healthier, all-electric new homes and green buildings is lighting up the country. There are wins on electrification in California, Massachusetts, New York, New Jersey, Washington, Colorado, and even nearby DC. CCAN has a bold vision that Maryland will join their ranks and eventually become a leader.
Electrifying buildings would benefit community members by giving them access to cleaner air, healthier homes, green buildings, good jobs, affordable clean energy, and energy efficiency to reduce monthly energy bills while helping the state meet its climate goals. 
Green Buildings: We Must Shift Away From Gas
About half of residents in our region use gas for their furnace, water heater, or stove. In the United States, 16% of natural gas is used by homes, and 11% is used by commercial buildings, meaning that nationwide, buildings create about a quarter of the national demand for natural gas.
The Facts Gas Companies Don't Want You To know
 In 2021 and 2022, gas explosions in Maryland destroyed numerous residential and commercial buildings and taken several lives.

According to the Baltimore Gas and Electric Co. reports to federal authorities, leaks in Baltimore are so frequent that nearly two dozen of them are discovered each day on average.

Building construction and operations accounted for 40% of all CO2 emissions in the world.

In Maryland, burning fossil fuels for buildings produce the emissions equivalent of almost 4.5 million cars, or five coal plants every year.

Gas infrastructure is linked to the contamination of water, pollution, and damage to the ecosystem.

From 2010 – 2019 the US suffered 1,411 significant gas incidents – roughly one every three days leading to fatalities, serious injuries, and more than $3.5 billion in property damage. [

3

] [

5

]

Gas causes health impacts such as respiratory and skin irritation, neurological problems, dizziness, nosebleeds, nausea, and headaches [

4

][

5

]

Five out of 10 Americans live in areas with unhealthy air, according to the American Lung Association's new

State of the Air

report. 

Gas stoves are a primary source of combustion (burning) pollution inside the home. Gas stoves produce dangerous levels of air pollutants – such as nitrogen dioxide, formaldehyde, and carbon monoxide – inside the home that would violate outdoor standards. [

5

]
The Solution: Green Buildings Through Electrification
Electrification is a strong investment offering tremendous benefits. These benefits will lead to healthier homes, an improved climate, and a vibrant economy.
Improving health and safety:
Electrifying buildings helps improve indoor environmental quality. Improved air quality can reduce asthma symptoms and other health impacts.  And there's no risk of carbon monoxide poisoning and reduced risk of fires.
Promoting justice:
Of the households in Maryland that would save by electrifying,

39% are low- and moderate-income

. Each year, they would

save an average of $413 if they switched to electric appliances. 
Improving the condition and value of buildings:
Electrification and electric upgrades act as investments in the future of the communities that they are in and create a foundation for other continued improvements.
Supporting job creation and economic recovery and development:
Decarbonizing buildings through renewable energy, efficiency, and electrification helps create local jobs. Investing in energy efficiency, for example, creates nearly three times more jobs per dollar than investing in the fossil fuel sector. According to

Rewiring America

, electrification would create 4,200 installation jobs in Maryland.

 
Saving on bills: 
1.7 million households in Maryland across every county are currently using electric resistance, fuel oil, or propane. They would save $435 per year by switching to electric according to

Rewiring America

.

31% of households using natural gas would also save on annual energy bills. The number of households that would save and the average savings will continue to increase given the trajectory of heat pump technology improvements.

 
See what people are saying about green buildings in Maryland!
Electrify Maryland: For All, Not Some
Although everyone deserves to breathe clean air, pollution—indoors and outdoors—does not affect everyone equally. We must create healthier, greener, and more resilient buildings. For all.
Electrification of home appliances would benefit low-income households and environmental justice communities by improving both indoor and outdoor air quality. These communities face disproportionate air-pollution burdens and limited access to clean energy resources.
Residents in environmental justice or "disadvantaged" communities face some of the worst air quality in the state. Gas appliance emissions add to the persistent outdoor air pollution and can compound existing environmental burdens, placing low-income residents and people of color at even greater risk of adverse health effects from air pollution.
Low-income and minority residents disproportionately use kitchen appliances for the purpose of heating their residences (instead of using designated heating devices).[

2

]

Residences occupied by low-income populations are often older and use older, less efficient, and unmaintained appliances. These older appliances may not be regularly maintained due to the cost required and a lack of available funds to repair them, or lack of landlord attention.[

2

]

Low-income residences are likely to be smaller in size and have inadequate ventilation, resulting in higher indoor pollutant concentrations. [

2

]

LMI households face higher energy burdens and higher rates of energy insecurity than higher-income households, and they also may be disproportionately affected by buildings-related health issues, such as indoor air pollution from gas stoves
The Cost-Effective Solution: All-Electric New Green Buildings
New construction requirements are a sensible first step in the building electrification transition. All-electric construction can save money by avoiding the cost of gas infrastructure in buildings, and in some instances avoiding the costs of distribution lines in new developments. 
The good news is that all-electric new green buildings typically have the lowest construction and operating costs. 
According to Rewiring America, 99% of households in Maryland—2.2 million—could save money on energy bills if they used modern, electrified furnaces and water heaters instead of their current machines.
The Maryland Department of the Environment worked with Energy + Environmental Economics (E3)  to assess ways to achieve net-zero emissions by 2045 for Maryland's buildings sector. E3's Maryland Buildings Decarbonization Study modeled the construction and operating costs of all-electric new buildings and found the following: 
For single-family homes, all-electric homes

cost less to construct

than new mixed-fuel homes.

For multifamily buildings, all-electric

costs about the same to construct

as mixed-fuel buildings.

As Maryland moves toward a net-zero-emissions goal, all-electric new buildings of any type— residential and commercial—will have the

lowest total annual costs

(including equipment, maintenance, and energy costs).
Learn more about the mounting evidence which shows all-electric new construction is cost-effective here.
Leading at the Local Level
Right now, CCAN is working with volunteers across the state to put pressure on local decision-makers to support new green building electrification as an immediate way to stop the buildout of new gas infrastructure. We are starting this work on the local level but this will build towards state action, similar to our successful approach in the fracking campaign.
By targeting a number of selected localities, we can build awareness, momentum, and support while refining our messaging and tactics — eventually leading to a statewide effort by 2023. 
Take Action
If you want to get involved, fill out a volunteer form or contact anthony@chesapeakeclimate.org. 
Recent Major Gas Explosions in Maryland
Key Articles: 
In March 2017, the Maryland General Assembly passed House Bill 1325, which will place a permanent ban on fracking in Maryland. The House of Delegates and the Senate both passed the bill with a bipartisan, veto-proof majority, sending it to be signed by Maryland Republican Governor Larry Hogan.
This move follows six years of organizing against the drilling practice from a grassroots movement that included farmers, doctors, students, faith leaders, environmental groups, and others. In the final year of the campaign 16 municipalities across the state passed bans, resolutions or statements of support in favor of a ban on this harmful drilling practice. During the legislative session over 600 grassroots activists lobbied in favor of a ban on hydraulic fracturing and over a 1000 people took to the streets in Annapolis for a march and rally. In the last days of the campaign, a  group of 13 faith leaders and western Maryland residents were peacefully arrested in support of the fracking ban bill while it was being debated in the Senate, and one day later, Gov. Hogan reversed course to announce his support for a fracking ban.
Maryland will now become the first state in America with proven gas reserves to ban fracking by legislative action. It sets a nationally significant precedent as other states grapple with the dangerous drilling method. From Virginia (where leaders have imposed or proposed local bans at the county and municipal level) to the state of Florida (which is looking to follow Maryland's statewide ban), the "keep-it-in-the-ground" movement is gaining new bipartisan steam. Read more here.
---
In neighboring states and across the nation, evidence is mounting that drilling and fracking for natural gas leads to polluted air and water, serious health problems, earthquakes and economic losses for local communities.
In Maryland, a growing grassroots movement has kept fracking at bay — for now. In the 2015 Maryland General Assembly, CCAN worked with over 70 groups in the Don't Frack Maryland Coalition to put a 2.5 year moratorium on fracking. Thanks to thousands of email and calls, lobby, meetings, actions and more, Governor Larry Hogan let HB 449 become law on May 29th, 2015. This bill puts a hold on drilling in Maryland until October 2017. 
But the gas industry began maneuvering to put fracking on the fast-track as soon as the moratorium would lift. There were over 100 groups working with the Don't Frack Maryland Coalition to pass a ban on fracking in the 2017 General Assembly session. Our mission is to build an even more powerful grassroots movement to put a permanent, statewide ban on fracking by October 2017.
When the General Assembly came back in full-swing, our movement to ban fracking in Maryland moved at full-speed. The Maryland House of Delegates answered our movement's call on March 10, 2017, when they passed House Bill 1325 to ban fracking with a bipartisan vote of 97-40. Just one week later in a historic move, Republican Governor Larry Hogan announced his support for a permanent statewide ban on fracking. Governor Hogan's announcement came one day after 13 brave Marylanders were peacefully arrested outside of the State House to demand a ban on fracking. Soon after, the Senate finalized the ban on this risky drilling practice once and for all by putting Senate Bill 740 over the finish line.
Download the CCAN fracking activist toolkit: Get your city to endorse a ban on fracking.
Join the movement to ban fracking in Maryland: Email Brooke Harper at brooke@chesapeakeclimate.org to volunteer.
The Fracking Threat in Maryland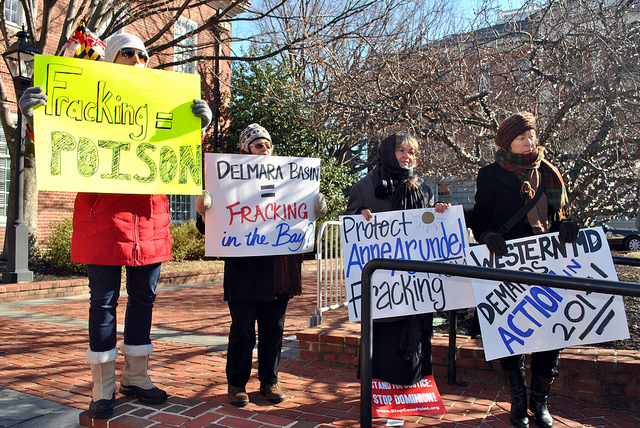 The science shows that fracking threatens the air we breathe and the water we drink, while also worsening climate change.
Maryland's Garrett and Allegany Counties sit atop the Marcellus Shale gas basin and are on the front lines of potential fracking in the state. But the threat is statewide. Across Maryland, five different gas basins stretch underneath our communities and could potentially be fracked by the gas industry. For instance, the Taylorsville gas basin stretches under one-third of Prince George's County. A Texas-based company has already leased land to frack for gas in the Virginia portion of this same basin.
In 2011, Governor O'Malley issued a temporary, three-year executive order that put a hold on drilling permits in Maryland and created a commission to assess whether or not fracking poses unacceptable risks to Marylanders. The resulting studies warned of many significant risks — especially to our health — if fracking is allowed to proceed.
Marylanders Oppose Fracking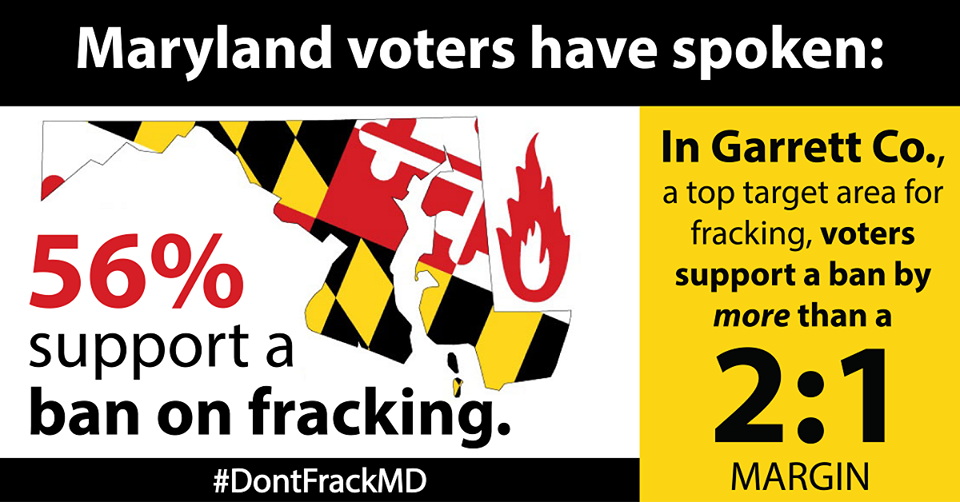 A long-term hold on drilling in Maryland is not only the right choice — it's what the Maryland public wants.
The Facts on Fracking
Fracking is a dangerous drilling method used to extract natural gas from shale rock. It involves drilling "L"-shaped pipelines deep underground and pumping a mixture of water, sand and toxic chemicals through them at high pressures to crack apart the rock and release gas packed within. (The chemicals used in fracking include benzene, xylene and toluene, all of which are known carcinogens.) Significant volumes of fracking fluid come back up to the surface loaded with heavy metals, toxic chemicals, and radioactive materials. This hazardous wastewater poses an enormous disposal challenge and the toxic chemicals in fracking fluid threaten to leach into our drinking water. The industrial well pads, machinery and truck traffic that come along with the drilling process disrupt rural towns, straining infrastructure, clogging roads, and adding to noise and air pollution.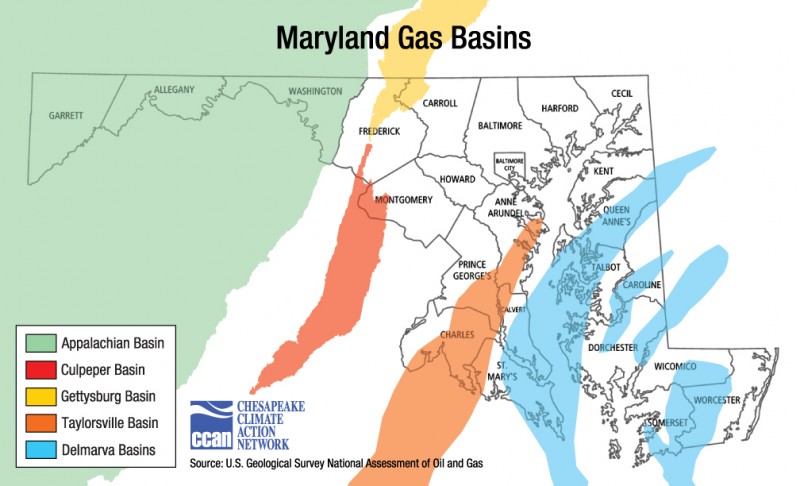 The evidence is mounting showing fracking is dangerous to our health. Especially concerning, researchers are finding associations between proximity to oil and gas development and increases in birth defects and other adverse birth outcomes. Because some effects may take years to show up, the nature and the severity of the long-term, cumulative health impacts of fracking and drilling are still unknown.
Fracking is a statewide threat in Maryland. The Marcellus Shale is probably the best known gas basin in the nation. It's an enormous underground rock formation that spans areas from New York to Virginia, including Maryland's Garrett and Allegany counties. But that's not all: Maryland sits atop not one, but five gas basins that the natural gas industry could frack.
Learn about the Movement to ban fracking in Maryland!
Over 100 groups (and counting) in Maryland added their names to a position statement calling for a ban on fracking – from climate groups like CCAN, to river keepers, outfitters, service unions, public interest organizations, health groups, farmers and faith groups.
And local opposition to fracking was widespread across Maryland:
Resources
Key Articles
Related Campaigns