No New Fossil Fuels in Maryland
Enough is enough: Maryland is being overrun by proposed fracked-gas infrastructure and other looming dirty energy proposals in the state.
Despite rapidly intensifying climate change, Maryland is being overrun with proposed dirty energy infrastructure that will endanger clean water and frontline communities while making climate change worse. Right now, multiple pipelines and compressor stations for fracked-gas are being proposed. Already, the state has seen the construction of a massive liquefied natural gas export facility at Cove Point in Southern Maryland. Enough is enough. It is time to oppose new fossil fuels in Maryland.
Marylanders have now launched a "No New Fossil Fuels" declaration to draw a badly needed line in the sand. 
Here's the problem: every time a new fracked-gas pipeline or liquefied natural gas facility or dirty compressor station is proposed, progressive groups and vulnerable landowners are routinely caught off guard.
The goal of the NNFF pledge is to take the clear OFFENSIVE step in laying down a marker that maintains a clear battle line from the start and makes it easier for all elected officials to understand that any new dirty energy project will be totally rejected by our groups from day one.
In 2017, Maryland became the first state with gas reserves to legislatively ban fracking. This was a result of activists across the state working like never before to protect their communities and our climate.
Unfortunately, frontline communities are still under attack, with fracked-gas pipelines, compressor stations, and power plants being proposed all across the state. That's why we launched our "No New Fossil Fuels" declaration. 
What we're facing -- and who's fighting it
All across the state, there is fracked-gas infrastructure coming online. And all across the state, there are grassroots groups fighting to protect their communities. From pipelines to storage facilities to power plants to export terminals, the fights are many. Here's a snapshot at some of them, along with the groups fighting back: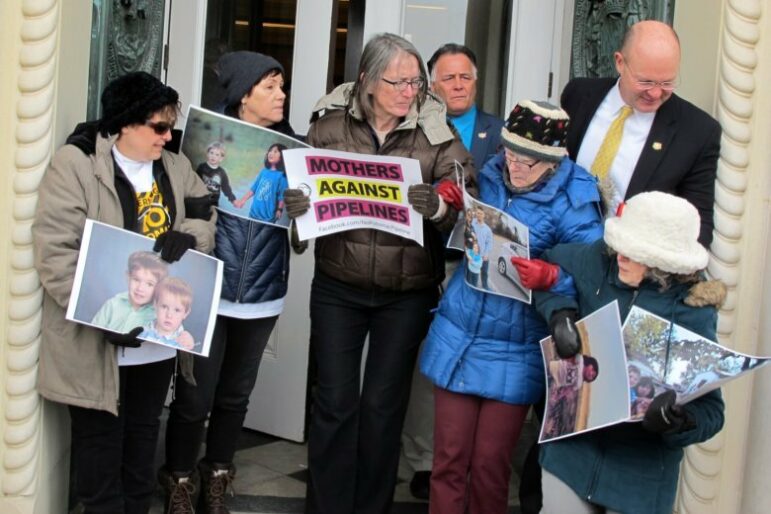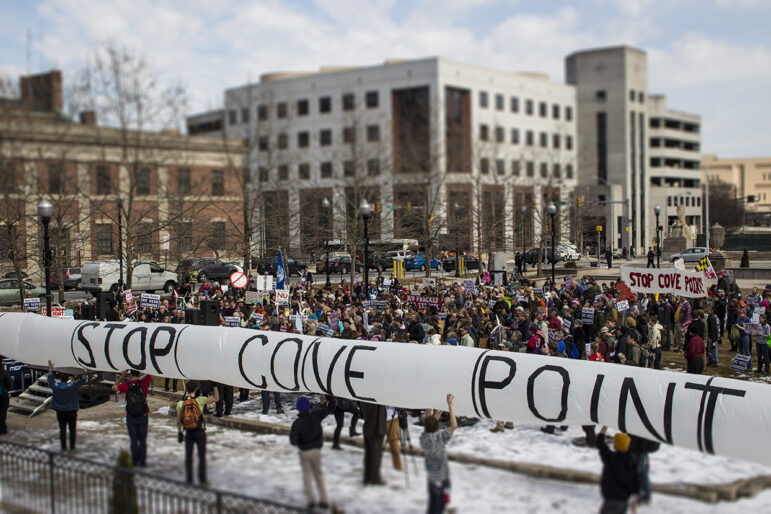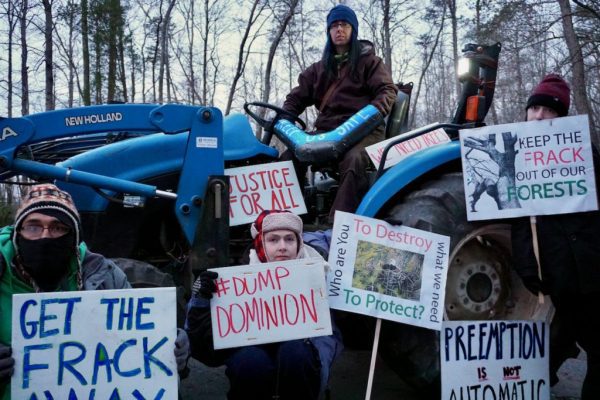 Solution #1: Institute a PSC Climate Test
The Maryland Public Service Commission (PSC) regulates electricity and gas supply in the state. It approves facilities that generate electricity and oversees the gas industry. When it approved a former coal plant repowering to gas, the PSC stated that its governing statute "does not specifically or generally require considerations regarding climate change." The PSC staff agreed: "the Commission has never required that any consideration of climate change and its effects be included in a . . . proceeding." 
Similarly, in testimony submitted to the Senate Finance Committee in 2020, the PSC stated that "the Commission is not mandated to make decisions about labor standards." It is important that the PSC keep labor standards and equity front and center. We need a PSC that is able to fully consider these proposals' climate change and labor impacts.
That's why our sister organization, CCAN Action Fund, helped pass the "Consideration of Climate and Labor Act" in 2021! This legislation is great first step to ensuring that future infrastructure projects will not continue to adversely affect Marylanders and their environment. 
The bill will direct the PSC to consider climate change in its regulation of the electricity sector, based upon the best available scientific information recognized by the IPCC and achieving our state climate goals, when reviewing applications and approving sites for new facilities. Read more here.
Solution #2: Make Polluters Pay
When carbon is burned, it releases harmful carbon dioxide emissions. By burning fossil fuels, Maryland is running up a moral debt. That debt is coming due in the form of  rising sea levels, increasing intensity of ravaging storms, and pollution-inflicted health disparities. Meanwhile, fossil fuel CEOs exploited Maryland for their own profit. While our health has been bankrupted, their wealth has only grown. It is time to make Maryland whole by reversing that imbalance. 
By using existing tax mechanisms to implement a fee on the carbon content of fuels, polluters are incentivized to reduce their use of carbon, effectively reducing the amount of CO2 in the environment. Currently, there is no market accountability for fossil fuel companies who continue to increase their use of carbon without a fee in place. The enormous consequences of CO2 on the health of individuals, especially in already overburdened communities, cannot continue to go unregulated. It is essential that polluters pay a price for their environmental impact and transition to less toxic fuels.
It is time for environmental, grassroots, faith, labor and civil rights leaders to come together to say that we must protect our communities, our future, and our climate. That is why we our launching our No New Fossil Fuels Campaign. By joining together, we will let polluters and our elected leaders know that communities across the state will stand up to dirty fossil fuels and stand up for a future that protects our health.
Enough is enough.  The science is clear. There can be no new fossil fuel development. No more pipelines. No more exploration of fossil fuels. We need a just transition to the clean energy economy now.
Organizational sign-ons:
Key articles:
Resources: 
Related Campaigns: