No New Fossil Fuels in Maryland
Enough is enough: Maryland is being overrun by proposed fracked-gas infrastructure and other looming dirty energy proposals in the state.
Despite rapidly intensifying climate change, Maryland is being overrun with proposed dirty energy infrastructure that will endanger clean water and frontline communities while making climate change worse. Right now, multiple pipelines and compressor stations for fracked-gas are being proposed. Already, the state has seen the construction of a massive liquefied natural gas export facility at Cove Point in Southern Maryland. Enough is enough. It is time to oppose new fossil fuels in Maryland.
Marylanders have now launched a "No New Fossil Fuels" declaration to draw a badly needed line in the sand. 
Here's the problem: every time a new fracked-gas pipeline or liquefied natural gas facility or dirty compressor station is proposed, progressive groups and vulnerable landowners are routinely caught off guard. Dirty energy companies have already quietly negotiated with regulators and elected officials in closed meetings to virtually hardwire fossil fuel projects. Our side is then constantly playing defense from day one to stop projects like Transcanada's Potomac Pipeline and Dominion's Cove Point LNG facility in Southern Maryland.
The goal of the NNFF pledge is to take the clear OFFENSIVE step in laying down a marker that maintains a clear battle line from the start and makes it easier for all elected officials to understand that any new dirty energy project will be totally rejected by our groups from day one.
In 2017, Maryland became the first state with gas reserves to legislatively ban fracking. Over a thousand people marched in the streets of Annapolis, hundreds lobbied their legislators and over a dozen communities waged local fights forcing local governments to outright ban fracking in their municipalities. On Friday, March 17, 2017 a day after 13 people were arrested to call on the Senate to pass the fracking ban, Governor Hogan announced his support to ban fracking in our state. This was a result of activists across the state working like never before to protect their communities and our climate.
Unfortunately, at the federal level we are moving backwards and not forward on climate. There are efforts to revitalize the coal industry and the U.S. has withdrawn from the Paris Climate Accord. And here in Maryland, frontline communities are still under attack, with fracked-gas pipelines, compressor stations, and power plants being proposed all across the state. Governor Hogan has been throwing his weight behind an expansion of the natural gas industry in Maryland. The Public Service Commission recently approved a merger between Washington Gas and AltaGas that would invest over $100 million to jumpstart a natural gas expansion throughout our state — at Hogan's request — a move that, thankfully, Maryland legislators blocked through legislation.
What we're facing -- and who's fighting it
All across the state, there is fracked-gas infrastructure coming online. And all across the state, there are grassroots groups fighting to protect their communities. From pipelines to storage facilities to power plants to export terminals, the fights are many. Here's a snapshot at some of them, along with the groups fighting back: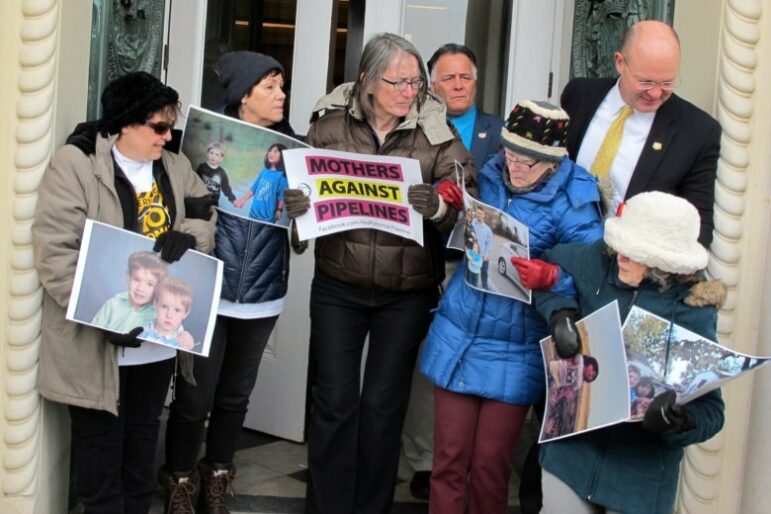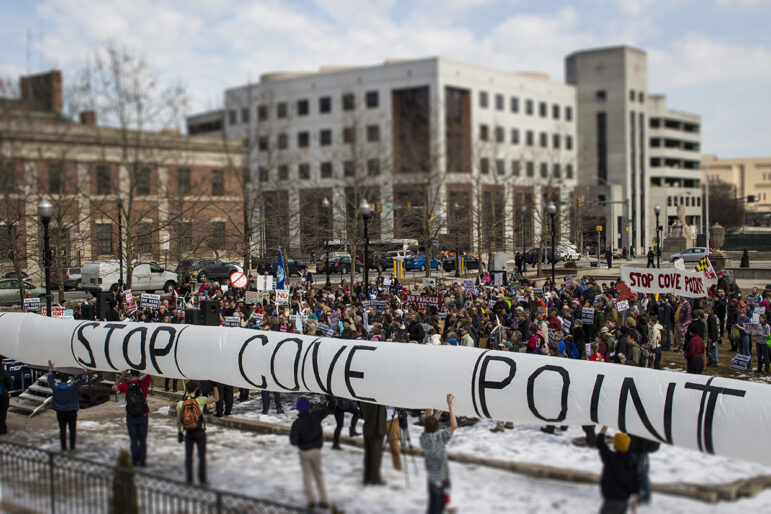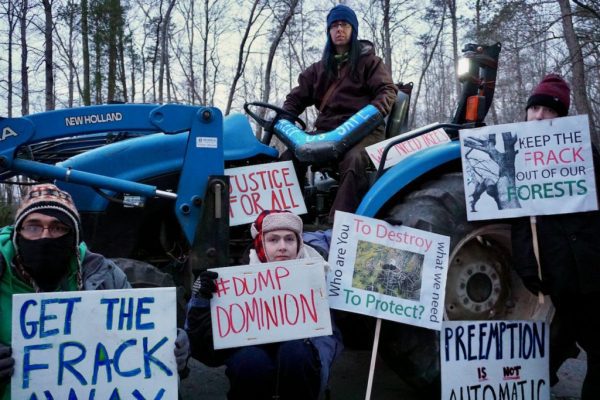 Hogan's Fracking Hypocrisy
When Governor Hogan signed the fracking ban in 2017, he said: "Protecting our clean water supply and our natural resources is critically important to Marylanders, and we simply cannot allow the door to be opened for fracking in our state." But since signing that ban, Hogan has worked consistently to undermine the spirit — if not the letter — of the law.
For months, his administration has been actively negotiating with controversial Canadian oil and gas companies to ship large amounts of fracked gas into and across Maryland. He has been kicking the doors down, in other words, for more fracked-gas infrastructure and gas combustion all across Maryland. In December 2017, his Administration explicitly called this gas, drilled using dangerous fracking in neighboring states, a "valuable resource" with "environmental benefits" and announced his ambitious plans to "kick-start a natural gas expansion…throughout Maryland."
The Governor has launched this gas expansion effort while saying he supports the Paris Climate Agreements, even as scientists confirm that fracked gas is essentially as harmful to the climate as coal. Natural gas brought through Maryland to the export terminal at Cove Point was responsible for 1 million metric tons of greenhouse gas emissions in 2018. As for clean-energy substitutes to gas, the Governor vetoed a 2016 General Assembly law expanding wind and solar power and other renewable energy sources to make up 25% of the state's grid. The GA was forced to override his veto in 2017. Read more about Hogan's fracking hypocrisy here.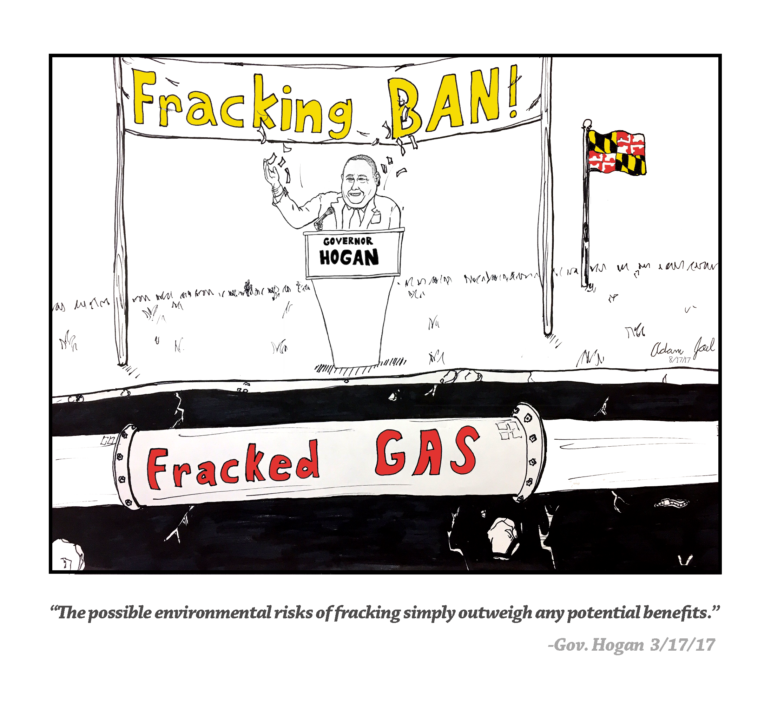 Possible Legislative Solutions:
Solution #1: Institute a PSC Climate Test
The PSC is Fueling the Fire: The Maryland Public Service Commission (PSC) regulates electricity and gas supply in the state. It approves new facilities that generate electricity and oversees the gas industry. Last year, when it approved a former coal plant repowering to gas, the PSC declared that "the Commission has never required that any consideration of climate change and its effects be included in a . . . proceeding."
As an immediate fix to an immediate problem, legislators must direct the PSC to consider climate when making decisions. This "climate test" would provide a necessary and straightforward solution to the PSC's refusal to consider climate change when making energy-related decisions.
Solution #2: Ensure that Maryland Fully Analyzes Pipelines' Impacts to Water Quality
States have broad authority to fully review and ultimately deny a permit for an interstate natural gas pipeline if that review indicates that the project would violate the state's water quality standards. This process is the one of only a few ways states can reject destructive pipelines from coming through their state. In the past, MDE has waived its authority to review pipelines and has failed to analyze all critical information regarding proposed pipeline construction. In 2018 Governor Hogan's MDE permitted the construction of a fracked-gas pipeline underneath the Potomac River, risking the drinking water of over six million people. That permit was granted without the state performing a full, individualized review under the authority granted to it by section 401 the federal Clean Water Act. A bill called the "Pipeline and Water Protection Act" would fix that loophole. It would require MDE to analyze all critical information before it issues a permit for an interstate natural gas pipeline. It would ensure public access to important documentation submitted to MDE from the pipeline company and would require the pipeline company to hold public comment periods and public hearings in affected areas.
It is time for environmental, grassroots, faith, labor and civil rights leaders to come together to say that we must protect our communities, our future, and our climate. That is why we our launching our No New Fossil Fuels Campaign. By joining together, we will let polluters and our elected leaders know that communities across the state will stand up to dirty fossil fuels and stand up for a future that protects our health.
Enough is enough.  The science is clear. There can be no new fossil fuel development. No more pipelines. No more exploration of fossil fuels. We need a just transition to the clean energy economy now.
Organizational sign-ons:
Cedar Lane Unitarian Universalists, Chesapeake Climate Action Network, Chesapeake Physicians for Social Responsibility, Episcopal Diocese of MD, Food and Water Watch Maryland, Greenbelt Climate Action Network, Harford County Climate Action, Howard County Climate Action, Interfaith Power & Light, Maryland Environmental Health Network, Maryland League of Conservation Voters, Maryland State Conference of NAACP, Montgomery County Climate Mobilization, Sierra Club Maryland Chapter, Waterkeepers Chesapeake. See the list here.
Key articles:
Resources: