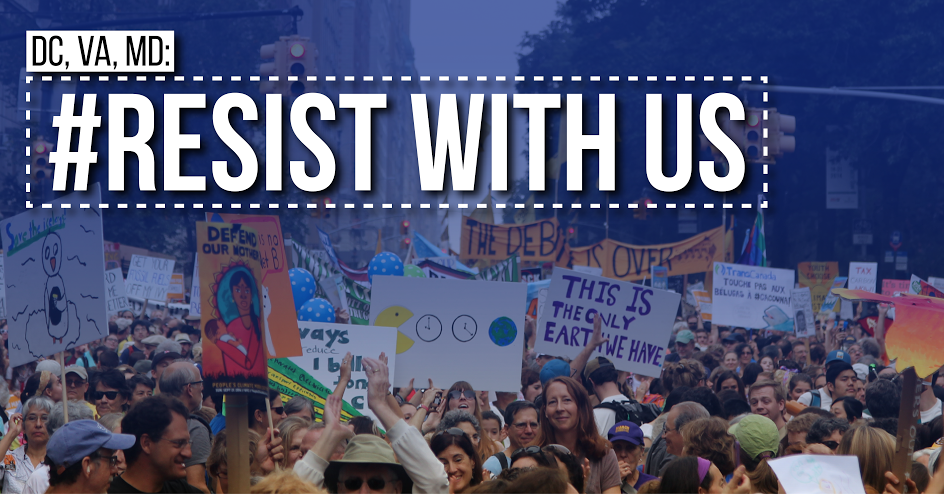 If you're looking for a way to join the climate resistance, you're looking for the Chesapeake Climate Action Network.
Never before have so many understood the power of citizen activism to fight climate denial at the highest levels of our federal government. With climate deniers at the healm of the White House, we know that grassroots resistance is more important than ever. Building a powerful, on-the-ground movement is the ultimate answer to overcoming the power of polluting industries and holding our leaders accountable. We organize, educate, and mobilize so that, even if we lose one battle, we are constantly building a bigger and stronger movement for change and long-term success.
With people like you, CCAN can move our society toward extraordinary victories on energy. Here's how you can join the resistance movement in your region with us:

There's no better way to stand up against harm to the climate than simply signing up for our action alerts. 
By joining the Chesapeake Climate Action Network email list, you'll get updates on ways to take action in the fight for climate and clean energy solutions where you live. We'll send you campaign updates relevant to your state and community — whether it's Virginia, Maryland or the District of Columbia — as well as news from CCAN's campaigns across the region. We'll tell you how to get involved in the fight to double wind and solar in Maryland, fight fracked-gas pipelines in Virginia, and pass groundbreaking clean energy policy in DC. You can unsubscribe at any time.<
---
2: People like you help keep the lights on. Donate to the cause.
Under a Trump presidency, state-based climate action will be the path forward to keeping fossil fuels in the ground and ramping up clean energy progress. Your tax-deductible donation will help us respond with big, bold and creative action in our region surrounding the nation's capital. Learn more by clicking around our website. In the meantime, your donation will go directly to our on-the-ground organizing work—not expensive overhead like fancy office space or full-color membership magazines. 
Donate now to help us push further and faster for climate solutions!
---
The best way to fight the environmental attacks from Washington is to put boots on the ground in MD, VA, and DC. Make the local climate fight part of your life. Supporters like you make up the beating heart of CCAN's work across our region. From banning fracking in Maryland to promoting offshore wind power in Virginia to and passing a bold clean energy policy in the District of Columbia, we couldn't thrive without the help of volunteers just like you.
There are lots of opportunities, big and small, for you to make an impact with CCAN. You can join a volunteer group in your town or campus, publish a letter to the editor in your local paper, come out to a rally with us at the statehouse, or meet with your elected officials.
Take your resistance to the next level and sign up to volunteer!
Thanks for all that you do.