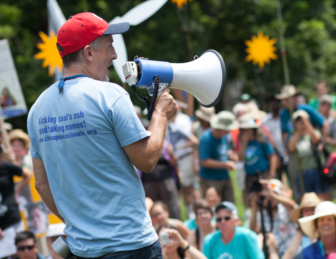 Mike Tidwell is the founder and director of the Chesapeake Climate Action Network, a grassroots nonprofit organization dedicated to raising awareness about the impacts and solutions associated with global warming in Maryland, Virginia, Washington D.C., West Virginia, and nationwide. He is also an author and filmmaker who predicted in vivid detail the Katrina hurricane disaster in his 2003 book Bayou Farewell: The Rich Life and Tragic Death of Louisiana's Cajun Coast. His most recent book, focusing on Katrina and global warming, is titled The Ravaging Tide: Strange Weather, Future Katrinas, and the Race to Save America's Coastal Cities. His 2004 documentary film, We Are All Smith Islanders, vividly depicts the dangers of global warming in Maryland, Virginia, and D.C.
Tidwell has been featured in numerous national media outlets including NBC's Meet the Press, NPR, the New York Times, the Baltimore Sun, Politico, and the Washington Post.
In 2003, Tidwell received the Audubon Naturalist Society's prestigious Conservation Award. Two years later he received an honorary Doctorate of Letters from Nicholls State University in Thibodaux, Louisiana. A long-time resident of Maryland, Tidwell lives in Takoma Park with his wife Beth and son Sasha. 
Books by Mike Tidwell