10th annual Polar Bear Plunge sponsored by the Chesapeake Climate Action Network draws 200+ activists, families, and local leaders to National Harbor, Md.
NATIONAL HARBOR, Md.—On the heels of headlines confirming 2014 was the hottest year on record, more than 200 DC-area residents took an ice-cold "plunge" into the Potomac River on Saturday to call for stronger state and national action on climate change.
The annual "Keep Winter Cold" Polar Bear Plunge, now in its 10th year, raises awareness about the climate crisis while raising funds to support the Chesapeake Climate Action Network's work for clean energy solutions across Maryland, Virginia, and Washington, DC.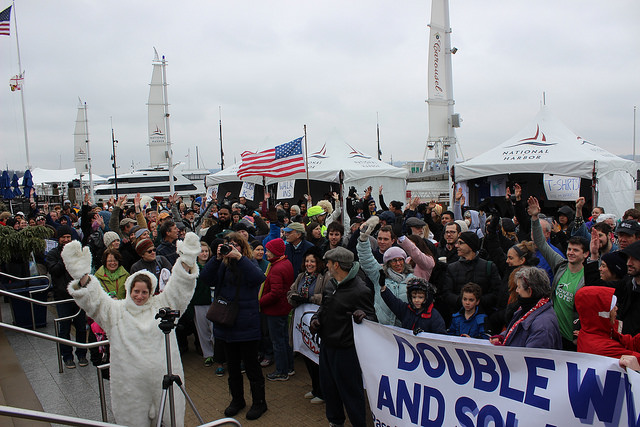 Saturday's plunge drew local leaders, including Congresswoman Donna Edwards of Prince George's County, Rev. Lennox Yearwood of the Hip Hop Caucus, along with committed plungers of all ages—from local high school students to Franciscan priests to a Boy Scout venturing crew to Mt. Rainier and Petworth neighborhood groups.
"We're taking a bold, icy dip into the Potomac River today to light a fire under our leaders to take bolder and bolder action on climate change," said Mike Tidwell, director of the Chesapeake Climate Action Network. "We have the solutions we need, but we don't yet see the political will we need, so we're here today to inspire more of it."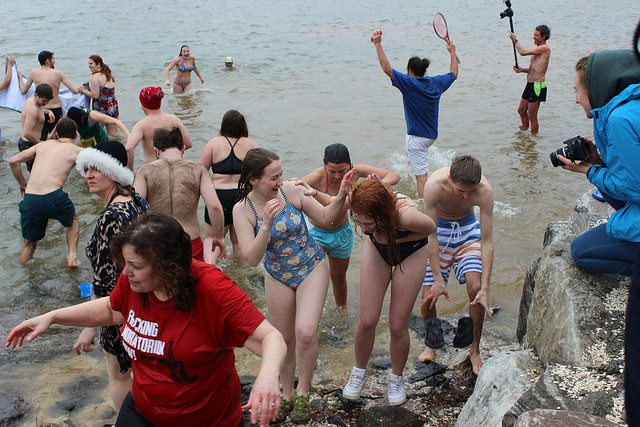 The year 2014 was the hottest ever recorded on Earth, according to NASA scientists. Meanwhile, this fall the world's leading scientists warned of "irreversible" impacts to human society and ecosystems if governments at all levels do not act swiftly to reduce planet-heating greenhouse gas emissions.
"350 Loudoun is sponsoring CCAN's Polar Plunge because of the urgent need to act effectively to reduce carbon emissions," said Natalie Pien, a member of 350 Loudoun. "CCAN provides the most consistent support to local, grassroots groups like 350 Loudoun."
From Annapolis to Richmond, CCAN's 2015 priorities include passing legislation to double Maryland's reliance on wind and solar power and to generate the first-ever state funds to fight flooding in coastal Virginia communities. At the end of 2014, the group helped pass legislation to close a major loophole in the District's renewable energy standard, a victory that will incentivize five new utility-scale wind farms across the region.
Each year, non-profit and community organizations across the region partner with the Chesapeake Climate Action Network on the plunge, joining the icy dip and also raising money to support their shared missions.
"DC Sierrans are looking forward to 'taking the plunge' to support moving DC off of fossil fuels and onto clean energy solutions," said Brenna Muller, outreach coordinator at the Sierra Club, D.C. Chapter. "The funds we raise together will support the critical work our organizations are doing to fight climate change and protect the environment."
"Franciscan Action Network is a co-sponsor of the plunge because addressing the issue of climate justice is central to our mission," said Fr. Jacek Orzechowski, a Franciscan friar priest and board member of the Franciscan Action Network. "We consider it one of the most pressing moral issues of our time that is intimately connected with other issues such as migration, human trafficking, and the corrosive influence of money in our politics."
"Employees at Community Forklift fight climate change every day, reducing waste and capturing thousands of tons of carbon dioxide each year," said Meg Kiernan, Outreach & Education Program Manager at the nonprofit reuse warehouse in Prince George's County. "When the Forklift Freezers run into the icy water, we want to encourage folks to think about stretching their own comfort zones! Advocating for better policies and changing daily habits will impact us all."
SPONSORS: The annual plunge is hosted by the Chesapeake Climate Action Network. The event is co-sponsored by 350 Loudoun, Green Neighbors DC, Thomas Jefferson HS Environmental Impact Club, DC Sierra Club, Chesapeake Physicians for Social Responsibility, Community Forklift, All Souls Unitarian Church, Franciscan Action Network, Climate First!.
BUSINESS SPONSORS: Perfect Settings Catering, Zeke's Coffee, MLJ Event Management, The Green Commuter, Kate Bakes Bars. Waste Neutral, Bobby Mckey's Piano Bar, Patagonia, Deep Creek Cellars, River Riders, Inc.
Find more information on the 2015 Polar Bear Plunge at www.keepwintercold.org.
View photos at: https://www.flickr.com/photos/chesapeakeclimate/sets/72157650045550650/
CONTACT: Kelly Trout, 240-396-2022, kelly@chesapeakeclimate.org
###
The Chesapeake Climate Action Network is the biggest and oldest grassroots organization dedicated to fighting climate change in Maryland, Virginia and Washington, D.C. We're building a powerful movement to shift our region away from climate-harming fossil fuels and to clean energy solutions.