I was in tears. Sitting on my couch, watching the results on the TV, I felt paralyzed. The night Trump won the election, the only thing I could think was "it's over, this is game over for the planet." Obviously, this was a pessimistic viewpoint, but I think a lot of people shared this same feeling of doubt and despair. Some teachers cancelled classes the next day.
That was November. By January, I was crying for a different reason (I swear I'm not prone to crying). On the day after President Trump was inaugurated, I sat waiting to catch a flight home from Honduras after finishing a two week service project as pictures began rolling in of the Women's March on Washington. People came together in massive amounts, over 2 million strong men and women, to protest for women's equality. Although it was not an anti-Trump rally, it served to showcase the voices and values that were pushed aside during Trump's campaign: equality, climate change, social justice. I was crying tears of joy, because hope was not lost.
After the election and post-inauguration, the demonstrations continued on UMD's campus. Students came out to protest Trump's presidency as a whole, and masses of people paraded around campus in support of refugees. A number of students attended the Women's March. It was clear that, in the age of Trump, student activism was at its peak. Yet this trend only seems to have increased since then.

My professor, Dr. Jim Riker, seems to agree. Dr. Riker leads a three-course program, known as Beyond the Classroom, that encourages student civic engagement and leadership. I sat down to have a conversation with him about student activism in post-Trump society.
"There is certainly a greater number of people participating in many different ways," he said. He has seen first-hand how students are more immersed online, protesting on campus, and marching in D.C to take a stand. During this election, and even more so after, larger amounts of students began speaking up and attending events held by the program. People packed into a tiny classroom twice every single week, to view documentaries and have open discussions about the issues we face in the world today. This has only continued.
"What has motivated people to act?" Dr. Riker asked rhetorically.
I could guess the answer.
When these issues affect you, you feel it. You want to help and speak up for yourself and your rights, but also for the rights of others and those you care about.
That's what happened at the Women's March, and that's what happened with the Peoples Climate March on April 29 in Washington, D.C. Our current administration wants to pull out of the Paris Climate Agreement. This affects the entire world, not just in the United States. Climate change is something that affects all of us, and 120 UMD students, along with over 200,000 people, would make clear at the march.
In the lead-up to the Peoples Climate March, students attended poster-making sessions, organized panels, and gathered to plan transportation. Dr. Riker's Beyond the Classroom program included a week of events to help students prepare. On April 29, the day of the march, he took a group of his own students to march together.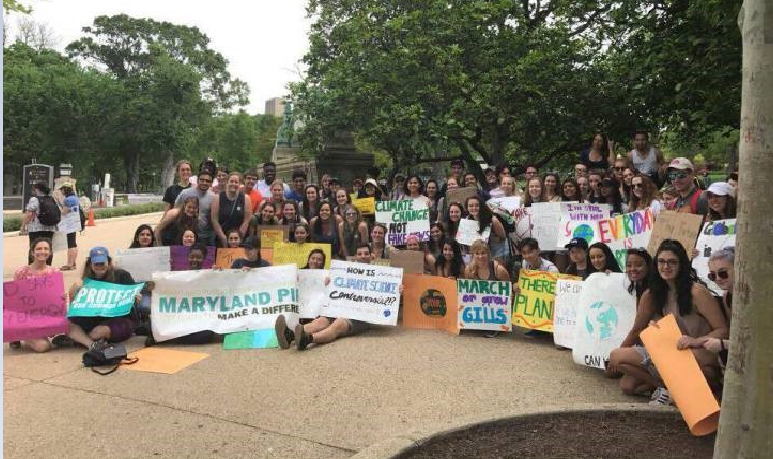 I was one of them.

We marched on Capitol Hill in the sweltering heat. My blister nearly had me scream out in pain while walking along the path to the White House, but there was no stopping me. There was no stopping any of us, even as we made it to the National Monument in 90+ degree weather. The chants, the boos in front of Trump Tower and the White House, and the smiles and passion of the masses brought me to tears yet again.
Now that the Peoples Climate March is over, we are bringing our engagement back to campus. Several on campus organizations, such as the SGA Sustainability Committee, Beyond the Classroom, Sustainable Terps, and others, provide ways to continue engaging on this issue.
The march reminded us that students at UMD — along with hundreds of thousands of others — want more than ever to participate and civically engage. Whatever the avenue, we will continue fighting against injustices to our people and our planet.

---

Megan Williams is a rising senior at University of Maryland, College Park, where she studies Environmental Science & Policy.