On Saturday, September 8th, the Baltimore Peoples Climate Movement hosted the Festival for Change: Climate, Jobs & Justice as part of an international day of action to #RiseforClimate in the lead-up to a major climate summit in California this week. Despite rainy conditions, two hundred people from Baltimore and from as far away as Ocean City and Washington D.C. gathered at War Memorial Plaza in front of City Hall to demand bold action on climate change.
Watch a video with highlights from the day HERE!
The festival kicked off with two marching bands, the Baltimore Twilighters and the Dynasty Marching Unit, who encircled War Memorial Plaza and energized the crowd.



After the opening numbers, Dr. Rev. Heber Brown from the Black Church Food Security Network delivered a powerful keynote address where he urged us to "bring it all together" and unite our struggles for racial, economic, and environmental justice.



Out across the plaza,  festival goers moved through an "action village" full of opportunities to join the movement for climate justice and gain practical skills to build climate resilient communities.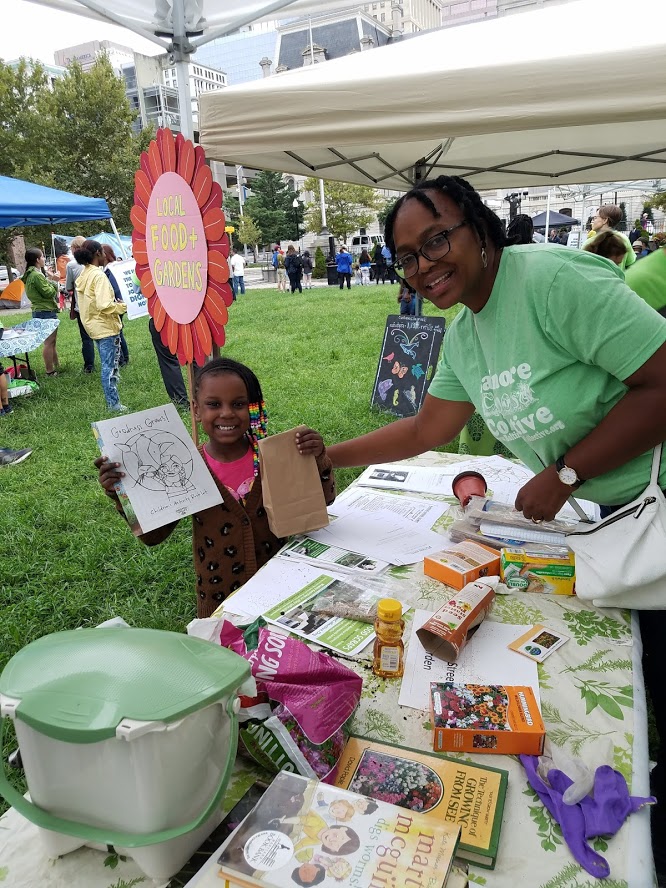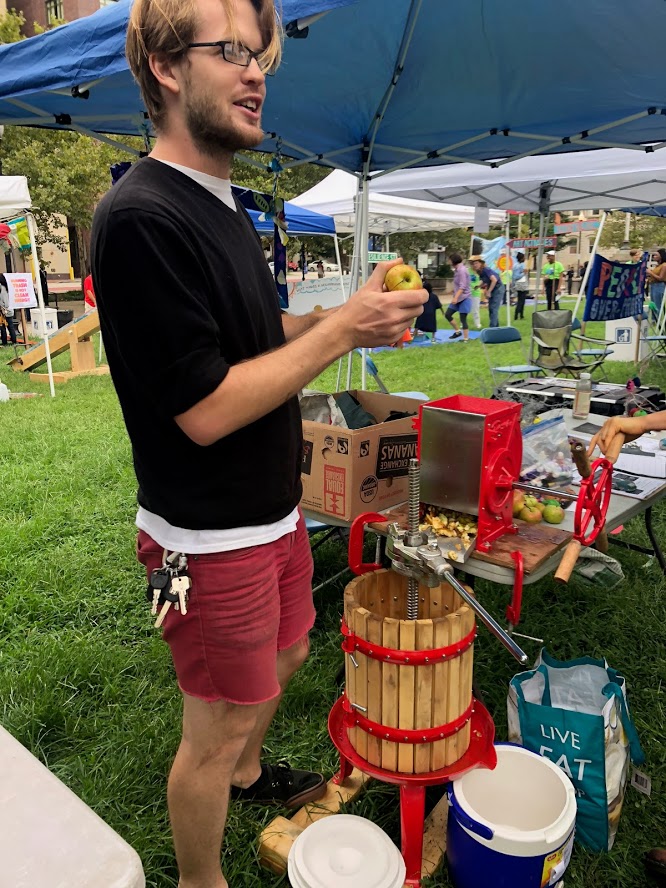 The festival also featured several art exhibits that encouraged attendees to creatively engage with environmental and climate justice issues. A highlight of the exhibits was "Resilience Street," a cardboard village that serves as a model for the strong and resilient neighborhoods we need to face the climate crisis. Festival goers were invited to paint and "plant" vegetables for the garden and take photos with the village.



Valeska Populoh of the Maryland Institute College of Art and Black Cherry Puppet Theater, spoke about the importance of art in the Baltimore Peoples Climate Movement's work: "Art Builds, informal workshop spaces where coalition members and community members can drop in, hold space for people to come together, have conversation, connect across issue areas, and learn new art making skills, like banner making and screenprinting. The banners and props we made were designed to support various ongoing campaigns, in addition to the work of the Baltimore Peoples Climate Movement, and will be a kind of lending library for coalition member groups in the future."




Laure Drogoul exhibited her kinetic sculpture "Teetering x Tottering (On the Brink)" at the festival. The seesaw-inspired sculpture is made from wood, recycled plastic bottles, and water and "invites participants to level and stabilize themselves using the shared water in the sculpture as a balancing mechanism." Drogoul explains, "through movement, the work creates a relationship between the participants and creates an experiential awareness of water as a shared resource." This was one of the most popular exhibits at the festival, since many of use hadn't been on a seesaw in years!



One of my favorite activities was Climate Justice Cornhole. I collaborated with Naadiya Hutchinson to paint climate-themed boards for this classic game, and we worked with several members of the coalition on accompanying cards that help define different aspects of climate justice including "food sovereignty," "just transition," and "energy democracy." The cards were color coded to match up with the hand-sewn beanbags. When participants tossed a bean bag, they were invited to read the corresponding card and learn about different components of climate justice.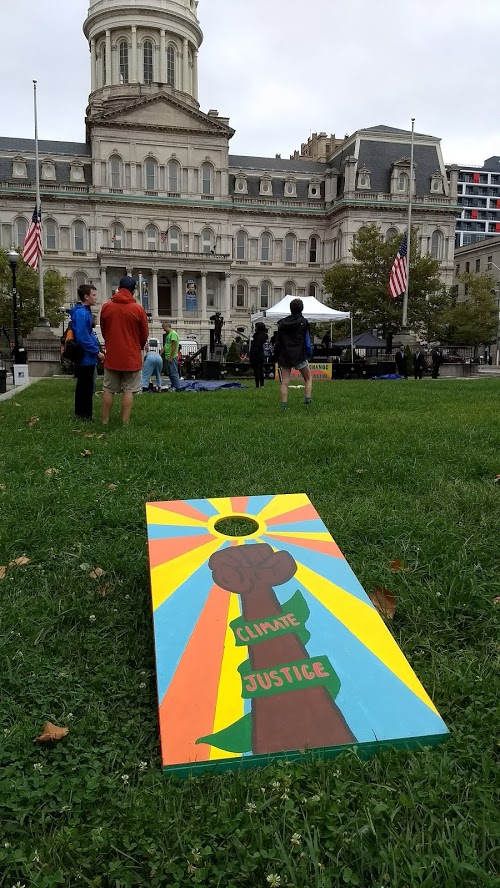 And it wouldn't have been a climate festival without bringing the "Wonders of the Wind" backdrop back out from our traveling art show earlier in the year!



Meanwhile, local musicians took the stage including Ronald Rucker and Naomi & Malaika. 



While the event was celebratory in nature, the gravity of the issues facing Baltimore was not lost on participants. Speakers connected climate and environmental issues to transit equity, public health, and racial justice. Samuel Jordan of the Baltimore Transit Equity Coalition commented, "By completing the Red Line light rail project and replacing vehicles in the Baltimore Link bus fleet with no-harmful-emissions buses, public transportation will create jobs, help achieve air quality standards, reduce automobile congestion, shorten commutes, and limit the health risks of bad air in Baltimore."



As Ellery closed out a powerful speech, the steady rainfall took its toll on our sound equipment and we had to close out the stage. But festival goers stuck around and continued to participate in the action village and in the art exhibits throughout the plaza.



Emily Schubert closed out the festival with her performance "Resist the Gloom." She and her performers truly embodied the piece's message as they braved increasingly heavy rain and playfully interacted with the audience, encouraging us to utilize "realistic optimism" in the face of climate change and other crises. 



While the heavy rain definitely put a damper on the event, it also emphasized how Baltimore is already being impacted by the effects of climate change. The city has seen record-setting rainfall this year and is likely to face even more as Hurricane Florence approaches the East Coast later this week. 
The Festival for Change was part of a series of events that the Baltimore Peoples Climate Movement organized this summer and will continue into the fall that seek to connect the dots across issue areas and highlight how climate change affects Baltimore. To read recaps of the coalition's other events this summer, check out these previous posts. And mark your calendars for the Baltimore Peoples Climate Movement's upcoming events! 

Get Out the Vote Pep Rally
When: Saturday, 9/22 from 1:00pm – 3:00pm
Where: UMB Community Engagement Center (870 W Baltimore St)
What: Groups including Black Girls Vote, The No Boundaries Coalition, the Baltimore Peoples Climate Movement, Southwest Partnership, and more will come together to help prepare us all for the upcoming elections by sharing their amazing GOTV plans!  Participants will have the opportunity to join a team that is right for them, and also have the opportunity to learn more about hosting a party to the polls.
RSVP: RSVP here and invite all your friends!

Redefining Public Safety Town Hall
When: Saturday, October 13, 12:00pm – 3:00pm
Where: Douglas Memorial Community Church (1325 Madison Ave)
What: Have you ever wondered what we could do to help our communities if we spent 25% of the police budget in other ways? Have you been incarcerated for a felony and now you think you can't vote? (You can!) Do you know that prison labor has been used to clean up the BP oil spill, to fight wildfires, and to clear record amounts of snowfall possibly caused by climate change? Do you think it's shameful that their is a $504 million surplus in Maryland's budget, but our city students started school during a heat wave with no AC? Do you think that safety includes homes free of lead paint and pipes, free of mold, and free of rodents? Worried about how climate change will make these problems worse? Join Communities United and other members of the Baltimore Peoples Climate Movement for a town hall where we will educated ourselves and one another about these issues in the city, how they connect one another, and how solutions can create more climate-resilient communities
RSVP: RSVP on Facebook and invite all your friends!