Last year, over 600 Baltimoreans traveled to DC to stand with the Peoples Climate Movement in a powerful demonstration for jobs, justice, and climate action. Since then, we've brought the momentum to #BmoreClimateJust back home. Our city council voted to uphold the Paris Climate Agreement, stood up for offshore wind, and passed landmark legislation to prohibit new crude oil terminals within city limits. And just last week, the city filed a lawsuit seeking to hold 26 fossil fuel companies financially responsible for damages from climate change, a move that wouldn't have happened without the constant demand for climate action across the city.
It's been an exciting year – but there's much more to do.
Thankfully, the Baltimore Peoples Climate Movement, a coalition working for a just clean energy and economic future, has grown and strengthened since last year's march. Over the summer and fall, we're creating opportunities across the city for residents to develop advocacy skills, make art, and learn about how climate change impacts our daily lives. Then on September 8th, we'll rally for local action on climate, jobs, and justice as the national Peoples Climate Movement stands up across the country.
Mark your calendars now and stay tuned for more details for September 8th. In the meantime, join the Baltimore Peoples Climate Movement this summer for exciting skills trainings, art builds, and town halls!
How have things been going so far? This month, we hosted a Protest Health & Safety training to learn how to stay healthy and safe at protests and political actions. The training, run by the Baltimore Street Medic Collective, included tips on what to wear/bring to an action; an overview of situational awareness; information about jail support and how to prepare in case of arrest; an overview of common ailments such as hypothermia, hyperthermia, and dehydration; tips on how to take care of yourself in the case of police weapons; and information about aftercare, trauma, and wellness strategies.


As several members of our coalition witnessed or personally experienced heat exhaustion and other illnesses at last year's Peoples Climate March in DC, this training provided critical information for our team and our larger community to stay safe and take care of one another during future actions. Also during this training, the Baltimore Harm Reduction Coalition taught us how to identify and respond to an opioid overdose, providing life-saving training to our members and training participants. 
We also hosted two art builds in July! During the weekend of July 14-15, members of the Baltimore Peoples Climate Movement and residents learned how to make stencils, screenprint and make banners for upcoming actions including the Zero Hour Youth Climate March and ongoing local campaigns. The art builds were hosted at Black Cherry Puppet Theater, which was full all weekend of folks of different ages, skill levels, and backgrounds who were able to learn new skills, share those skills with others, engage in conversation, and build community. Over the course of the weekend, we painted four banners, screenprinted 20 fabric signs, 10 t-shirts, and over 50 posters and taught a team how to assemble fabric banner signs.



Then during Artscape, we worked with young leaders from Baltimore Beyond Plastic to host an art build to make banners and flags for the #ThisIsZeroHour Youth Climate March. Together with the young people who stopped by our tent throughout the day, we painted four banners and over 20 fabric flags for the Baltimore contingent of the Youth Climate March to bring with them to Washington, DC the next day.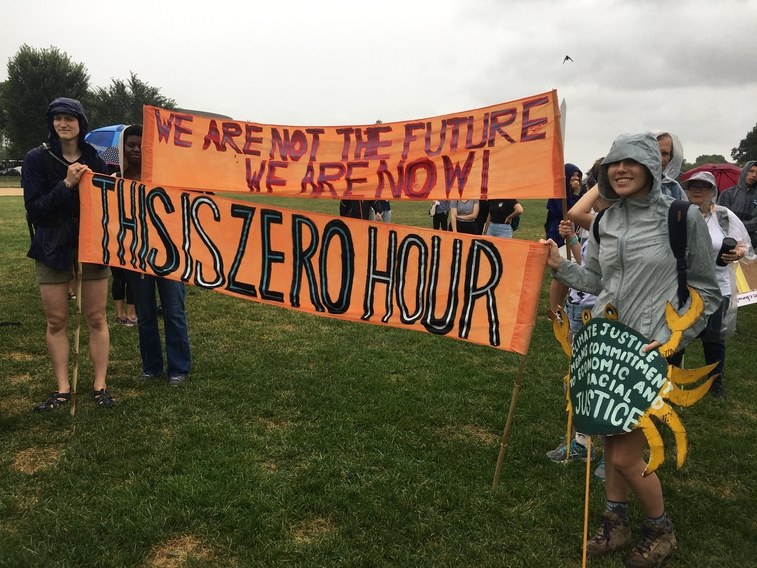 As you can see, we've already been busy with our first skills training and art builds — I hope that you'll join us for our upcoming events! More information and RSVP below:
Change Our City Charter: A Teach-In
When: Tuesday, July 24, 7:00 – 8:30pm
Where: Impact Hub (10 E North Ave, Baltimore, MD)
What: Join this training on Baltimore City's charter and learn how you can use ballot initiatives to change the way city government works. Hear from legal experts and community organizers about current ballot initiative efforts and how you can use this tool to rewrite the city charter. Gain practical skills and learn how to put your ideas on the ballot! There will be snacks and refreshments provided.
RSVP: RSVP here and spread the word to your Facebook friends here!

Transit, Housing & Health Town Hall
When: Saturday, July 28, 11:00am – 1:00pm
Where: Real News Network (231 N. Holliday St, Baltimore, MD)
What: Does your community have too many vacant homes and not enough affordable housing? Do you ride public transportation – or try to, but the bus doesn't come? Or the metro shuts down unexpectedly? Have this year's storms and extreme weather flooded your home or created mold? Miss the Red Line and the jobs it would have brought? Has your child missed school because of asthma? Worried about how climate change will make these problems worse? Join us for a town hall where we will educate ourselves and one another about these issues in the city, how they connect to one another, and how solutions can create more climate-resilient communities.
RSVP: RSVP on Facebook and invite all your friends!

Make Art for a Just, Clean Energy & Economic Future
When: Wednesday, August 15, 6:00 – 9:00pm & Saturday, August 18 from noon-4pm.
Where: Black Cherry Puppet Theater (1115 Hollins St, Baltimore, MD)
What: What does climate justice mean to you? Do you have asthma? Rely on public transit? Are there vacants in your neighborhood? Develop your creative skills and build community at these art builds while deepening your knowledge about local efforts for climate justice in Baltimore. All materials will be provided.
RSVP: RSVP for August 15 here and for August 18 here – and invite all your friends!

Festival for Change: Climate, Jobs & Justice
When: Saturday, September 8, noon – 4:00pm.
Where: War Memorial Plaza, Baltimore, MD 21202
What: On September 8, thousands of rallies will be held in cities and towns around the world to demand our local leaders commit to building a fossil free world that works for all of us. Join us for a festival with art, performances, and opportunities to take action for climate justice in Baltimore!
RSVP: RSVP on Action Network.