CCAN launches NoVA New Leaf
Our first Northern Virginia action team full of ambition
We're proud to announce the launch of NoVA New Leaf! NoVA New Leaf is a CCAN Action Member team that organizes for sustainable and equitable solutions for Northern Virginia. We aim to end fossil fuel dependency and improve resilience to climate impacts through education, collaboration, mobilization, and legislation. 
NoVA New Leaf is one of the few groups where its leaders will ask you, "What do YOU want to do?" We're looking for passionate environmental advocates of ANY background and experience levels to join us and help make Northern Virginia a leading force on climate action.
As a local chapter, we use a theory of organizing to focus on the BEST ways of taking action in our backyards. We train grassroots leaders to mobilize their communities. CCAN has had other iterations of local chapters throughout the state, but this time, NoVA New Leaf is supported by leadership development through an inclusive membership program. Now, we are choosing campaigns that are winnable, necessary, and support our shared mission.
Are you a Virginia/D.C. resident looking for ways to get involved in your community? A student looking for experience in organizing campaigns? A retiree interested in policy analytics? A neighbor who loves throwing parties and events in your neighborhood? 
NoVA New Leaf meets every second Sunday of the month to discuss new and ongoing initiatives. This year looks like it will be our busiest year yet, so we are looking to grow our membership. Simply fill out this form to become a member today!
The Origin Story
In a cozy house on a chilly Sunday afternoon, several CCAN volunteers gathered in Northern Virginia—all different backgrounds of experiences, ages, and walks of life brought together by a deep-seated necessity for change. There was food and discussions about what Northern Virginia needed for a more resilient, equitable, and sustainable future. 
After the meeting, the newly formed NoVA New Leaf team engaged in a house tour, including a showcase of an induction stove and electric heating system to raise awareness of cleaner home energy sources.
Ever since then, NoVA New Leaf has had meetings all across Northern Virginia, engaged in state-level politics, and worked together with other climate activist groups to make a change.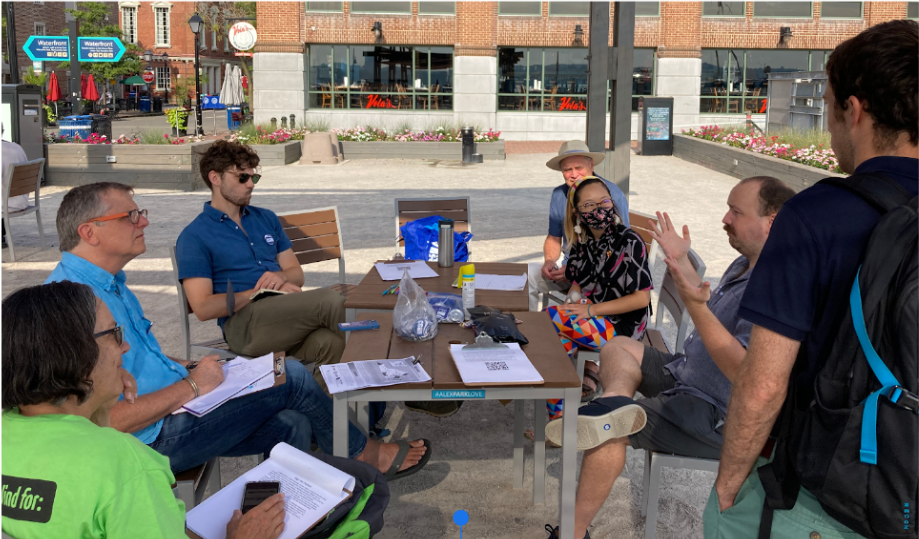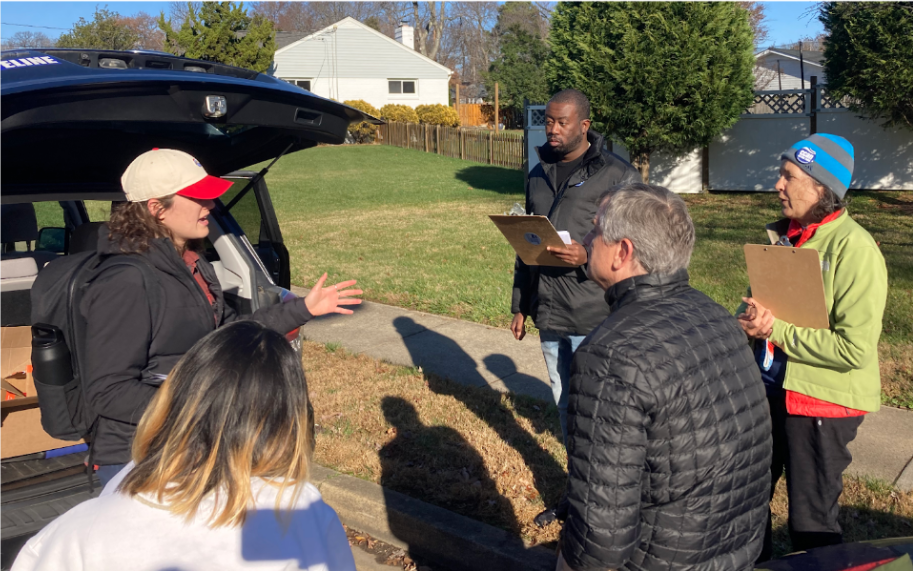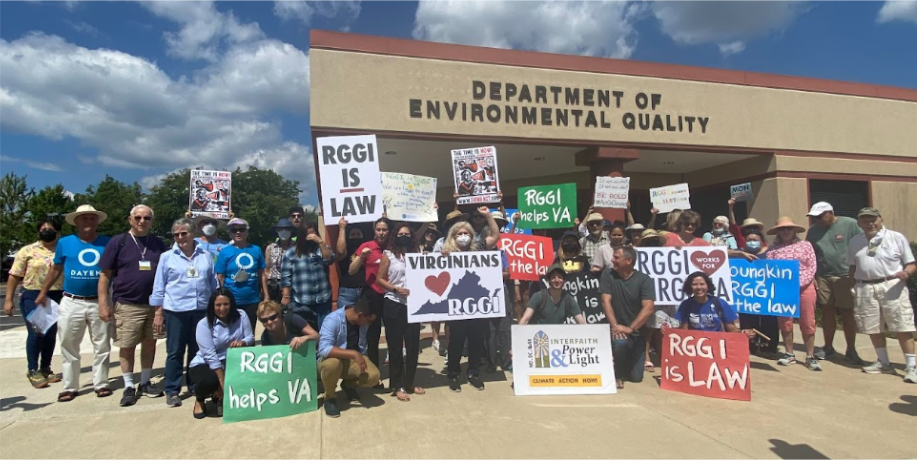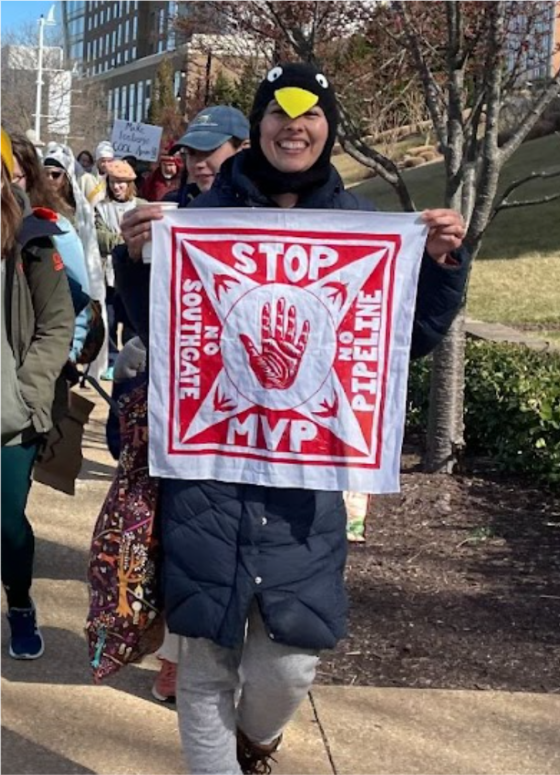 An Interview with Ting Waymouth, Internal Organizer!
We asked Ting Waymouth, NoVA New Leaf's newly appointed Internal Organizer, on how she found her way onto the team.
"I first joined CCAN in the late spring of 2021, shortly after I had moved to Virginia from New York. I was searching both for community and for the opportunity to take action towards helping advance climate solutions, locally and/or beyond."
Building a strong, active community of leaders is a necessary component of having resiliency in the face of an ongoing climate crisis. 
"Not only were there opportunities to go to rallies and engage in actions (such as canvassing, tabling, a neighborhood chalk-the-walk event), but I was also invited—in fact, welcomed and encouraged—to bring my own ideas to the table."
Ting was excited to be welcomed to all the planning meetings and felt motivated by the encouraging community—an experience that she has not often had.
"I didn't end up sticking with [other climate action-related groups] because it felt difficult to be included in their projects. While [other groups were] friendly, I found myself listening in on hour-long phone calls to people dropping names I was unfamiliar with, without feeling like I could contribute much of anything, and ultimately that did not feel like a good use of my time." 
Unfortunately, this is an all-too-familiar experience for eager advocates looking to dive into climate action work and directly engage with their communities. Fortunately for Ting, she found NoVA New Leaf right on time.
"As someone who is still relatively new to the area and to climate work, I am excited to continue to build deeper connections with other people who also want to work towards climate justice and cleaner energy in Virginia."
Not Yet Convinced? See Our Work!
In just half a year, NoVA New Leaf has accomplished many feats and is very active! See what we've accomplished so far: 
AUG 2022: Rallied at the VA Department of Environmental Quality to support the Regional Greenhouse Gas Initiative (RGGI) AND canvassed at local businesses in Alexandria to generate support for RGGI.
SEPT 2022: Canvassed residents in Arlandria to gather signatures for RGGI petition to the governor.
OCT 2022: Collaborated with CASA to canvass several Spanish-speaking neighborhoods in support of RGGI and tabled at the Alexandria Farmers Market.
DEC 2022: Hosted a solar & energy justice happy hour to collaborate with dozens of environmental activists with several groups working for our common goals AND gathered signatures for Christmas "Thank You!" cards in a Fairfax neighborhood to support Virginia Senator Chap Petersen's environmental work with clean cars.
JAN 2023: Participated in Conservation Lobby Day, met with state legislators in support of the Affordable Energy Act, RGGI, and with accelerating Virginia's transition to electric vehicles/clean cars, AND worked with Fairfax County Park Authority to help increase funding for our state parks!
FEB 2023: Adopted our first two campaigns—(1) No Pipelines and (2) Improving Fairfax Parks; finalized our group's mission statement/branding while brainstorming future projects; AND participated in CCAN's Polar Plunge!