by Kim Williams
On July 16, with a group of friends I took an early morning stroll into a wetlands area in the city of Chesapeake, Virginia. We arrived before sunrise, but though the area was beautiful, we were not there for the views. The wetlands were overrun by heavy equipment and stacks of 24-inch diameter pipeline.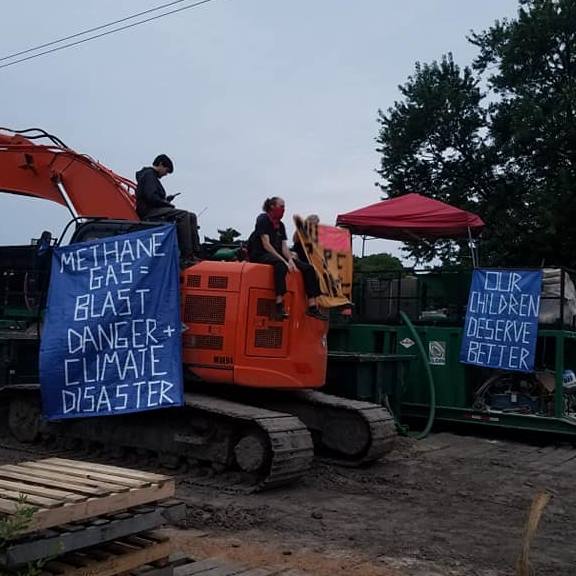 My friends and I were on a mission: to occupy the construction equipment.
Why would we want to do such a thing? We were there to protect children.
The construction equipment was being used to build the Southside Connector, a 9-mile-long Virginia Natural Gas utility pipeline. And there the giant diggers and pounders and pipe sat, perilously close to a cheerful building named for the late civil rights attorney and first African-American Supreme Court Justice, the "Thurgood Marshall Elementary School." Shockingly close. A stone's throw.
My friends and I made public the external costs of this pipeline, which is slated to end along the Elizabeth River in Chesapeake right, next to the planned end of the Atlantic Coast Pipeline in Hampton Roads. We hung banners reading "Methane Gas Pipeline = Blast Zone Danger + Climate Disaster" and "Our Children Deserve Better."
We occupied the tops of two large construction vehicles, and settled in to watch the sunrise. I had time to calm myself, meditate. The sunrise was so beautiful, birdsong joyful. What a wonderful learning lab this strip of wetlands could be for this school! If only we didn't have to contemplate apocalypse!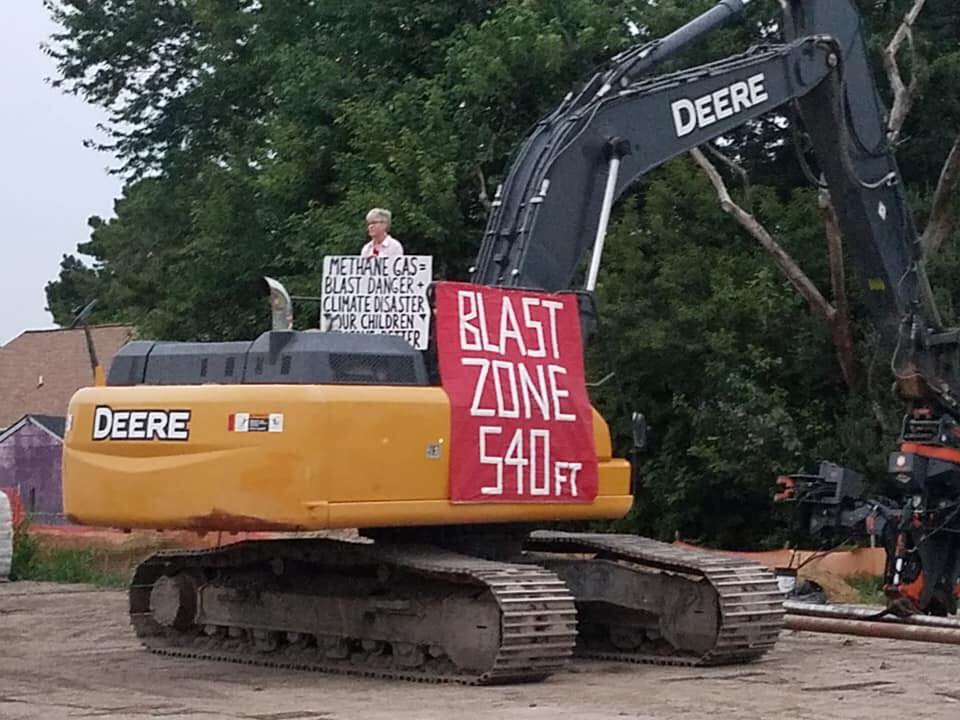 And that is why I was there. Sitting for two hours atop the pipe-pounder,  I flashed back to happy days as parent-volunteer at my own sons' schools, my era as reading-tutor, and my time supporting elementary school Spring Carnivals. The memories helped me see beautiful faces, smiles with baby-teeth, lost teeth, teeth growing-in; I could see hair combed in braids and beads, innocence.
But then I could see flames. I could hear glass breaking, bookbags and limbs, flying. And at this school, the faces my mind saw were mostly African-American kindergarteners through fifth graders, innocents. Mostly African-American, because that is where this pipeline is going. In Norfolk, it travels through mostly poor African-American enclaves. In Chesapeake, it cuts though mostly middle-class African-American enclaves. Enclaves because Jim Crow history made it that way.
Workers showed up about 7am. Soon after, the police.
The police were informed by a volunteer liaison that a "stop-work occupy" was underway. Some of us climbed down at that point. I stayed. My kids are self-sufficient. My worklife flexible. My partner supportive. I refused to leave, intending no pipeline construction to happen that day. I now have a court date for a trespass charge. I hope I can make it clear to the judge that Virginia Natural Gas (and it's Boss Company, Dominion) are the real trespassers in that wetlands next to a school.
Kim Williams is a full-time member of the Norfolk Catholic Worker community.