Hi, my name is Lauren and I'm an extrovert.
As the Hampton Roads Organizer for CCAN, this works in my favor. I never met a stranger I didn't like to chat with and I roll through my speed dial list without advanced notice just to talk (my friends like it, I swear). So cold-calling people to ask them to sign a CCAN petition to resist pipelines to or attend a rally to pass the Virginia Clean Economy Act? Gotcha covered.
This trait makes me an expert on today's topic.
Podcasts: All day, every day
When I've run out of people to talk to, I turn to my library of podcasts; because even during my "quiet" time, I need some sort of conversation running in the background to keep me from feeling antsy or lonely. Although I'm working full-time from home, plus full-time 4 year old duty, my daily opportunities for fitting in a podcast are plenty. I prep for the day with a news brief (rec: The Daily) as I brush my teeth and swap my night pajamas for my day pajamas. A self-care show (rec: Forever35) keeps me positive during email time for me & nap time for Coulson. And a pop culture or investigative series (rec: Armchair Expert or Ear Hustle) staves off sleep during project time on the couch once the house is quiet.
But today is not about those other podcasts — stop trying to distract me, people. Today is about the meat sweet potatoes of my podcast diet (vegetarians hollaaaa).
Let's get down to business
(to defeat the Huns….anyone?)
It's 6pm. Michael arrives home from work. I give him the parent highlights (yes, Coulson had dinner; no, he didn't nap; yes, he's still wearing his pajamas), pass the baton, and I am GONE. The local, deserted college campus is 5 minutes from our house and I have one hour to get my steps, get some air, and listen to…..my climate podcast for the day!!!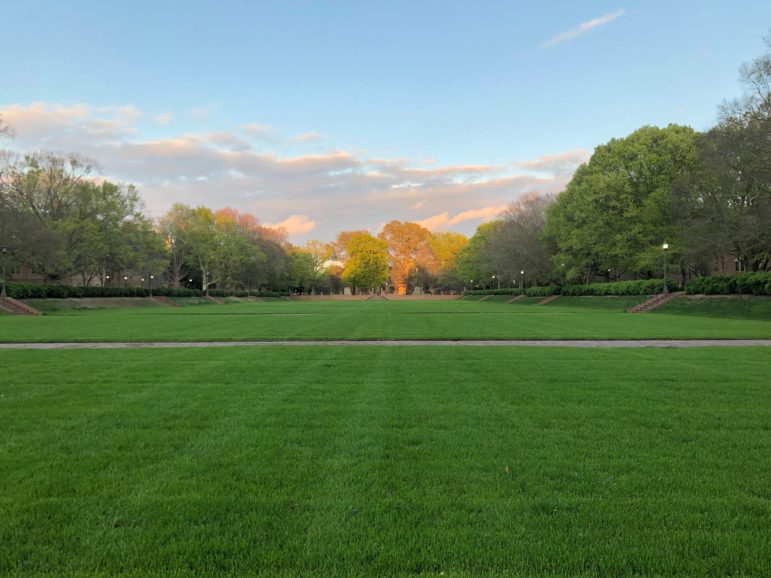 Now, you might be thinking, "Lauren, you spend all day thinking about climate change which is not the most relaxing topic anyway….you want to spend your free time listening to it, too??" An excellent question, thank you for asking. And the answer is a simple, "yep."
I began to work for CCAN precisely because climate change was what I spent my free time learning and thinking about. Organizing for CCAN allows me to focus professionally on an issue that I was previously fitting in where I could. If anything, being a full-time climate activist means I have to step up my game even more to be conversant on the latest news, science, and community stories.
Before COVID-19, I had way more time to devote to this audio learning; my work covers all of Hampton Roads so I spent hours weekly in the car binging through episodes. Now, I squeeze in listening time during my nightly walk and anywhere else I can. However, my shortage of time has not equated to a shortage of options. There are so many great climate podcasts & episodes and it's time I share my carefully curated list with the world (jk, they're all great and I download everything).
There are lots of great lists of climate podcasts out there and you will likely find some overlap between my list & those. But who doesn't need another list, right? So here are my favorite podcasts that are centered on climate change.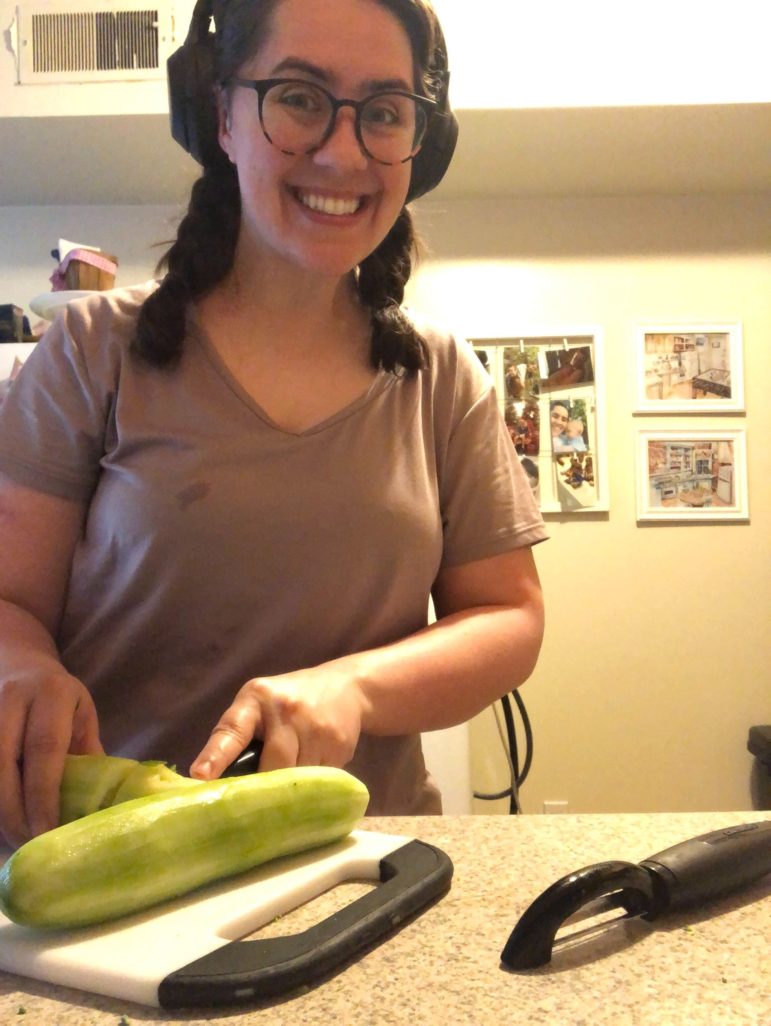 Climate Podcasts
If you want a super personal recommendation from the list above, I have a special place in my heart for Mothers of Invention. This show focuses on women-led climate solutions and is hosted by Mary Robinson (former President of Ireland, UN High Commissioner for Human Rights, and global climate activist) and Irish comedian, Maeve Higgins. Mary Robinson's book, Climate Justice, inspired me to be an organizer!
Next, let's talk about a less-covered area: individual climate episodes within non-climate specific podcasts. I think this is the most important part of the list. For many people, subscribing & listening routinely to a podcast is a bit of a commitment, never mind catching up on the entire back catalog. If that sounds daunting, the individual climate episodes below are a perfect starting place! Dip your toe in the water with an episode or two and you may find your new favorite show.
Climate Episodes (podcast name followed by episode name in italics)
Bad With Money, It's Not Just A Few Feet Of Sea Level Rise
Getting Curious with Jonathan Van Ness, How Can We Twerk on Climate Change? with Bill Nye the Science Guy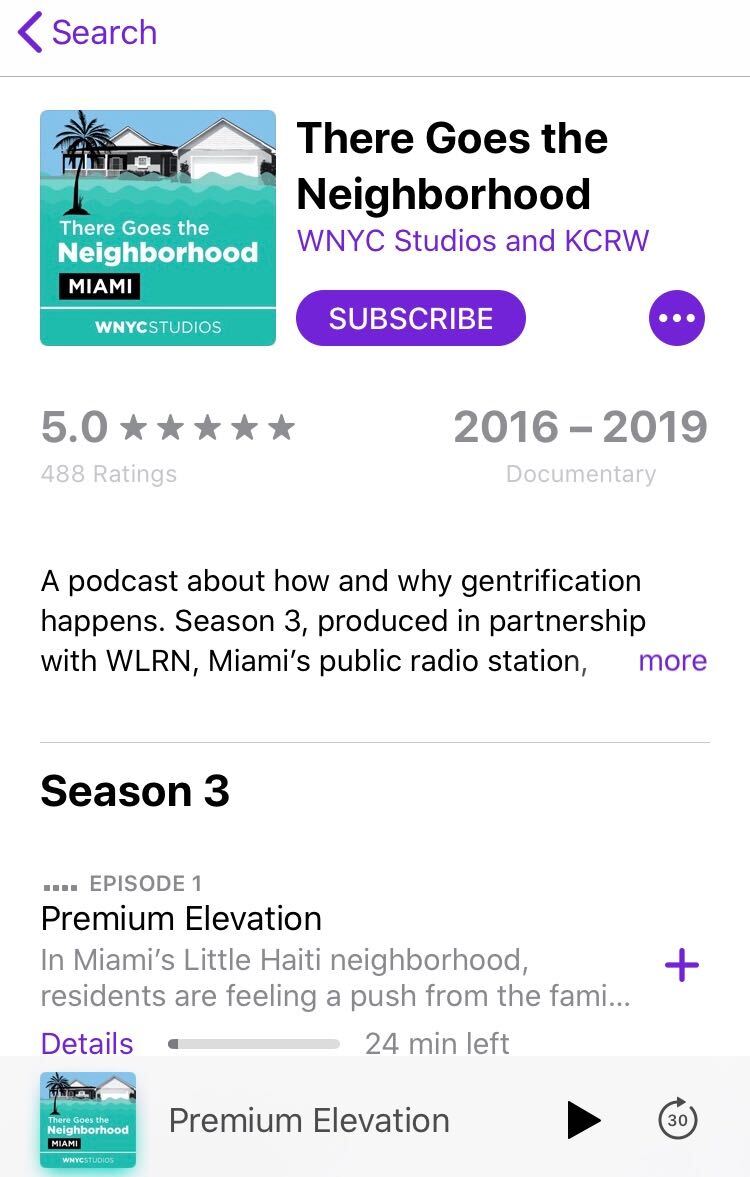 Life Kit, How To Talk To Kids About Climate Change
Ologies with Alie Ward, Phenology Episode
Powering the Movement, Saving The World's Fastest Sinking City
Science Rules! with Bill Nye the Science Guy, Fires and Climate Change: A Vicious Cycle
Ted Talks Daily, Climate Change Will Displace Millions
Ted Talks Daily, When The Tides Keep Getting Higher
There Goes the Neighborhood, Season 3, Episode 1-3
I assume I don't need to convince you to listen to anything with Bill Nye the Science Guy so I'll save my muscle to encourage you towards the There Goes the Neighborhood episodes. They focus on climate-caused gentrification in Miami and were the starting point of my current sea-level rise research project. Did you know that Hampton Roads is outranked only by New Orleans in terms of sea level rise risk? If you didn't know, these episodes are for you. If you did know, these episodes are still for you, trust.
Technicalities
Let's check in on some technical details before I send you off on a date with your chosen episode.
First, if you're new to podcasts and you're not sure how to find or listen to anything I've recommended above, you're not alone. There are many "how to" articles that are easy to follow so rather than recreate the wheel, I would recommend "How to listen to podcasts: everything you need to know" by The Guardian or "The Beginner's Guide to Podcasts" by The Wired. Alternatively, email me and we'll set up a time to hop on the phone and walk through it together!
Second, many podcasts can be listened to on a web browser so a smart phone is not a requirement (this is addressed in the how-to guides above).
Third & finally, a lot of podcasts are creating transcripts to make sure their content is accessible to all. I make note of my favorite podcasts that are prioritizing this and I would love to hear any of your favorites that are doing the same.
It's Go Time
You subscribe to CCAN's emails, sign our petitions, follow us on Facebook, and read our blog (obviously). What can you do next to connect with CCAN and support climate action? The answer is this!! Fill your ears with one of our climate podcast recommendations and connect with climate activism in a new, easy way. Share what you learn over dinner, text an episode to a friend, or find a listener group online. Podcasts can be your constant companion throughout these tumultuous times and what subject integrates more importantly with all aspects of life than climate change? Send me an email or connect with us on social media to share your own podcast favorites or give a review of one of the recommendations above.
Happy listening!