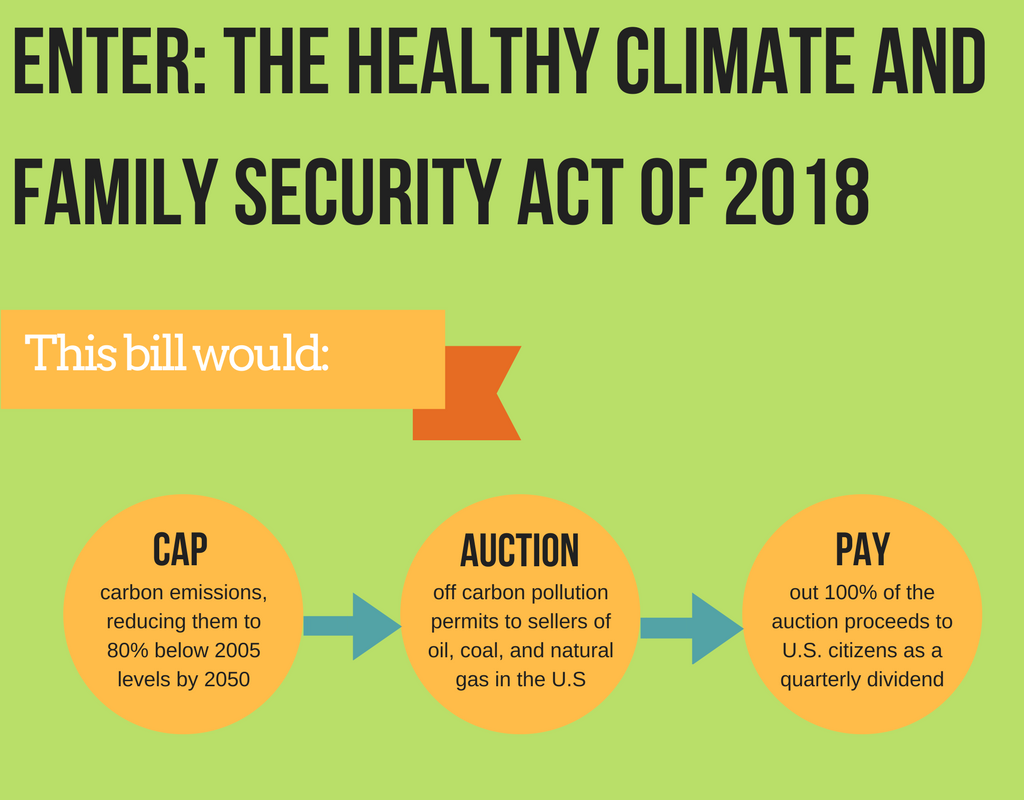 Cap and dividend presents a simple, fair and built-to-last policy solution that will reduce the carbon and other heat-trapping emissions now harming our climate while boosting the income of most American families. It doesn't just cap fossil fuels and require energy companies to purchase pollution permits at auction. It also returns all the auction revenue in equal amounts to every U.S. resident with a valid Social Security number.
The plan has four simple tenants:

SET A CAP ON THE FOSSIL FUEL POLLUTION HARMING OUR PLANET
By setting a steadily declining cap on the total amount of U.S. carbon pollution released into the atmosphere, we will join efforts worldwide to reduce heat-trapping emissions in enough time to prevent catastrophic global warming impacts.
MAKE THE POLLUTERS—COAL, OIL AND GAS COMPANIES—PAY
Any company that extracts new fossil fuels from the ground or imports them into the U.S. must buy a permit at a government-organized auction for every ton of CO2 those fossil fuels will emit into the atmosphere. In this way, the system holds companies that bring new fossil fuels into the economy responsible for the pollution they trigger.
REBATE 100% OF THE MONEY RAISED TO U.S. RESIDENTS
All proceeds will be returned equally through a quarterly "dividend" to every U.S. resident with a valid Social Security number.
WE ACHIEVE A HEALTHY CLIMATE AND GREATER ECONOMIC SECURITY FOR FAMILIES
By pricing the fossil fuels harming the planet, we will help unleash the clean energy solutions needed to save it. Our families benefit from a healthier environment. And the quarterly rebate ensures the great majority of American families are better off in the process.
For more information on this newly introduced bill, check out: http://climateandprosperity.org/
Why cap and dividend will work
Cap and dividend is a simple, fair means of reducing carbon emissions.
The Cap: Big polluters bid on a limited number of permits to purchase fuel that emits CO2. For example, a coal company would purchase the amount of coal it could sell to utilities annually. That amount would decrease as earth's atmosphere approached science-based carbon cap targets.
The Dividend: 100% of the money raised from these auctions goes directly to taxpayers. Each citizen would receive an equal quarterly refund – a "dividend" – to cover likely rises in utility and gas expenses. At an auction price of $10/ton of CO2, a median four-person family would receive a net annual benefit of $260. All lower and middle-income Americans will see an increase in their annual income. Those who use less fossil fuel energy will benefit even more, further incentivizing decreased reliance on dirty energy.
Why it will last
Cap and dividend is a sustainable long-term strategy for reducing CO2 emissions. Taxpayers are highly likely to support a policy that will help them cope with higher energy prices during the economy's transition to clean, renewable energy. Many consumer, environmental and social justice organizations support this approach because it is straightforward, effective and fair.
Take action
Take action via CCAN Action Fund on ClimateandProsperity.org.
To get involved email Mike Tidwell, Director, at info@chesapeakeclimate.org.
Latest news