Last Thursday, the Maryland Public Service Commission (PSC) launched Maryland into the top tier of electricity-saving states by embracing one of the highest energy efficiency targets in the country. The order requires that Maryland's electric utilities achieve annual incremental electricity savings of 2.0% of retail sales per year in perpetuity. The long-awaited decision, which CCAN's policy experts pushed to make as strong as possible, gives a huge boost to the state's "EmPOWER Maryland" program, which helps consumers save money while fighting climate change.
This is a big step forward with exciting promise — the new EmPOWER rules will require utilities to save over 1.2 million megawatt-hours per year. That's the energy equivalent of closing a 460 megawatt coal-fired plant every two years, and will reduce carbon at levels equivalent to taking 173,000 cars off the road annually. To put that another way, the new EmPOWER rules will reduce carbon emissions at the same rate as building 470 megawatts of new wind power every year. That's nearly three times greater than Maryland's installed wind capacity today.
To put Maryland's new goals into a national perspective, only two other states—Rhode Island and Massachusetts—achieved saving levels higher than 2% last year. In terms of future targets, Maryland's new goals are among the top five in the country.
CCAN's director, Mike Tidwell, was out in front of news coverage on the PSC decision, driving home its impact on WAMU and in the Baltimore Sun.
"The state of Maryland has just taken a huge step in showing that action on air pollution and climate change can go hand in hand with consumer savings," said Tidwell, "The PSC deserves praise for hearing the public's voice that efficiency is a win-win. We now hope other states will follow suit at this same high level."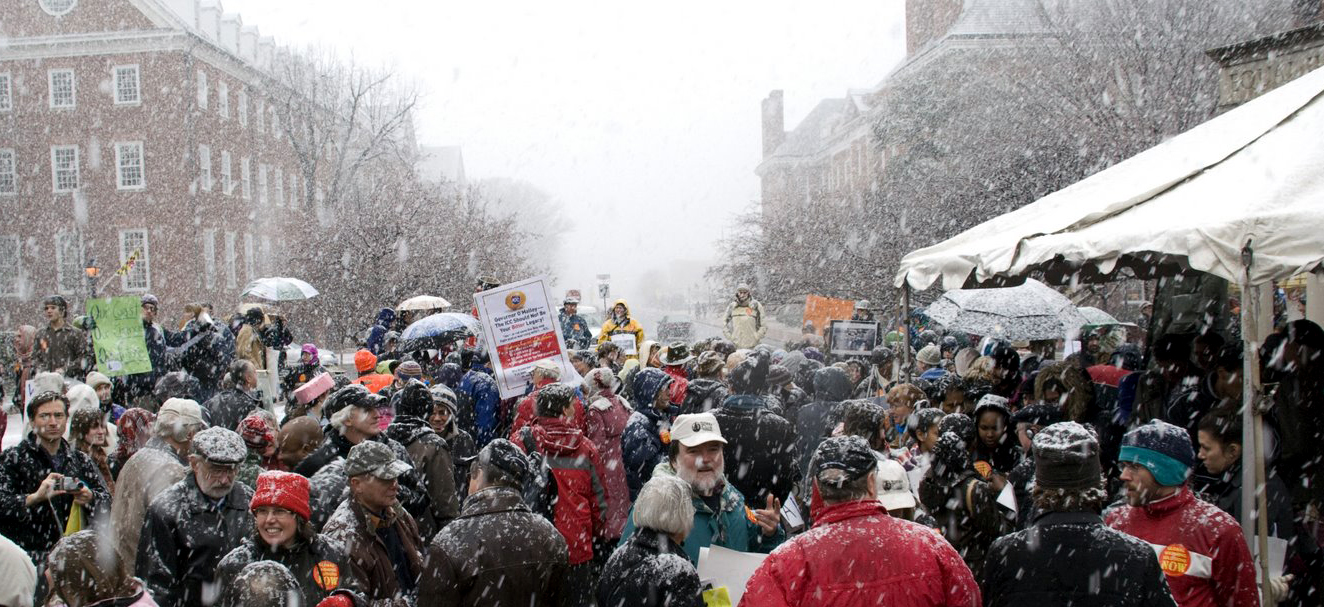 In 2008, CCAN activists helped drive the campaign to pass the EmPOWER Maryland Energy Efficiency Act. That law, which set the goal of reducing energy use by 15% below 2007 levels by 2015, enabled consumer rebates and other incentives to invest in energy-saving measures. The PSC's decision to expand and strengthen the EmPOWER program will ensure we continue making progress beyond 2015. This decision was three years in the making, and CCAN was an official intervenor in the PSC process, pushing for the strongest programs and goals every step of the way.
Looking ahead, the new EmPOWER rule will play a key role in meeting Maryland's commitment to reduce global warming pollution by 25% by 2020 under the Greenhouse Gas Reduction Act. The state's new efficiency commitment will help achieve Maryland's Climate Action Plan. CCAN will be focused in the coming year on making sure we renew and strengthen other core elements of that plan — like continuing to increase our reliance on clean electricity sources like wind and solar.