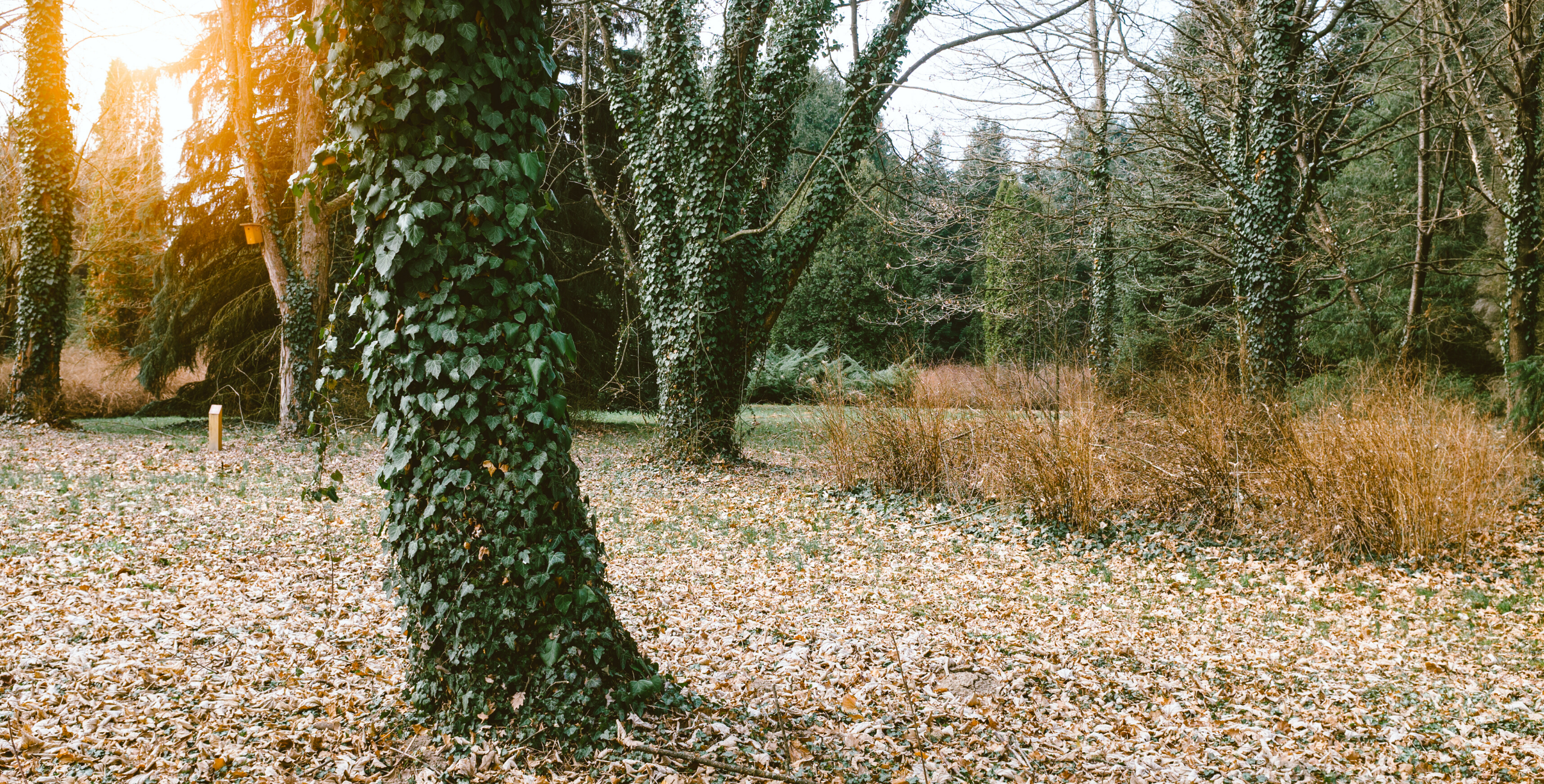 Fighting Climate Change: How to Save Trees from Invasive Vines
To some English Ivy and other invasive vines may seem beautiful and whimsical, but in reality they can kill a tree within months. Invasive vines are intruders that snake around trees, slowly choking and suffocating them as they compete for nutrients and water. 
As we plan to plant millions of trees to store carbon, we must also save those we already have. The good news is that removing English Ivy and other vines is easy and will only take 20 minutes. 

What Do Invasive Vines Cost You? Download Helpful Flyers Here
Trees produce numerous benefits. They are vital for carbon storage, provide shade and cool summer temperatures, and even increase property value. Invasive vines are a threat to our trees. See below convenient flyers to print and share with your neighbors, or via email and online.
Watch this Informative Zoom Tutorial "Featuring a Video and Slideshow" on the Invasive Vine Invasion of the Washington DC Area

Read Mike Tidwell's Blog Post About Invasive Vines on Trees in His Neighborhood
Fighting climate change: How I'm saving hundreds of trees in my neighborhood from invasive species:
Every day I keep at least one tree, and sometimes as many as ten, from falling to the ground, decomposing, and making global warming worse.
It began with the biggest tree in my neighborhood, about 10 blocks from my house. That tree is at least 150 years old, a tulip poplar. I first noticed it from atop a high-rise office building where I live in Takoma Park, MD. The tree hovered in the distance, twice as tall as the rest of the urban canopy in my neighborhood, which overlaps Maryland and Washington, DC. It's a magical tree, a giant at least 90 feet tall. 
I set off one recent morning to see the tree up close. I take more walks in this world of social distancing. When I arrived at the corner of 6th and Butternut Streets, NW, I was both amazed and horrified. The tree's trunk – 14 feet in circumference – was supporting a vast network of titanic branches shading much of the block. 
But then I noticed the tragedy. The tree was being strangled to death. Half of its massive, godlike body was covered in, and choking from, English Ivy. 
Multiple studies show that rising CO2 levels worldwide act as a "super fertilizer" to noxious weeds and vines like English Ivy and wisteria. But it took a viral pandemic to get me walking more and seeing the mass death these vines are bringing to my own neighborhood – and yours. 
A few days later, my son Sasha and I needed only about 20 minutes to save the 150-year-old tree. With the permission of the homeowner (friendly but ivy "blind") we used garden clippers and a simple pruning saw to remove a thick matt of ivy vines at the base of the tree, thus dooming the climbing vines above us. Twenty minutes to save a tree that's been growing for one and a half centuries!!
Now I'm obsessed with saving trees from ivy. I hand out this educational flier (download editable version) at every house I see on my morning walks where trees are being choked. I estimate there are at least one thousand – one THOUSAND – trees dying from noxious weeds within ten blocks for my house, each of which can be rescued within a few minutes. My goal, this Earth Month, is to personally save 100 of them and to recruit my neighbors to save the rest.
That's a total of 1000 tons of carbon dioxide sequestered over the lifetime of those trees, by the way – a ton per tree. My 100 trees alone offset my personal carbon footprint for about 10 years! I know we need to plant trees by the billions worldwide to help fight climate change. But we've got to save what we already have too. Won't you join me during your own pandemic morning walks? Learn more here and here.
Watch Mike Tidwell Save a 150 Year Old Tree