New Report: Volunteers Rescue 4,000 Trees from Killer Vines Using Novel System for Surveying Threatened Trees in Takoma Park, Maryland
Using a first-of-its-kind system pioneered here in 2021, hundreds of volunteers in Takoma Park, Maryland have systematically rescued more than 4,000 trees previously identified as dying from invasive vines such as English ivy (Hedera helix). Meeting on Saturday mornings for just over a year and equipped with simple garden clippers and pruning saws, the volunteers have now saved 80% of the infested trees in this city of 18,000 people, creating a blueprint for communities nationwide. The 4,000th tree – a 75-year-old red oak – was rescued by volunteers on June 30th. 
Now, in a city where dying trees were once a common sight on both public and private land, it is rare to see any trees choking from such killers as English ivy, Wintercreeper (Euonymous fortunei), Porcelainberry (Ampelopsis brevipedunculata), Oriental bittersweet (Celastrus orbiculatus), Chinese wisteria (Wisteria sinensis), and others. 
The Takoma Tree Saver Program reaches a remarkable milestone - 4,000 trees saved! Watch as dedicated volunteers, Mary and Nancy, free the 4,000th tree.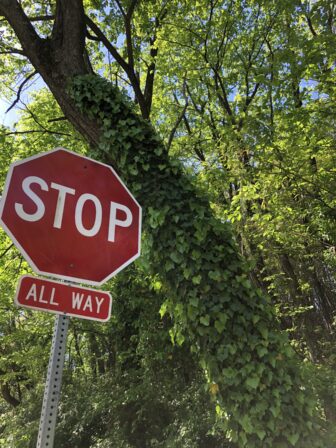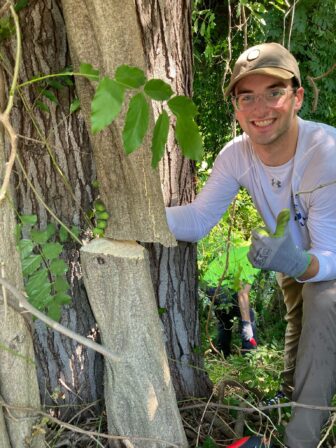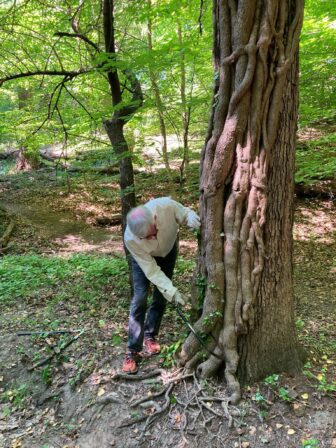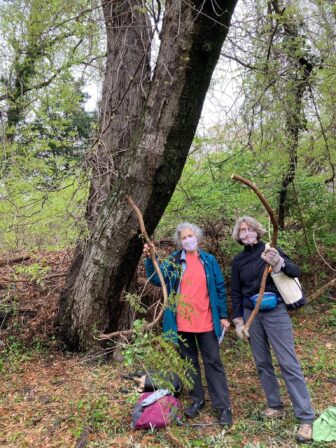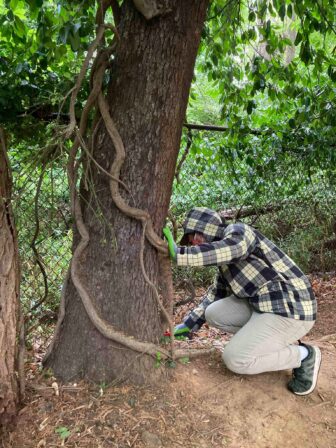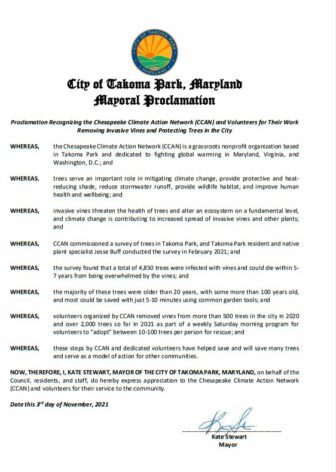 Trees are one of our best solutions for combating climate change. They also provide countless other benefits to people and wildlife, including helping to filter air and water, controlling stormwater, conserving energy, and providing wildlife habitat. They reduce noise and provide places to recreate while strengthening social cohesion, spurring community revitalization, and adding economic value to communities. However, non-native invasive plant species, particularly vines, pose a significant threat to trees. There are a number of ways you can help.
Check our sign-up page for events where you can volunteer to cut invasive vines in Takoma Park. Events are now being conducted on an irregular basis, but are usually on Saturday mornings. Students can earn SSL hours. 
Become a neighborhood Takoma Tree Steward by adopting your neighborhood, or a portion of it, and helping your neighbors address invasive vines on their property. Send an email to vines@chesapeakeclimate.org
Ask us for assistance! If you live in Takoma Park and know you have threatened trees on your property and would like help addressing the issue, send us an email to vines@chesapeakeclimate.org
If you're interested in learning more about our groundbreaking program and want to start your own, please let us know and we can answer any questions you might have. Send an email to vines@chesapeakeclimate.org
Find Out More About Our Work: