EPA has a bad habit of delaying industry pollution rules. 
WE RALLIED TO SHOW THEM IT'S TIME TO QUIT.
They Listened.
WE'RE NOT DONE YET.
On April 4, we rallied to show the EPA they were falling fall behind on fossil fuel pollution rules. The very next day, they met one of our demands. But we're not done yet.
EPA is full of remarkably dedicated and skilled staffers inside an agency that has served this nation heroically for 50 years. But the EPA's current chronic delays are hurting America.  We know that EPA felt the pressure in the days leading up to our event and that momentum continues to build. How do we know? Because EPA has recently taken FIVE MAJOR STEPS forward on our demands! Ask EPA to keep moving ahead.

EPA Announced Approval for California's Clean Trucks Rule
This means diesel-powered trucks will soon be phased out as zero-emissions trucks are phased in. Given California's perennial leadership role, this action will have major national and international consequences, driving demand for cleaner shipping. The trucking industry pushed hard to water down the rule but EPA held strong.

EPA Released a Public Proposal to Strengthen & Update the Mercury and Air Toxics Standards (MATS)
Mercury is among the most nefarious pollutants to come out of coal-fired power plants. It's a dangerous neurotoxin that can get in our water supply, harming wildlife and public health. We look forward to reviewing the 237 page proposal to ensure the rule is as strong as possible.

EPA Released Long-Awaited Carbon Pollution Standards
These rules are another step towards addressing the climate crisis by making necessary and cost-effective changes in the power sector, which is one of the nation's largest contributors to air pollution. EPA's moves to reduce carbon emissions – combined with provisions of the Inflation Reduction Act – are expected to lead to a 50% reduction in U.S. greenhouse gas emissions by 2030.

EPA Announced New Action on Coal Ash
Coal ash is the waste that remains when coal is burned in power plants and often contains a toxic mix of chemicals associated with cancer. Hundreds of landfills containing toxic coal ash have gone unregulated for years, posing hazards to human health and the environment. These will now be regulated under the proposed rule.

Ongoing:

EPA is Strengthening Soot Standards for Power Plants
The EPA announced new standards for power plant soot emissions in January 2023. However, the new proposal fell short of scientific recommendations. EPA received nearly 600,000 comments in support of a stronger soot standard. With these comments in mind, EPA is now working to finalize a rule before a future hostile Administration or Congress could overturn the rule.

Use Cumulative Impact Analysis in Permitting
In October 2022, EPA released a report detailing recommendations for the Office of Research and Development's cumulative impacts research. Yet EPA has not publicly committed to using cumulative impact analysis when approving infrastructure permits.
These steps are huge and, together, we've played a big part in making them happen.
But our work isn't done yet. EPA still needs to move forward on several more key pollution rules. So we need YOU to tell EPA to do its job and ACT NOW on climate priorities. Sign the petition now telling the EPA to advance climate justice NOW!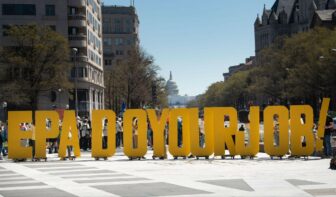 The Environmental Protection Agency (EPA) has been falling further and further behind in cutting pollution from dirty power plants nationwide. These regulatory delays mean that people get sick – especially in poor communities of color – and the planet keeps warming. 
That's why more than 150 concerned individuals rallied in Washington, DC on April 4 to tell Joe Biden's EPA to "Please Stop Smoking!" EPA has the authority and the moral responsibility to issue rules that will clean up our air and protect our health from coal and gas plants. Missed deadlines are no longer permissible. Read the full press release here.
Here's What Our Speakers Had To Say: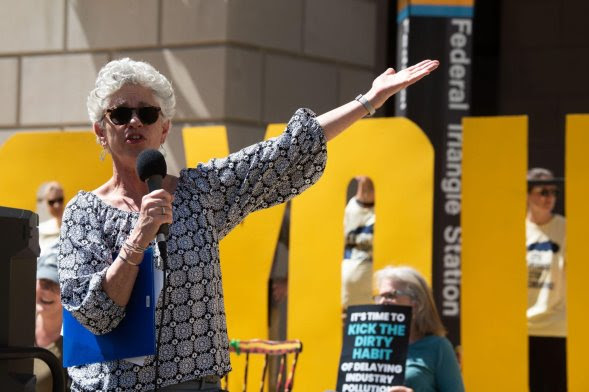 Dr. Lois Wessel, Alliance of Nurses for Healthy Environments, said:
"Over 100,000 Americans die of air pollution every year. EPA's habit of delaying rules for dirty-energy power plants means that those plants are continuing business as usual – so people are getting sick, especially in poor communities, and the planet keeps warming. EPA was scheduled to release their carbon pollution rules in June 2022 and then in March 2023 but they punted both times. Now the EPA needs to fulfill that promise and issue those rules before the end of April. Our lungs and planet can't wait!"
Russell Armstrong, Climate Policy Director, Hip Hop Caucus, said:
"The EPA has a legal and moral responsibility to ensure our air and water is clean, which requires protecting frontline communities from the adverse health impacts and toxic pollution from coal and gas plants. The Biden administration claimed to make environmental justice and climate action top priorities yet has repeatedly failed to deliver on its own self-imposed deadlines. EPA finalizing these power plant rules is a vital step in fulfilling campaign promises to help vulnerable Americans and set our nation on the path to a cleaner, greener, and more equitable future."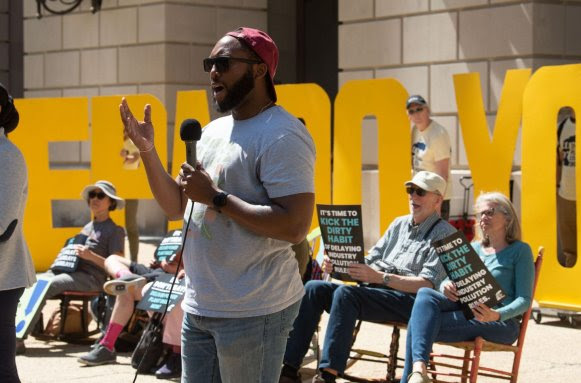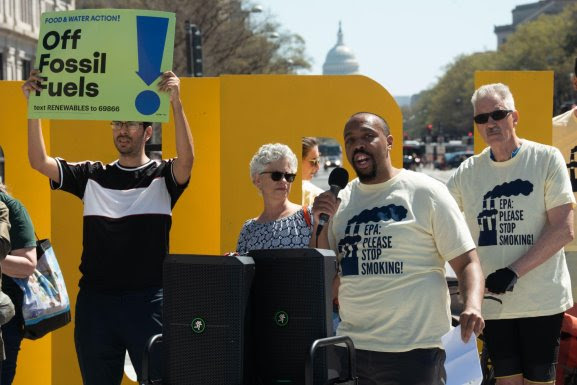 Quentin Scott, Federal Policy Director of the Chesapeake Climate Action Network (CCAN), said:
"For the sake of good health, justice, and the climate, we need action NOW from the EPA. Any further delays by the agency will put lives in danger and create the risk of a future hostile administration arriving in time to reverse everything. We're gratified that EPA has been listening over the past few months, since we started this campaign. We're here today with our allies to urge the EPA to build on recent momentum and break the bad habit of delaying industry pollution rules."
Emily Wurth, Food & Water Watch, Said:
"Power plants are disproportionately located in low income communities and communities of color. And so those communities bear the brunt of this emission. And so we are sending a message: delay is not acceptable and that we are here because they have something they can do about it."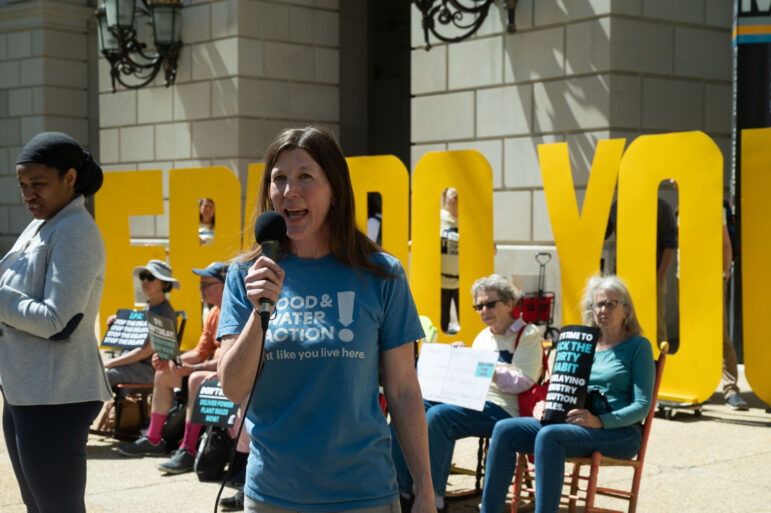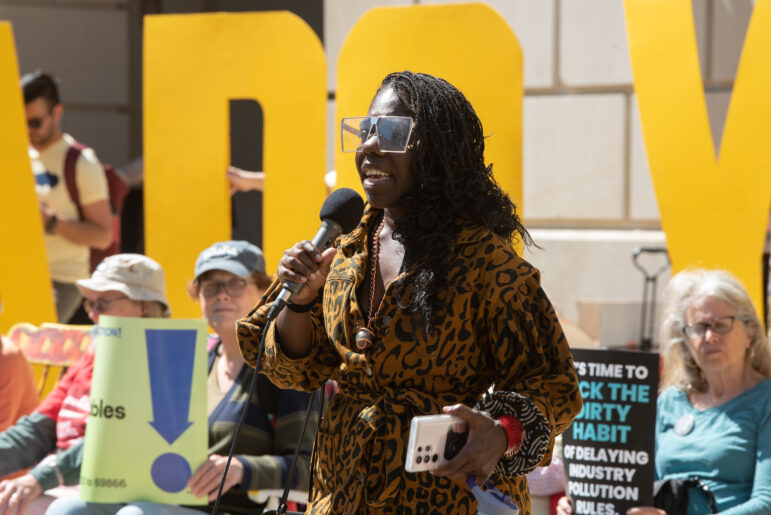 Kari Fulton, Center for Oil and Gas Organizing, Said:
"Your voice, your power is so much more than you realize, so thank you so much for being here. And we are going to continue to fight, we are going to continue to push back because whose government is this? Ours."
Robin Lewis, Interfaith Power and Light, Said:
"These communities [Black, Brown, Indigenous, low-income] are living in areas where polluters continue to dump toxins even when we all know what is happening to the health of the residents, especially children and those who have health challenges. These communities – our neighbors – deserve and demand to be treated with respect and have justice"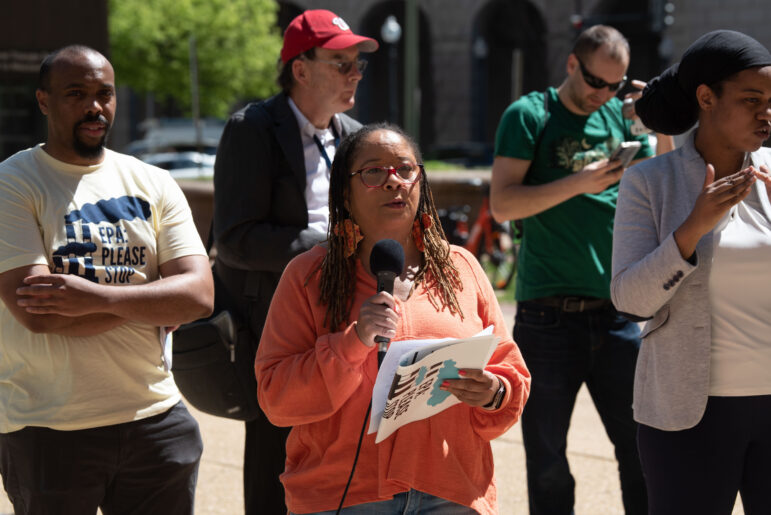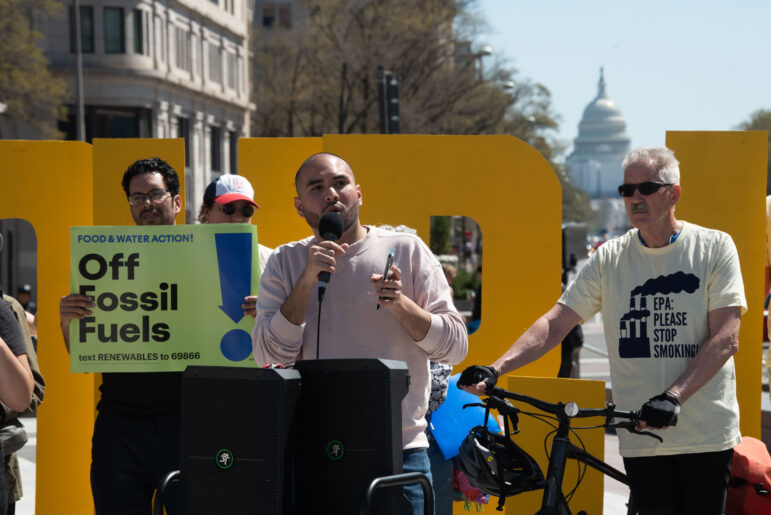 Oscar Villalobos, Green New Deal for DC, Said:
"If the EPA is dragging its feet on regulation, it can also drag its feet on funding, and we cannot allow that. If we want to implement this massive climate bill, we need their help. We cannot wait around."
Tell EPA: Advance Climate Justice.
Speed up and strengthen America's power plant pollution rules!
EPA Must Act Now to Close Carbon Pollution Gap
President Joe Biden has pledged to lead our nation into a new era of transformational progress in the fight against climate change. If EPA fails to act now, the President will be unable to meet his campaign promises and will put recent advances at risk of faltering under a future hostile Administration.  
These delays have real-life health impacts on Americans, especially communities of color. Waiting to finalize the rules for tackling power sector pollution means exposing people around the nation to dangerous pollution that we know contributes to tens of thousands of premature deaths and hundreds of thousands of illnesses every year, while the climate crisis worsens.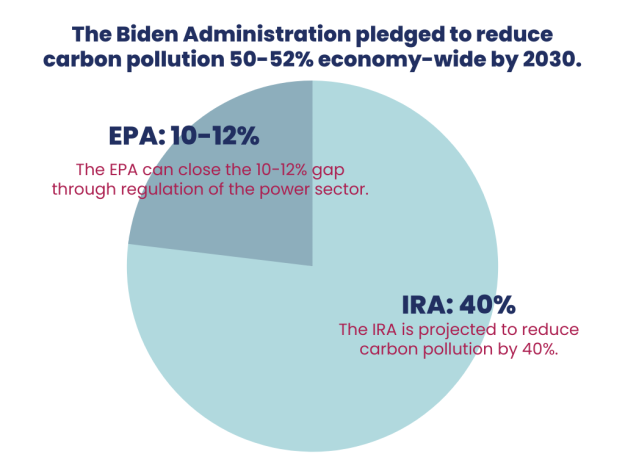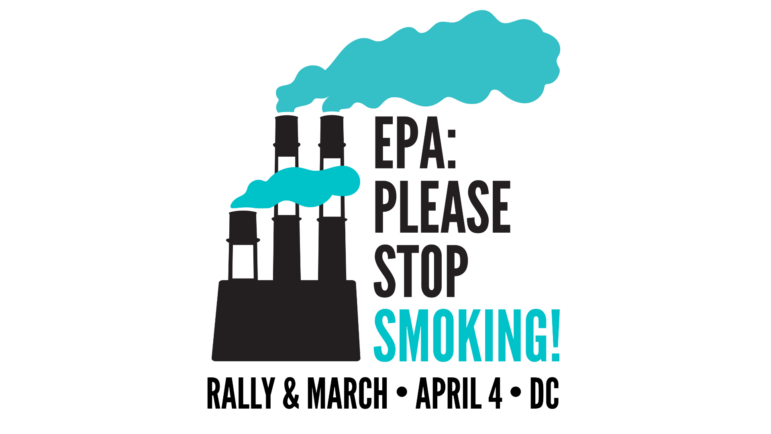 On April 4, we rallied. Since then, EPA has released FOUR new rules.
Scores of environmental and justice activists from across the country rallied and marched in DC to tell the Biden Administration's "EPA: Please Stop Smoking!" Our broad coalition of advocate groups called on the agency to quit its bad habit of missing industry pollution deadlines, endangering our health and climate.
We know that EPA has really felt the pressure in the days leading up to the event and now that pressure will continue to build.
Big Thanks To Our Rally Co-Sponsors! We couldn't have done it without you!
Alliance of Nurses for Healthy Environments, Center for Biological Diversity, Environmental Integrity Project, Food & Water Watch, Green New Deal for DC, Hip Hop Caucus, Interfaith Power & Light, Labor Network for Sustainability, Loudoun Climate Project, Physicians for Social Responsibility, Piedmont Environmental Council, Rachel Carson Council, Third Act, and 350.org Montgomery County.