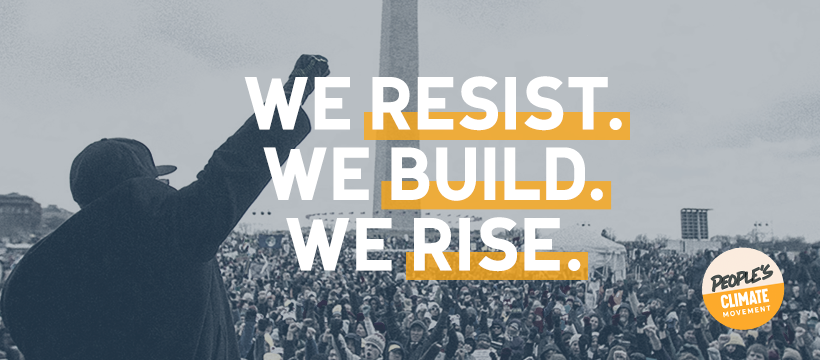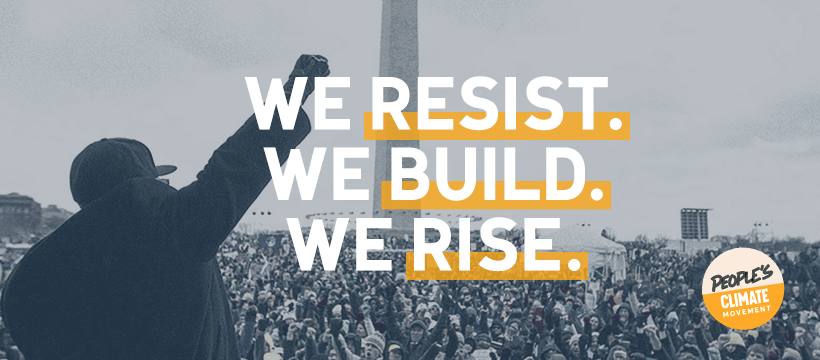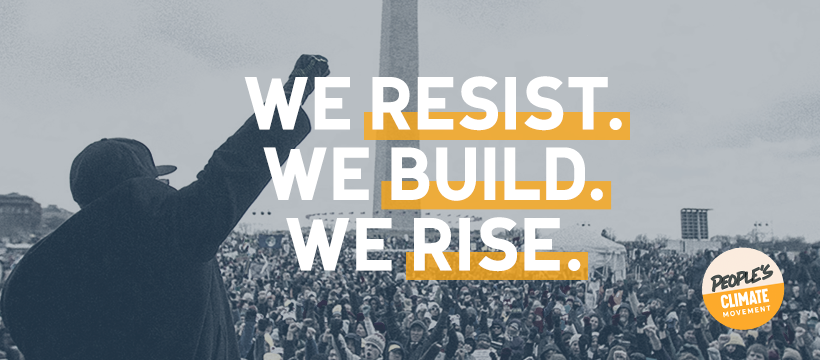 Donald Trump is waging war on climate progress. We need to stand up and take action to protect everything and everyone we love; in the first 100 hours of Trump's administration, in the first 100 days, and beyond.
On the 100th day of Trump's administration, on Saturday, April 29th, we will come together for one massive march to bring our demands to the streets of Washington, D.C.
Tens of thousands of people will join to march for the future of our planet, the safety of our communities and the health of our families.
We will march for our families. We will march for our air, our water, and our land. We will march for clean energy jobs and climate justice. We will march for our communities and the people we love. And we will be louder and stronger than ever before.
And the People's Climate March will not end in the streets. We'll carry the drumbeat forward, as we march into our representative's offices to demand action on climate. As we march into meetings before our local board of supervisors to insist on protection from fossil fuel companies. As we march into our communities to inspire others and ignite the passion that will continue to drive our movement forward.
Join us. We're counting on you.
EVENT DETAILS
What: March to fight for our communities and climate.
When: Saturday, April 29 11:00 am – 4:00 pm
Where: Washington, D.C., starting at 3rd Street NW and Pennsylvania Avenue NW. The march will then pass by the White House and end at the National Monument for a rally.
RSVP: Sign up today.
For General Information: www.peoplesclimate.org
GETTING TO THE MARCH
Find a Bus: The Peoples Climate Movement is organizing several buses across the country. Go to their website to search for a bus near you.
We are also organizing buses from Baltimore. Keep reading for more details at the bottom of this post.
Organize a Bus: We are looking for motivated volunteers to organize buses by becoming a bus captain. Everyone who expresses interest in becoming a bus captain will receive a toolkit which lays out all of the steps for locating a bus, securing funding, and facilitating a great trip to D.C. on April 29. You will also be able to reach out to our state leaders with any questions or concerns. Sign up to be a bus captain.
Use Public Transportation: Amtrak has good service into DC, and in fact, they offer group sales with discounted group rates. If you have 75 people you can sometimes reserve an entire car and use it as an organizing space too! You can find our more about that on Amtrak's website: https://www.amtrak.com/group-travel-requests.
There are also many services that offer regional bus transit – you can buy individual seats, or also sometimes group rates. Costs can be very reasonable, especially if you buy early. A few options to consider are:
We have buses leaving from several locations across Baltimore. Click one of the following links to learn more and buy tickets:
Buses leaving Baltimore at 8am and returning by 7pm. Tickets are $10-$25, with community-supported tickets available.
We also have MARC tickets! For our Baltimore members, a coalition of environmental, social justice, and community organizations are purchasing tickets for the MARC train in bulk. We have several discount round-trip tickets available. Express your interest for a discount MARC ticket here.
MAKE ART
Our Baltimore organizers are hosting several art builds. See here for more details about the Baltimore art builds. If you're not based in Baltimore, head to the Peoples Climate Mobilization website to find an art build near you.