Everything we ever thought as possible in Virginia politics is rapidly shifting in the Commonwealth. From the the ballooning number of ACP permits being rejected in court, to the State water control board voting to reconsider the crucial 401 permit for EQT's Mountain Valley Pipeline, to the State Corporation Commissions rejecting Dominions Integrated Resource Plan for the first time in history, the fossil fuels industry, and Dominion in particular are in full blown panic mode as their longtime role as Richmond's uncontested power broker is drawing to a close.
Over the past several weeks, CCAN has been hard at work alongside nearly a dozen local and regional grassroots groups to organize a series of events highlighting the Regional Greenhousee Gas Initiative (RGGI). Joining RGGI is one of the primary ways we can continue our momentum against Dominion Energy's dirty policies – while making them pay for all of the harm that their disastrous policies have incurred in vulnerable communities around the Commonwealth. The series, titled From Pipelines to Progress: Virginia Unites for Jobs, Clean Energy and Social Justice, made its way to Fredericksburg, Richmond, Staunton and Virginia Beach.
Over 200 Virginians came out to attend the series, which featured delegates, councilmen, health care professionals, faith community leaders, advocates for low-income communities, and an activist storytelling training given by the hardworking people over at Progress Virginia. All speakers honed in on one central issue: how absolutely vital it is for Virginia to join the Regional Greenhouse Gas Initiative (RGGI) in 2019.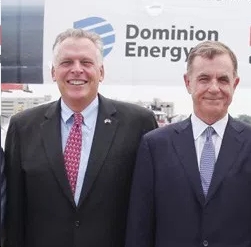 In an attempt to greenwash his legacy for higher political aspirations, then-governor Terry McAuliffe signed Executive Directive 11 in twilight hour of his administration, mandating that the commonwealth link with the RGGI program. This means that Dominion and other big fossil fuels polluters will be forced to lower emissions from power plants — cutting carbon emissions down by up to 30% from these facilities statewide. The problem is, however, that unless Virginia formally joins the program through legislative action, Dominion will be allowed to keep the hundreds of millions of dollars that the program would generate each year.
If the money went back to the Commonwealth it could easily be invested into the communities that are already suffering the most from Dominion's policies. That means investing in coastal resilience for our vulnerable coastline and into energy efficiency so that low-income residents can save money each month on their already exorbitant energy bills.

To underpin the importance of this, the series included a presentation from CCAN Virginia Director Harrison Wallace. Wallace's presentation honed in on his own personal story and the urgency for Virginia to join the Regional Greenhouse Gas Initiative (RGGI). "When it comes to the climate crisis, we are in a speeding car headed off a cliff, and Dominion is at the wheel" said Wallace to packed churches, libraries, and auditoriums across the Commonwealth. "Luckily", Wallace continues, "we are at a watershed moment." Dominion sees the writing on the wall, their reign of uncontested rule over Richmond is drawing to a close, and it is up to everyday citizens to stand up and demand they no longer write their own rules at the expense of public health, rate payers, and the climate.



The action doesn't stop now. As the speakers stressed, it is more important than ever for Virginians to continue the momentum that we have gained and take the power back from Dominion Energy. That means coming to Richmond this January and speaking with your legislator about the urgency of addressing the climate crisis. They need to understand that Viginia needs to formally join RGGI immediately as Virginia's first step of many towards 100% renewable energy.
CLICK HERE NOW TO RSVP FOR OUR LOBBY DAY ON MONDAY, JANUARY 14TH.
See you there!