Congress Passes the Inflation Reduction Act with Climate and Justice Investments
We did it! We have federal climate legislation.
The U.S. Congress passed landmark climate legislation that will include historic investments in the clean energy sector. Then a few days later, President Biden signed it into federal law. The Inflation Reduction Act is a $370 billion commitment to expand clean electricity and get us on the path to net zero while creating millions of jobs, lowering the deficit, and improving public health. 
The Chesapeake Climate Action Network and CCAN Action Fund have championed clean energy standards and legislation at the state level for nearly two decades. Recently, we've worked hard to make it happen in Congress too.
Help us by contacting your Representatives that voted for the Inflation Reduction Act. Tell them thank you for voting for IRA and urge them to against any future legislation that would help the Mountain Valley Pipeline.
What's in the Inflation Reduction Act?
The climate commitments in the budget reconciliation investment package are by far the most ambitious climate policy put forward by any American president. The plan spends $555 billion going to policies that directly reduce emissions. The package includes:
$370 billion over 10 years on tax credits for solar panels and electric vehicles, plus incentives to build solar batteries and other green technology.
$214 billion in clean energy tax incentives and investments.
$60 billion for communities and environmental justice funding.
$33 billion to expand, improve, and decarbonize public transportation.
$27 billion for the clean energy technology accelerator (aka Green Bank).
$9 billion to electrify appliances.
$2.6 billion to conserve coastal habitats.
And much more.

See a full breakdown here.
Collectively, these unprecedented investments cut climate pollution 40 percent by 2030 while creating hundreds of thousands of family-sustaining jobs and advancing racial, economic, and environmental justice.
How would the clean energy investments in the buget reconciliation package benefit YOUR state? Check out our factsheets for: 
Arizona | California | Colorado | Connecticut | Delaware | Georgia | Hawaii | Illinois | Maine | Maryland | Massachusetts | Michigan | Minnesota | Montana | New York | Nevada | New Hampshire | New Jersey | New Mexico | Ohio | Oregon | Pennsylvania | Rhode Island | Vermont | Virginia | Washington | West Virginia | Wisconsin 
Key Campaign Resources:

How These Investments Will Help ALL of Us
Zero Lab, a project of Princeton University, ran an analysis on the climate impact of the budget bill as proposed in November 2021 and the bipartisan infrastructure deal that passed in 2021. 
All told, the policy investments in this budget package would get us very close to a net-zero pathway. Without passing the budget deal, the infrastructure bill alone would leave us 1.3 billion tons short of our nation's 2030 climate goals. But the budget reconciliation package would get us very close to halving greenhouse gas emissions by 2030.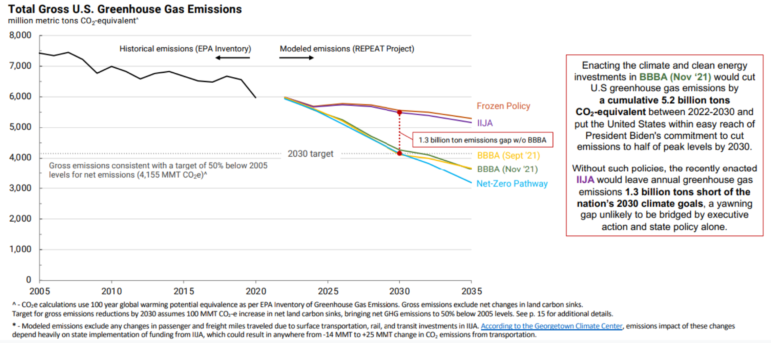 The project also found an average yearly savings of $67 billion for households, businesses, and industry, shifting costs through cost savings from lower energy bills, less expensive EVs and heat pumps, and finance investments, 
We're not just talking about abstract estimates here. The Sierra Club has analyzed the real-world benefits of this investment package. They include: 
Create over 300,000 good jobs in a new Civilian Climate Corps and 150,000 in clean manufacturing.

Install 500,000 EV charging stations across the country

Convert more than 60,000 diesel school buses to clean electric buses so schoolchildren can breathe clean air

Help replace over 5 million lead service lines — about half of the national total — to deliver clean water to communities nationwide

Help the average family save about $500 each year in utility bills

Help reconnect neighborhoods — primarily in Black and Latinx communities — that have been divided for decades by highways that reinforce systemic racism and spur pollution

More than double the speed of wind and solar power expansion, bringing renewable energy to millions of additional homes each year

Support the efforts of more than 200,000 farmers to protect healthy soil so as to increase harvests, reduce the impacts of droughts, and trap more climate pollution

And so much more!

Read a full list here.
Collectively, these unprecedented investments would put us on track to achieve President Biden's goal of cutting climate pollution in half by 2030 while creating hundreds of thousands of family-sustaining jobs and advancing racial, economic, and environmental justice.

Americans Want This — Especially West Virginians
All eyes were on Senator Joe Manchin of West Virginia, a key swing vote on the investment package. He's supported climate and clean energy investments in the past and finally, thanks to strong citizen engagement, he voted the right way.
We know West Virginians want this. A poll released in 2021 found that 56 percent of West Virginia voters supported a 100% clean electricity standard, outnumbering opponents by a 20-point margin. Additionally, 66% of voters in the survey support specific investments in communities, like those in West Virginia, that have lost jobs as the country transitions away from using fossil fuels.
Studies have found that reducing emissions 50% by 2030 would create 31,000 jobs in West Virginia, and save thousands of lives annually from reduced exposure to air pollution.
Over the past year, CCAN Action Fund has worked with hundreds of West Virginians to show support for clean energy investments, with rallies, bicycle actions, protests, and more.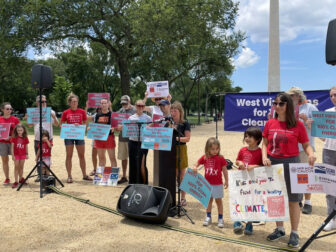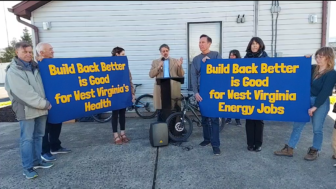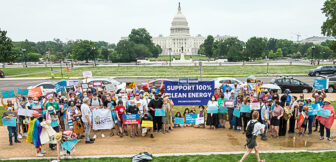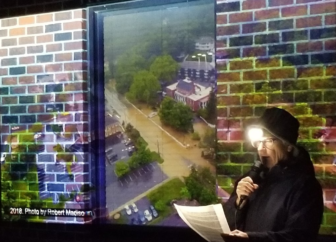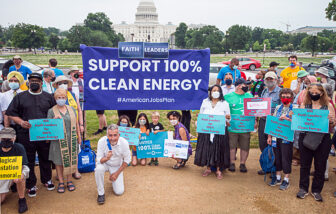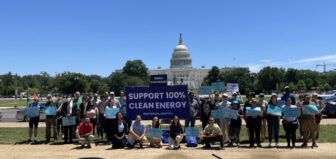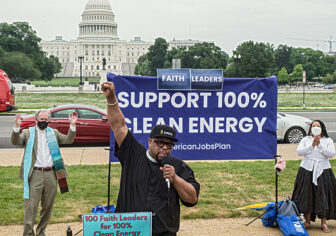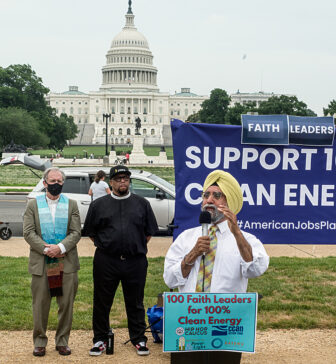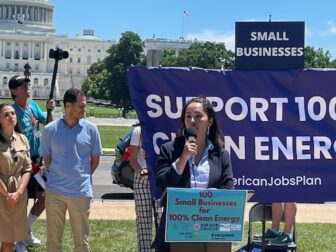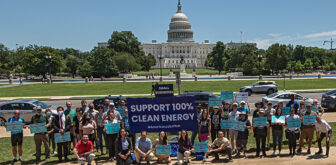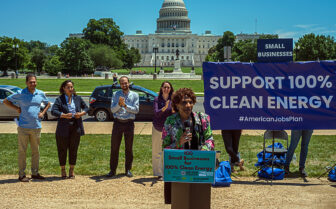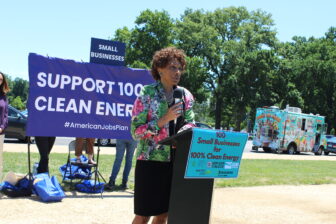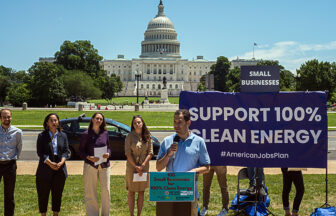 Recently, dozens of West Virginians filmed themselves explaining to Senator Manchin why they support climate investments. WATCH THE VIDEO.


Coalition Efforts: Nationwide Support for Strong Climate Action
In December, more than 400 investors and companies of all sizes and industries sent a letter to members of Congress calling for "swift enactment" of the historic climate investments that are currently in the reconciliation bill. "Other countries are shifting their policies and economies in this direction, and the U.S. cannot afford to miss this chance to unlock its private sector innovation to command the markets of today and tomorrow," the letter states. 
And in March 2022,  six of the nation's best-known groups fighting climate change at the state and regional levels, including CCAN, signed a letter urging Senate Majority Leader Chuck Schumer to pass landmark clean energy investments included in the federal reconciliation package. These groups from across the nation explain why it is imperative that the entire $555 billion dollars of investments be approved without delay.

Step One to Climate Justice.
While the federal budget package would be essential to climate stability, we know that this investment package isn't enough on its own to achieve a sustainable world. We support a bill called the THRIVE Act (Transform, Heal, and Renew by Investing in a Vibrant Economy), which would not only invest in climate and clean energy, but commit $10 trillion to create a new economy with millions of sustainable jobs while advancing social justice at the same time. At the same time, we know this effort will be expensive, which is why we're supporting the Polluters Pay Climate Fund Act, to make fossil fuel companies pay for these needed investments. We will keep fighting for these efforts and more. 
We are still fighting for a better world for everyone. Sign up for updates on all these important bills as they move through Congress, as well as opportunities to engage.