No New Fossil Fuels in Virginia
Despite the worsening climate crisis, Big Gas is trying to massively build out fracked-gas pipeline infrastructure in Virginia. Dominion Energy wants to build the largest gas peaker plant in the Commonwealth. The Mountain Valley Pipeline would transport fracked gas through the Blue Ridge and Appalachian regions of Virginia and West Virginia. And TransCanada Energy is trying to "upgrade" an existing pipeline by replacing 50 miles of pipe from 12-inch diameter to 24-inch diameter pipes, drastically increasing capacity. 
These projects are being built with a lifetime of 40 years and will lock us into dirty energy for decades. This is NOT the future we need and it flies in the face of the Commonwealth's historic clean energy standards. From fueling toxic fracking, to destroying our shared waterways, to polluting majority Black neighborhoods, to leaking heat-­trapping methane, these projects would harm our communities and our climate every step of the way. 
CCAN is committed to working alongside Virginians on the front lines of the communities facing monstrous polluting energy projects like the Mountain Valley Pipeline. We are also legally intervening in the permit process to hold decision-makers allowing new fossil fuel projects in Virginia accountable.
TC Energy's Virginia Ripoff Project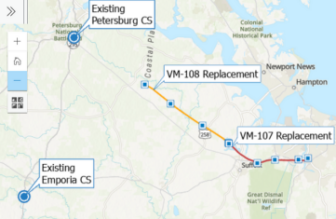 From the company that brought you the Keystone XL pipeline and all of the anti protest laws with it, Trans Canada Energy has some proposed "upgrades" to an existing pipeline running from Sussex to Chesapeake. The Virginia Reliability Project, what we're calling the "Virginia Ripoff Project," is intended to replace almost 50 miles of pipeline from a 12 inch diameter pipeline with a 24 inch diameter pipeline – doubling capacity and our reliance on fossil fuels. We, alongside our partners in civic leagues across the region, will stand up to unneeded "upgrades" that only further entrench our energy infrastructure in polluting industries!
CLICK HERE FOR A FACTSHEET ON THE VIRGINIA RIPOFF PROJECT
Dominion Energy's Chesterfield Methane Gas Plant
Utility monopoly Dominion Energy is proposing a massive new methane gas plant near the James River, consisting of four new generators totalling 1000 MW of installed capacity. This would be the largest peaker plant in Virginia, releasing as much greenhouse gas emissions as putting 120,000 new cars on the road every year.
READ THE FACTSHEET ON DOMINION'S METHANE GAS PLANT PROPOSAL
The Mountain Valley Pipeline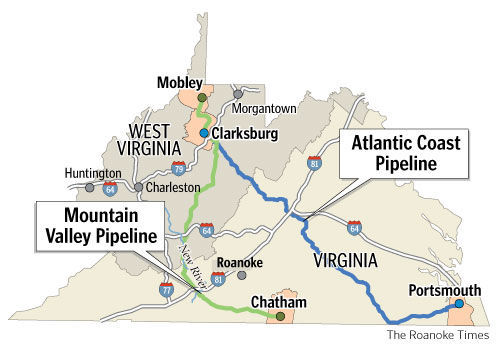 EQT and NextEra's proposed 300-mile, now-$6 billion Mountain Valley Pipeline would require up to four new compressor stations ­facilities that keep the gas pressurized as it travels­, subjecting communities to air pollution, groundwater contamination, unsafe noise levels, lowered property values and on­site accidents. The timeline continues to be pushed back by years because of the company's inability to keep its permits or abide by them. The builders claim that 92% of the pipeline is completed, but in reality, it's only 51% completed, with much work to be done in the most dangerous, but also most beautiful and pristine terrain. This is the most expensive pipeline ever on a cost-per-mile basis and would equate to the carbon emissions from 23 coal fired power plants. Despite years of fighting by the communities on the frontline of this pipeline, hundreds of water quality violations, and dozens of tossed out permits, President Biden, West Virginia Senator Joe Manchin, and House Speaker Kevin McCarthy negotiated on a bill that would force the pipeline's approval. We're fighting this in court and will continue to assist communities on the frontlines resisting this disastrous project. 
CLICK HERE FOR A DOWNLOADABLE FACTSHEET ON THE MOUNTAIN VALLEY PIPELINE.
The Stakes for Our Communities and Our Climate Are High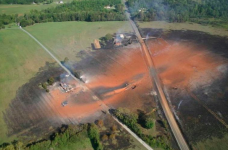 Climate: Building new gas infrastructure would incentivize more fracking across Virginia and surrounding areas, and more fracking means more emissions of methane, a powerful heat-­trapping gas. The pipelines would also trigger direct emissions of carbon dioxide from compressor station engines and diesel fuel equipment, and leak methane emissions. According to growing scientific data, fracked gas could disrupt the climate on par with coal, when factoring in the full cycle of emissions from extraction to piping to and burning. With rising seas already flooding Virginia's coastal communities, this is a risk we can't afford to take.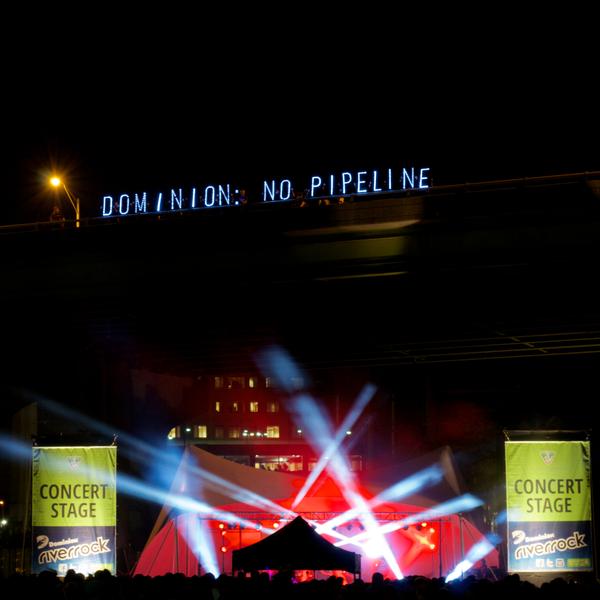 Public Safety: A pipeline "blowout" near Appomattox, Virginia in 2008 created a fireball reported to be ¼ mile high, injured five residents (including three who suffered second and third degree burns), destroyed two houses and damaged 95 more.5 Other hazards include potentially damaged drinking water from construction and leakage in fragile karst zones, and air pollution from compressor stations.
Property Values: The Forensic Appraisal Group LTD found that the negative impact of the Atlantic Coast Pipeline on property values could be "up to 30% or more" and that the presence of a 42 ­inch, high pressure natural gas pipeline could lead to insurance and mortgage issues.6 Similar impacts are expected for the Mountain Valley Pipeline and other fossil fuel projects.
Water Quality: Run-off and sedimentation during construction, as well as chemical additives used to keep rights ­of­ way clear can impact local surface waters, and chemicals could potentially leak into groundwater.
Iconic Ecosystems:The current proposed routes for the Mountain Valley Pipeline takes it through some of the most beautiful land in Virginia, including the Blue Ridge Mountains, the Monongahela National Forest, the Appalachian Trail and the Jefferson National Forest, permanently scarring landscapes and destroying critical habitat. Dominion's proposed Chesterfield gas plant would be situated right on the James River. And the Virginia Ripoff Project would cut through the Great Dismal Swamp and surrounding protected ecosystems. 
Environmental Justice:
The MVP developers are proposing to site a dirty compressor station for the project in a vulnerable, majority-Black community of Pittsylvania County, Virginia. The Air Pollution Control Board recently ruled that this violated the Virginia Environmental Justice Act. The Southgate expansion would run through indigenous communities in Virginia and North Carolina, impacting sacred rivers for the Monacan and Occaneechi Tribes.
The Mountain Valley Pipeline Fight: Are We Winning? 
A growing coalition of grassroots groups are working to oppose the Mountain Valley Pipeline, including the regional coalition Preserve Our Water, Heritage, and Rights (POWHR). CCAN has been fighting this battle on many fronts: engaging in regulatory comment periods, fighting in out in the courts, and organizing actions. We've supported opponents of the pipeline in organizing music festivals and rallies to bring attention to the issue and raise the funds to keep fighting this dirty and dangerous project, worked with groups to bring landowners, farmers and others living along the route of this pipeline to open houses and scoping meetings, and aided in mass direct actions to stop construction.
Currently, eight out of the ten major banks are invested in this pipeline. Con Edison Transmission, a major investor in the pipeline, has capped its backing of the project at 10% of the total cost, reason being that it does not see much of a future in natural gas ventures. We must put pressure on investors and shareholders of these companies to encourage them to pull their funding.
We've been fighting this for years — and will keep fighting to stop the Mountain Valley Pipeline
FERC released its flawed Environmental Impact Statement for the MVP in June of 2017, which was roundly criticized by citizens, advocacy groups, and government agencies alike. This happened after tens of thousands of U.S. citizens submitted comments demanding that FERC do a thorough, accurate and unbiased review of the proposed Mountain Valley Pipeline, and ultimately reject the project. Almost every relevant federal government agency also expressed deep concerns and criticisms of the draft review, including the Department of Interior, National Parks Service, and Virginia's Department of Environmental Quality — and both the Bureau of Land Management and the Environmental Protection Agency questioned whether the project is even necessary. The North Carolina Department of Environmental Quality also denied a pipeline extension, called Southgate, which would have been 75 additional miles of pipeline, costing $500 million. The pipeline acquired its remaining permits for construction at the end of 2021, leaving the power in the hands of the courts.
However, this isn't the end. We await decisions from the 4th Circuit Court of Appeals on the MVP's noncompliance with the Endangered Species Act, the proposed Jefferson National Forest crossing and the individual Clean Water Act 401 permit for Virginia. Resistance camps remain underway. Meanwhile, the MVP continues to construct as fast as possible with more violations being documented on a near-daily basis — more than 300 egregious water quality violations have already been found.
Virginia Needs Wind and Solar Solutions ­­– Not Dirty and Dangerous Pipelines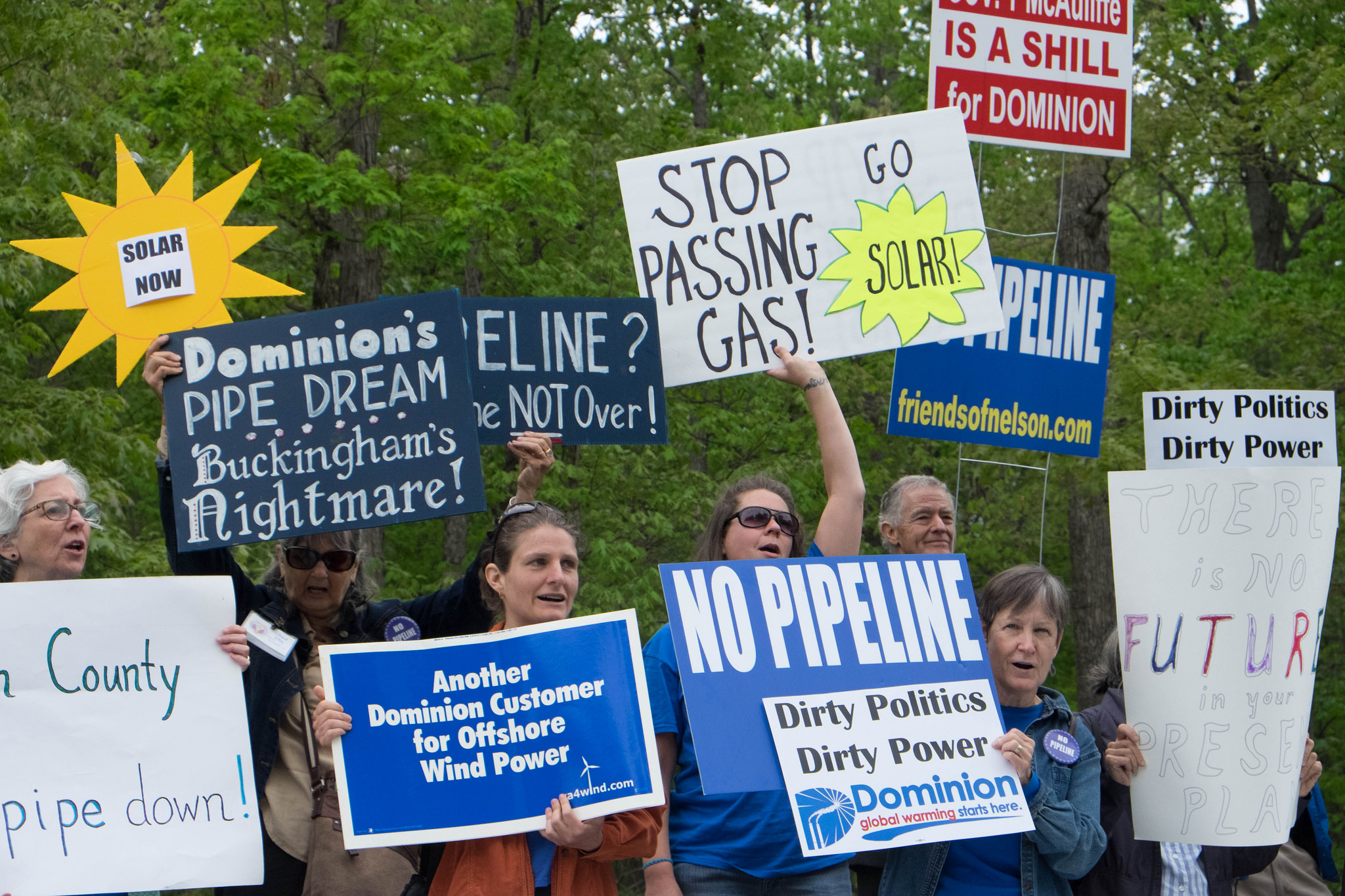 Contrary to industry claims, Virginia doesn't need these pipelines. In fact, much of the gas is likely to flow through Virginia rather than power the state. Virginia can build a better economy by investing in solar and wind power and creating more clean energy, permanent jobs and a stable climate without jeopardizing our homes, health and heritage for new pipelines.
The Mountain Valley Pipeline's costs have ballooned from $3.7 billion to $6.2 billion. In 2016, Chesapeake Climate Action Network carried out an analysis comparing the costs of the similar (but now dead) Atlantic Coast Pipeline, and found that for the $5 billion intended for that pipeline, Virginia could redirect the funds to:
Install enough solar panels to power nearly 400,000 Virginia homes.1
Reduce carbon emissions at a rate equal to taking 600,0002 cars off the road.
Installing and maintaining this solar industry would create 2,500 temporary construction jobs and support 216 permanent jobs annually,3 plus additional jobs due to lower energy prices over time, and improved health outcomes of workers across the state. By comparison, the Dominion commissioned Chmura analytical economy report predicted that the Atlantic Coast Pipeline would support 1462 short term jobs and 118 jobs annually.4
When we fight, we win.
Until recently, Virginia was facing pipeline expansion projects from all fronts. But we've had major success in beating them back: 
We beat the Header Injustice Project:
In 2020, Virginia Natural Gas (VNG) proposed a massive pipeline project called the "Header Improvement Project" — a horribly misleading misnomer. CCAN called it the "Header Injustice Project" because it was a travesty of environmental injustice. The proposal was for three new gas pipelines, totaling 24 miles, and three new or expanded gas compressor stations from Northern Virginia, through the middle of the state, and to the shore in Hampton Roads. Key components of the project would run through majority-minority communities. To fight this pipeline, CCAN joined with key allies to form the Stop the Abuse of Virginian Energy (SAVE) Coalition. During the height of the coronavirus crisis, we worked with the coalition to turn out hundreds of Virginians to virtual public meetings, led Twitter storms, and highlighted to the media the environmental racism that this project embodied. And our efforts worked! Read more here. 
We beat the Atlantic Coast Pipeline:
On July 5, 2020, after six years of dedicated and powerful opposition, Dominion Energy and Duke Energy announced the cancellation of the Atlantic Coast Pipeline. The ACP would have carried fracked gas for 600 miles from West Virginia, across the Appalachian Trail and into Virginia and the Carolinas, costing the people $8 billion and visiting immeasurable harm on the communities in its path. The ACP was an environmental justice nightmare, siting a compressor station in the historically Black neighborhood of Union Hill in Buckingham County. As US Circuit Judge Stephanie Thacker wrote in the ruling revoking an air pollution permit for this compressor station, "environmental justice is not merely a box to be checked." Read more here.
We beat the Chickahominy power plant and pipeline:
Balico, a merchant corporation, proposed to build an 83 mile fracked gas pipeline to fuel its own very large private power plant, the Chickahominy Powerplant. Running through 5 counties in Central Virginia, the 24in proposed pipeline would have cut through residential neighborhoods and cross both major roadways and waterways. The company shrouded itself in mystery, failing to adequately inform the public, instead sending predatory land agents, and leaving even the counties' Boards of supervisors scratching their heads as to the progress and purpose of the pipeline. Ultimately, the pipeline was rejected by multiple agencies! Read more here.
Join the Movement: No New Fossil Fuels!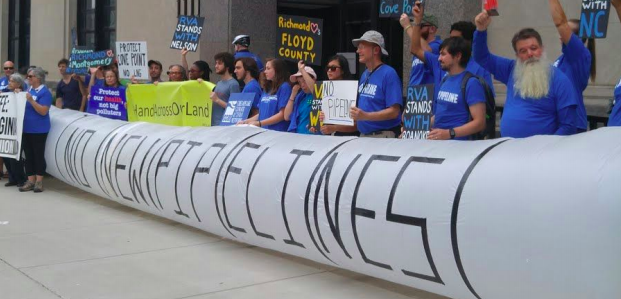 The good news is that we are NOT powerless to stop new fossil ful projects in Virginia. A groundswell of resistance to these projects is spreading across Virginia and the region.
We won't stand by as Big Gas destroys our neighbors' dreams and digs us into a deeper hole on climate change.
We need our leaders to stop these dangerous new pipelines and instead stand with us to bring clean energy solutions to Virginia.
Take Action!
Become a CCAN member. Stay informed with exclusive monthly meetings on all progress and potential opportunities to get engaged on legislative and direct action efforts.
CONTACT
Want to get more involved? Contact Mason Manley, Central Virginia Organizer at mason@chesapeakeclimate.org.
Key Articles 
Resources
SOURCES
1. U.S. Energy Information Administration. "2013 Average Monthly Bill- Residential." 2014, <http://www.eia.gov/electricity/sales_revenue_price/pdf/table5_a.pdf> Based on capital costs assumptions, and a median 20.3% capacity factor, we assume a solar output of 5,631,220 megawatt-hours. The average monthly electricity usage in Virginia is 1,156 kilowatt-hours
2. U.S. Environmental Protection Agency. "GHG Equivalencies Calculator – Calculations and References." N.p., n.d. Web. <http://www2.epa.gov/energy/ghg-equivalencies-calculator-calculations-and-references#vehicles>
3. National Renewable Energy Laboratory. "About JEDI Photovoltaics Model." N.p., n.d. Web. 13 Oct. 2015. <http://www.nrel.gov/analysis/jedi/about_jedi_pv.html>. Calculated using the National Renewable Energy Laboratory's Jobs and Economic Development Indicator (JEDI) "Scenario_PV_Model_rel._PVS3.24.14"
4.The Economic Impact of the Atlantic Coast Pipeline in West Virginia, Virginia, and North Carolina. Chmura Economics and Analytics for Dominion Resources, 2014.
5. "What a Pipeline Breach Looks Like." The Cost of the Pipeline. N.p. 18 Aug 2015. Web. 2 Oct 2015. <http://thecostofthepipeline.com/2015/08/18/what-a-pipeline-breach-looks-like/>.
6. Stanton, Elizabeth W., et al. Atlantic Coast Pipeline Benefits Review: Chmura and ICF Economic Benefits Reports. Synapse Energy Economics, Inc. for Southern Environmental Law Center, 2015.