Offshore oil drilling would threaten Virginia's coastal communities and fishing and tourism industries with devastating spills, while enabling more of the fossil fuel pollution causing climate change and rising sea levels. We want wind mills, not oil spills!
In May 2010, as oil continued to gush into the Gulf from BP's Deepwater Horizon disaster, President Obama canceled a pending lease sale that would have opened Virginia's coastline to the dangers of offshore oil drilling. Instead of supporting the president's move to protect our coast, Virginia's U.S. Senators, former Sen. Jim Webb and current Sen. Mark Warner, co-sponsored legislation to pave the way for offshore drilling. And in April 2017, Trump signed an executive order to expand offshore drilling, which opens up Virginia's coastlines to the potentially disastrous practice. His order led to an upswell of opposition from citizens and environmental groups.
Eventually, in 2020, the Virginia General Assembly passed a bill banning offshore drilling off the coast of Virginia! This is a great win for our coast and our climate.
But we know that oil companies will keep trying to push forward. So we need to stay vigilant.
It's time for Virginia to go all-in on wind mills, not oil spills, off of our coastline.
The Risks of Drilling vs. the Rewards of Wind
The 2010 BP oil disaster gave us a stark reminder of the dangers of offshore oil drilling. America watched helplessly as millions of barrels of oil gushed into the Gulf of Mexico for months, costing millions of dollars in environmental and health damages, and taking the lives of 11 workers who died in the oil rig explosion. Yet, even as advocates and clean energy business leaders in Virginia position our state to capture the benefits of offshore wind power development, influential decision-makers in Congress and in the Virginia state legislature are still pushing to bring us the risks of offshore drilling.
We can't allow this to happen in Virginia. Opening our coastal areas to oil exploration would put our communities and coastal economies at risk of catastrophic spills. It would also enable more of the fossil fuel pollution driving climate change, which is already raising sea levels and causing rampant flooding in Virginia's coastal communities.
Instead, we must harness Virginia's impressive offshore wind energy resources, and there is forward momentum in this direction. The Interior Department recently announced a plan to open up federal waters off our coast for wind development, and we're working to make sure this process moves forward as quickly as possible. Building an offshore wind power industry in Virginia would help combat climate change and provide our state with thousands of local clean energy jobs.
On March 15, 2016 the Obama Administration announced that the Interior Department's five-year plan for the Bureau of Ocean Energy Management would close much of the Atlantic to offshore drilling through 2022. This was a great victory, and in no small part a result of the hard work that climate activists like you from put in up and down the Mid-Atlantic.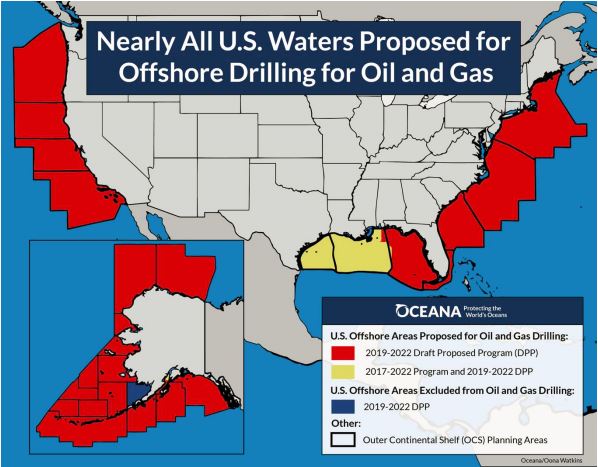 This victory was put at risk in 2018. On January 4 of that year, the Trump Administration released a new draft plan that would open up just about every U.S. shore for offshore drilling.
This led to immediate outcry. Advocates worked even harder to save the Atlantic Ocean and our beloved beaches from this risky and controversial proposal. And coastal opposition to offshore drilling continued to grow. Over recent years, CCAN has joined with many other organizations to build a groundswell of opposition to offshore drilling in the Atlantic. More than 140 East Coast communities, including Wilmington, Virginia Beach, Charleston, and Savannah, and thousands of businesses, trade groups, and tourism associations have passed resolutions opposing Atlantic drilling and seismic testing.
All this led to the Virginia General Assembly passing HB 706, a bill that blocks future oil and gas development off the state's coastline! This was a strong rebuke to the Trump Administration's plan.
Through emails and calls to leaders, municipal resolutions, thousands of public comments, and visible public actions, the grassroots can do amazing things when we work together toward a common goal.
We've come out strongly before. If it comes to it, we'll come out strongly again.We're going to do everything in our power to keep offshore drilling from our shore!
Contact Harrison Wallace at Harrison@chesapeakeclimate.org to learn how you can get involved.
Learn More