Every summer, CCAN hires talented and passionate young people from across the region to join us as Fellows and interns. This summer, our Fellows and interns will be spreading out across the region to protect Virginia's coast from rising seas, bring more clean energy to Maryland, stop dirty energy projects like fracking in Western Maryland and pipelines in central and southwest Virginia, and draw attention to the growing threat of bomb trains rolling through our cities and towns. Ultimately, they'll be building the people-powered movement it's going to take to bring the fossil fuel industry to its knees and tackle one of the most important issues of our time.
Thank you, in advance, to our Summer 2015 Fellows for all of the great work you're going to do this summer!
And if you cross paths with one of our hard working fellows this summer, please join us in welcoming them to the CCAN team!
Introducing…CCAN's Summer 2015 Fellows:
Beatrice Ohene-Okae – Safe Coast Fellow, Richmond, VA

Beatrice is from Alexandria, Virginia, and is currently a junior at the University of Mary Washington majoring in Environmental Science. She is a student organizer with the Virginia Student Environmental Coalition and the Virginia Student Power Network. On her campus, she is involved in DivestUMW and UMW Students United, which focus on  promoting sustainability and transparency as well as social and economic responsibility. Her passions include eating strawberries, learning more about sustainability issues around the world, and trying to play her violin.

Kendall King – Safe Coast Fellow, Richmond, VA


Kendall is a rising second year at the University of Virginia. She's originally from the east coast, but her parents currently live in Tulsa, Oklahoma and she attended high school there. She serves as media liaison for the Virginia Student Environmental Coalition, as well as Outreach Coordinator for the Climate Action Society at the University of Virginia.  




Nqobile Mthethwa – Atlantic Coast Pipeline Fellow, Charlottesville and Richmond, VA

Nqobile is a 3rd year at the University of Virginia, studying Political Science with a concentration on Foreign Affairs with a minor in Global Sustainability. She's the political engagement coordinator of Virginia Student  Environmental Coalition and a member of UVA Climate Action Society. She attended several energy and clean power plan hearings for the VA Energy Plan while interning with Appalachian Voices in 2014 and worked with  Organizing for Action's Climate Change team on Clean Power Plan and solar initiatives. Recently, she's been  working on the Atlantic Coast Pipeline resistance effort, organizing against natural gas infrastructure. She's really interested in policy pertaining to energy in Virginia and how to build student political power to steer universities and the state towards a fossil free future.




Millie Smith – Mountain Valley Pipeline Fellow, Richmond, VA

Millie just finished her sophomore year at Virginia Tech. She is in an interdisciplinary environmental studies program, with a concentrations on civic agriculture and urban planning. Based in Blacksburg, she has worked most with building community power and opposition to the Mountain Valley Pipeline.



Nate Levine – Hampton Roads Organizing Fellow, Norfolk, VA

Nate is a native of Virginia Beach, and it's his love of surfing and the ocean sparked an urgency to fight climate change.  He is currently pursuing a B.A. in English: Creative Writing and a B.A. in History at the University of Mary Washington. At Mary Washington, he directed his passion for environmental justice into organizing with the DivestUMW campaign, which is pressuring the administration and Board of Visitors to withdraw their investments from the fossil  fuel industry. In his spare time, Nate enjoys surfing, hiking, writing poetry, and playing guitar.





Alex Krass – Bonner Center for Civic Engagement Fellow, Richmond, VA

Alex Krass is a rising senior at the University of Richmond, majoring in Environmental Studies and Business. He started working on the divestment movement on Richmond's campus. Originally from Vermont, he has lived there most of his life, giving him a true appreciation for the outdoors. Alex's fellowship exists through a partnership with the University of Richmond's Bonner Center for Civic Engagement.




Jamie DeMarco – Clean Energy Fellow, Takoma Park, MD

Jamie grew up in Baltimore and is currently a Chemistry and Environmental Studies double  major at Warren Wilson College. He enjoys running, climbing and acting, but has recently  come to enjoy activism more and more. This past year, he was involved in campaigns to reform smoking  policies on his college campus, and volunteered as a sexual assault crisis responder. He also tied himself to the  White House fence and lobbied Senators to combat climate change.



Kiernan Colby – Healthy Communities Fellow, Takoma Park, MD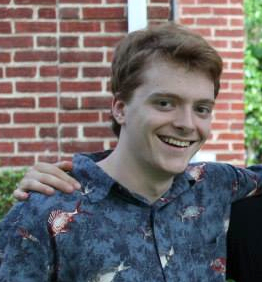 Kiernan is a senior Community and Justice Studies and Religious Studies major at Guilford College in Greensboro, North Carolina. Originally from Silver Spring, MD, Kiernan is a Quaker, musician and activist committed to fighting for the restoration of the Earth. When not organizing for social justice, Kiernan bikes, reads and plays guitar in a funk band. This summer, Kiernan will be working with CCAN and Forest Ethics as the regional coordinator for an international "Stop Oil Trains Week of Action."



Sarah Snead – Don't Frack Maryland Fellow, Takoma Park, MD

Sarah is a rising senior at American University, majoring in Environmental Studies and minoring in Economics. She is from Westminster, Maryland originally. For the past 3 years she's helped organize on her campus with Fossil Free AU. In her free time she plays on the women's ultimate Frisbee team.



Lauren Chartuk – Communications Fellow, Takoma Park, MD 

Lauren is a sophomore at Virginia Commonwealth University, majoring in English. Lauren is the Senior Secretary for Poictesme, VCU's literary journal. She is also part of the Virginia Student Environmental Coalition, working with the media team and holding a seat in VSEC's council. When she isn't working with VSEC or Poictesme she's in a hammock reading, or practicing her French in preparation for COP21 in Paris. Sauvons l'environnement!



CCAN will also be joined this summer by two Takoma Park based Special Projects Interns – Derek Burtraw and Robin Rice.


Derek is a senior at Ursinus College in Collegeville, Pennsylvania, working on a double major with Environmental Studies and Music.




Robin Rice is a rising sophomore at the University of Vermont.



Again, WELCOME to CCAN's Summer 2015 Fellows and interns. We're so excited to be working with you!