By MacKenzie Riley
The slogan for D.C. Tap Water is "water is life," and that rings true for all of Earth. Water is at the core of everything we know; cultures and religions have been formed around it and wars have been fought over it, and our civilization formed around the ancient waterways. The unfortunate reality of human development is that as we have expanded, so has our impact on our environment. Due to geography and our historical dependence on water, our water is often the first element in the natural world to be impacted by our environmental degradation. This destruction often stems from outdated and deteriorating infrastructure that cannot support our development. 
It is clear that decades of rapid development have negatively affected the planet, specifically our waterways. Due to the importance of water to survival, the majority of major cities have been built either within proximity to the ocean or another waterway. Washington D.C. is a key example of this, lying on the banks of both the Potomac and Anacostia River. The city's proximity to both of these rivers have left them polluted as D.C. has used them as a dumping ground for raw sewage, trash, and other debris for more than a century. 
The History of the Anacostia
The Anacostia River, often called the forgotten river of D.C., flows through Prince George's County in Maryland and empties into the Potomac. It was once the pride of DC, a clean and pristine river, yet decades (possibly even centuries) of abuse from the city has left it polluted and unsafe. 2018 was the first year that the River watershed Society scored the river above an "F" for cleanliness. 
Before the development of DC the Anacostia was a bearer of life–home to thousands of species of animals and providing drinking water and fishing to the indigenous people of the area. The Nacotchtank people had called the watershed home for over 10,000 years. They sustainably lived off the river as prosperous hunters, gathers, and traders. Within only two centuries that had completely changed. 
Now, half a billion gallons of raw sewage are dumped into the river each year due to deteriorating combined sewage overflow, this released sewage contains bacteria that is a thousand times more toxic than is permitted by public health standards. In addition to sewage, the river is also littered with debris, trash, oil, grease, and other toxic chemicals. 
The DC government has declared it illegal for any persons to swim or fish in the river due to its high bacteria levels. In many areas not only does the river visibly look dirty, but it also releases a foul odor into surrounding neighborhoods. The Anacostia is now considered one of the dirtiest rivers in America, but the D.C. government and many nonprofits are hoping to change that.  
Cleaning up the Anacostia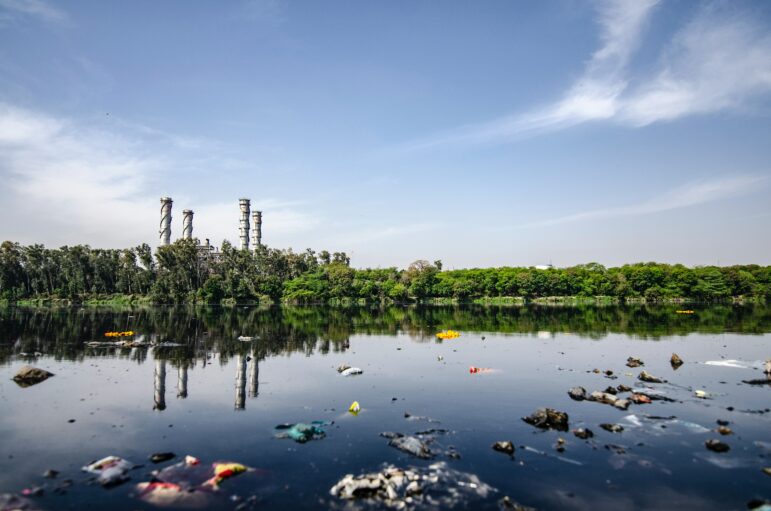 The D.C. government has recently focused its efforts on cleaning the Anacostia's surrounding wetlands, as they help filter the river's water. In addition to this, DC has passed several anti-pollution laws such as the five cent plastic bag charge and the installation of trash traps that capture debris from the river. These efforts have made a great deal of progress in removing trash from the river. 
The District has also committed to spending over $35 million removing and burying dangerous sediments that make the river so toxic. This process traps pollutants under sediment so they no longer move throughout water ways. The cleaning project will reduce the Anacostia's danger to humans by 90%, reigniting hope that one day the Anacostia will once again be safe to swim in and fish from. 
While these clean up projects have done a great deal for the health of the river, without an emphasis on infrastructure that prevents future pollution, not just cleaning past pollution, D.C.'s efforts are futile. In the process of cleaning a major waterway, proactive legislation and infrastructure are essential to both cleaning our planet and protecting it from further damage. 
Currently, the Anacostia's biggest causes of pollution are storm runoff and leaks from the city's sewage infrastructure. D.C. uses a combined sewer system, collecting both sewer and storm water, when there is an excess of either of these, the system overflows.  Without the advancement of these two sectors any attempts to clean the river will be forlorn. As D.C. continues to experience more day-time flooding and unpredictable weather as a result of climate change the city's infrastructure cannot keep up with water runoff, leaving it seeping into the Anacostia. 
Finding a solution
While cleaning the Anacostia seems like an impossible task, with the proper infrastructure investments it is feasible for the D.C. government to achieve. To combat the issue of runoff, investments in infrastructure that absorbs runoffs are needed. Parking lots built with natural absorbent materials and porous spaces, gardens of native plants, rain barrels, and green roofs are effective tools. 
Still, runoff is just one factor contributing to the worsening health of the Anacostia. D.C.'s sewage system is more than a century old and in desperate need of an update. Failing sewer systems coupled with outdated flood control systems allow billions of gallons of raw sewage and storm water to flow into the river. Without first solving this problem any other action taken to save the Anacostia will be futile.
Rebuilding D.C.'s water infrastructure will be expensive, yet it must be done. The Environmental Protection Agency has already passed new regulations, aimed to limit the amount of pollutants flowing into the District's waterways. Along with this the Biden administration has also introduced a groundbreaking infrastructure bill that will work to revitalize our nation's water systems, starting in our Capital. Biden's American Jobs Plan specifically calls for the modernization of our waste and storm water systems, a goal that will be supported by $56 billion in grants and loans to communities in need of updated water infrastructure. 
While cleaning the Anacostia seems like an insurmountable  task, our current administration is focused on ensuring that our waterways are safe and thriving for years to come. Life cannot sustain itself without clean and accessible water, D.C. must continue to invest in the health of its waterways.