Youngkin is Marching Virginia Backwards
The Regional Greenhouse Gas Initiative (RGGI) fights global warming and unlocks hundreds of millions of dollars for coastal resilience and energy efficiency. Youngkin's scheme to withdraw from RGGI will take Virginia in the wrong direction.

2020- Climate Victory:
Virginia's General Assembly passed the Clean Energy and Community Flood Preparedness Act and joined the Regional Greenhouse Gas Initiative (RGGI) cap-and-trade program to cut carbon.  It was a HUGE WIN for VA!  Learn more>

2021- Youngkin Takes Office:
RGGI unlocks hundreds of millions of dollars to save our coasts and lowers electricity bills. But, in his first year, Gov. Glenn Youngkin urged the VA General Assembly to repeal and defund RGGI. Lawmakers refused.

December, 2022- Youngkin Pushes to Pull VA from RGGI:
Youngkin's two new members appointed to the Air Pollution Control Board shifted the tides, giving him an anti-climate majority. They voted on December 7, 2022 to unlawfully withdraw VA from RGGI. Public comments on this are now open.

January, 2023- Youngkin's Allies Promote a Doomed Bill
Senator Stuart introduced SB 1001, which would repeal Virginia's participation in RGGI. Thankfully, this Bill failed in the Senate, where a climate-fighting majority still reigns.
WHAT'S NEXT? 
The Air Board has released a draft rule to unlawfully remove Virginia from RGGI. But so far, thousands of Virginians have commented on the process, with an overwhelming 87% in support of RGGI.  In other words, Virginian lawmakers voted for us to join, and Virginian residents want us to stay. 
We hope this unlawful process won't hold up in court. But in the meantime, chaos will ensue in Virginia's carbon cap-and-trade market and our state will lose vital funding to prevent floods. Virginia has already received more than $523 million from RGGI. We are working with allies to head off Youngkin's scheme. 
TAKE ACTION: Sign the petition showing your support for RGGI. It's important to show how many Virginians want to keep the Commonwealth in this great regional climate program. Sign this petition today.

We're Mobilizing Grassroots Pressure to STOP Him.
Republican Gov. Glenn Youngkin is a Trump-style anti-climate radical who wants to withdraw the state from RGGI. We're not going to let that happen!
RGGI: Polluters Pay & People Profit
The Regional Greenhouse Gas Initiative (RGGI) is a cooperative, market-based effort among the states of CT, DE, ME, MD, MA, NH, NJ, NY, RI, VT, and VA. The program caps and reduces CO2 emissions from the power sector. It represents the first regional cap-and-invest initiative in the United States.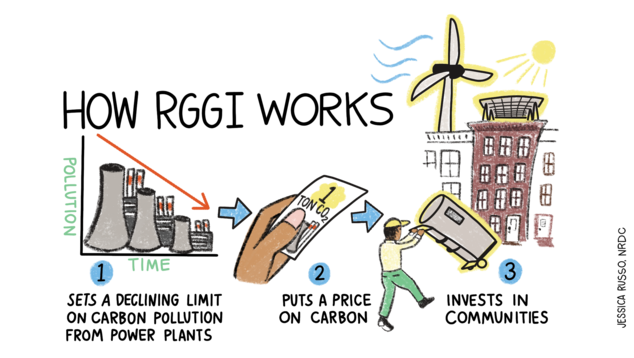 Reduces greenhouse gas emissions- RGGI is a market-based effort to cap and reduce CO2 emissions from the power sector.
Raises funds to help Virginia communities–Since VA entered RGGI, our state has raised a half-billion dollars to help Virginians adapt to climate change and save money.
Funds flood resilience throughout the state–As our climate crisis worsens, Virginians from Hampton to Winchester and beyond are seeing flooding impact their lives. Local governments have already been awarded RGGI funds that they are counting on. Don't shut off the tap now!
Helps everyday Virginians lower their energy bills–Virginians who are most at risk for high electricity bills are often not able to get the help they need through existing government programs. RGGI funds fill that gap by allowing Virginians to weatherize their homes so they can save money and reduce their carbon footprint in the process.

Learn how impactful this has been here.
Why protest Youngkin's policy now?
Voters support the state's membership in the RGGI program (67% to 26%) and the Virginia Clean Economy Act (67% to 28%), a law requiring the state to generate 100% of its electricity from renewable energy by 2050.
Climate action is good for business– the state is projected to receive over $370 million in the first two years of participating in RGGI!
of Virginians Want Climate Action NOW
Youngkin's Backwards Logic
Click on each talking point for our rebuttal.