Written by Samuel Wright
We are in the midst of a powerful summer of resistance.
So far, dozens of people dedicated their time and energy so far by coming out to the property of Bill and Lynn Limpert to camp or hike in the beautiful old-growth forests in the path of the Atlantic Coast Pipeline. We've been sharing skills, stories, and knowledge, while simultaneously forming invaluable connections with one another. As this fight continues these bonds we have will prove to be a dynamic force that can not only energize ourselves but those around us.
With this in mind, I wanted to share some updates from the camp this weekend for those of you who were not here but have been previously and those who may have hopes of coming out to join.
On Friday, the day did not begin to start until the late afternoon. Because it was later in the day the campers who did arrive immediately hiked out to the Miracle Ridge campsite to set up their tents. As tents were erected and the sun slowly retreated behind the ridges in the distance giving off ethereal rays of oranges and reds, campers came onto the porch and talked into the night. The day ended with a few of us looking at the stars, locating both the Big Dipper and the north star and then calling it a night.
On Saturday, we got an early start with a hike that took us all the way to an forest service road high up on Jack Mountain located directly behind Bill and Lynn's house. As a few of us would come to learn that this forest service road we were standing on was the same one on which Dominion is threatening to build an access road. This road would undoubtedly disrupt the land and the ecosystem around it. Specifically, as we learned, an endangered habitat of Rusty Patch Bumblebees.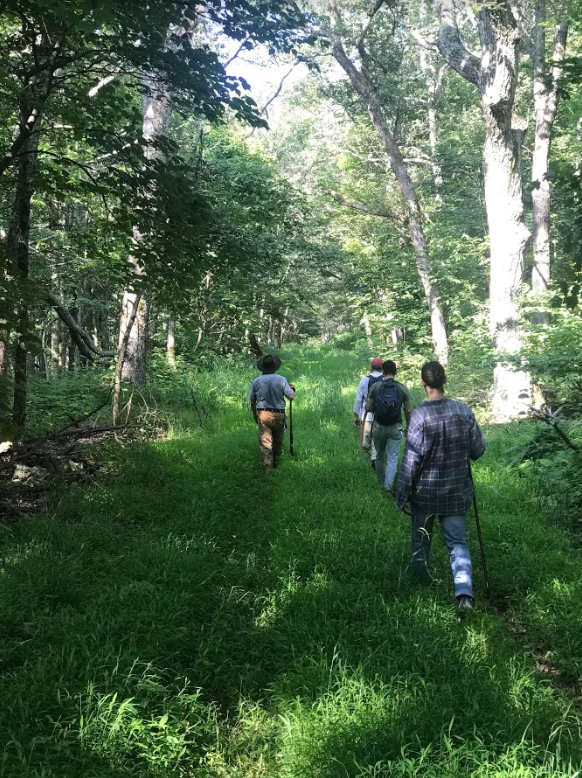 After that those of us on the hike came back down to the house and within an hour of returning we were met with a handful of community members from surrounding areas of Bath County. Some — like Gary and Jennette Robinson, and Lee and Linda Brauer — came from short distances like Little Valley, while others — like Ann Bryan and Barry Marshall — came from a few miles farther (Burnsville, and Williamsville). As folks continued to trickle in at their own pace, Ann Bryan performed a Peace and Harmony ceremony for everyone on the porch which included deep breathing, and long periods of meditation.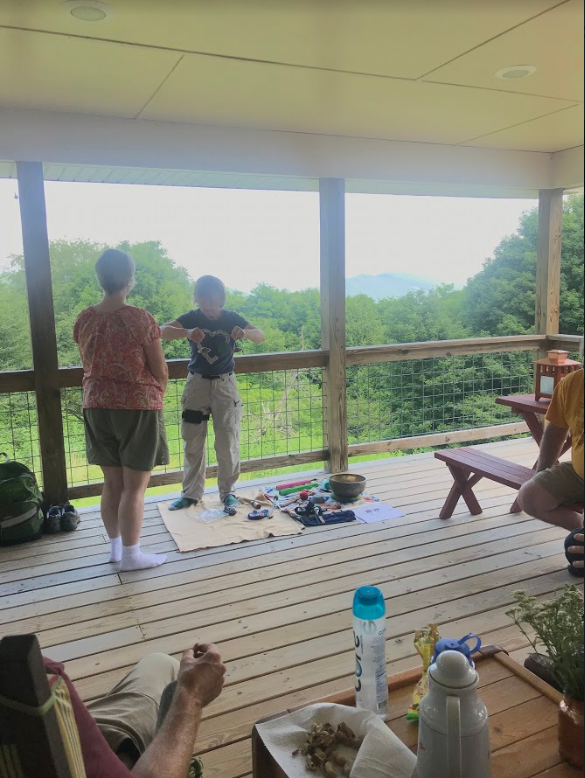 After the Peace and Harmony ceremony Sandy Hausman of NPR came by and interviewed a few of the surrounding county members to document stories around the pipeline in Bath County and this current encampment. I can't describe to you how poignant some of these stories were and how important it is to come and witness and hear firsthand those who are impacted by this highly destructive and extractive infrastructure. It has not only deepened my understanding of why we are fighting Dominion and the fossil fuel industry but it was grounding to be in the presence and listen to such powerful narratives.


Once the interviews ended Sandy Hausman, Bill, Lynn, myself and a few campers did a big tree hike and viewed Miracle Ridge. Before Sandy and a few of the community members left, we all gathered around the No Pipeline Banner (hung across two trees as you arrive at the Limpert's) and took a group photo. Once the crowd dispersed a few of us went our separate ways and gathered back on the porch later in the night as a few more campers trickled in from North Carolina and shared their stories as we ate food and conversed.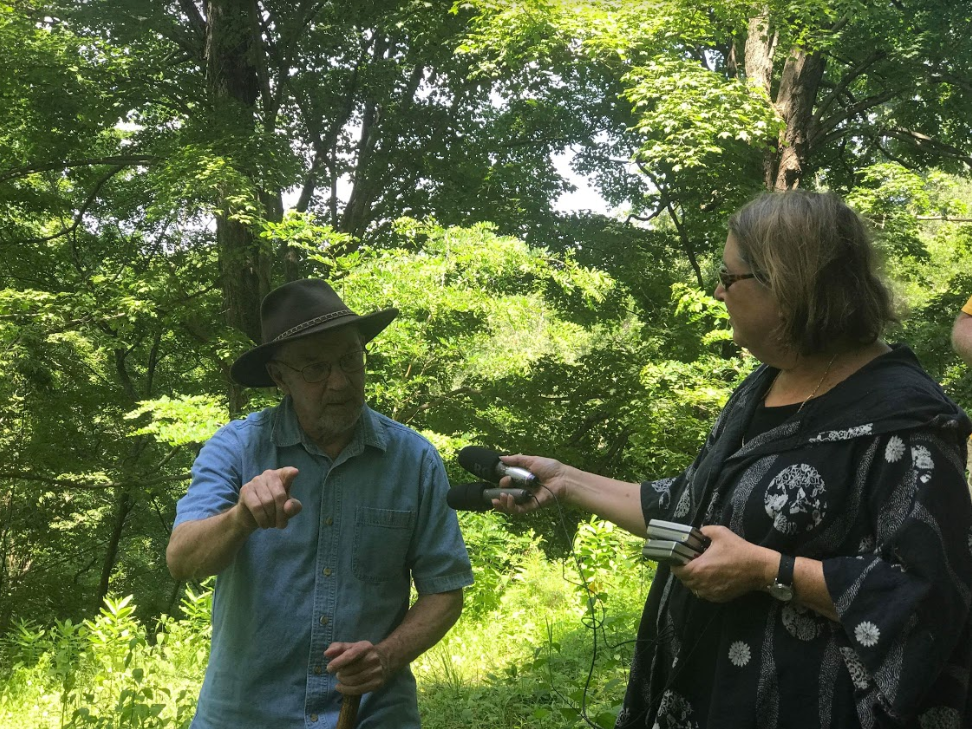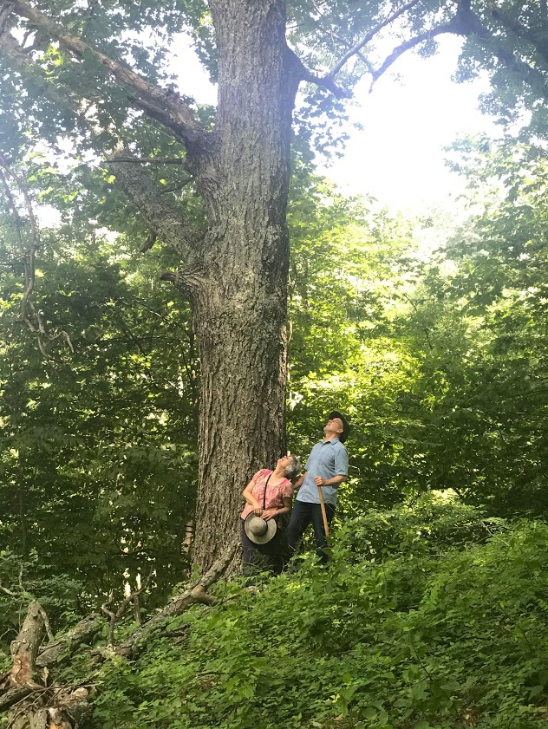 On Sunday, we had a pretty lax day as  most campers began to pack up and leave in the morning. Before that though our Director Mike Tidwell and VA Organizer Jamshid Bakhtiari took campers over to Ona and gave them a chance to have their picture taken with the big trees.
I know this is only a small window into the emotive experiences shared this weekend, but It is my hope that you take some solace in these photos and stay in the loop with the encampment as it continues!
If you haven't come out to camp yet, we'd love to have you! RSVP at this form today.
To campers who have come and still want to help there are many ways you can contribute! First and foremost, tell your friends about your experience, tell them to come out and arrange carpools to the encampment this summer.
Then, you can bring your experience back home and inspire others to have the same. Call or write a letter to Governor Northam and tell him about your experience here and how this pipeline is not needed and to take the necessary steps to stop it. Donate to Interfaith Action for Climate Justice online. Finally, if you have the time come and volunteer with us at the camp! If you felt moved to be here this summer and join the pipeline resistance in Bath County email me on how you would like to help here at the camp this summer!
Either way, I hope to see you out here again very soon!